The Band All Love Playing Live
by Claudia Cockerell | Evening Standard | June 27, 2023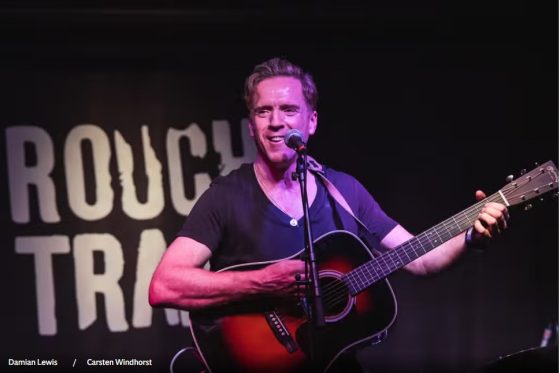 Damian Lewis is accustomed to the strobe of paparazzi bulbs and crowds of fans clamouring for his attention on the red carpet. At its peak, his hit show Homeland was averaging around 7 million weekly viewers. But Lewis is the latest actor to pivot to music, and last week he played an intimate show to about 150 people at Rough Trade, the record store in East London.
The gig was the first since the release of his debut album, 'Mission Creep'. His sound is folk-rock, with lots of guitar, hints of jazz, and a crooning voice. His influences range from Neil Young to J.J. Cale. What has it been like to go from gracing blockbuster TV shows to performing to a small crowd at an indie venue, I ask? "Fantastic," he tells me. "The band all love playing live. But we can't play bigger venues until we've proved ourselves in smaller venues".
While the audience are clearly enjoying themselves, there are a few hiccups along the way. After one song, Lewis looks down at his electric guitar and says, "I think I might have just played that whole song without my amplifier on." He plays it off with a wry joke: "Always remember to twiddle your knob".
There's no doubt his thespian roots come in handy, as Lewis has a striking stage presence. His face is full of expression as he sings, eyes widening and brows wiggling. But on reflection, he wonders if he could use his acting chops less. "Maybe the coolest way to be is just absolutely still, and deadpan and rock and roll, brooding", he muses.
Lewis has been playing the guitar since he was thirteen, and cut his teeth as a busker travelling around the South of France by motorbike. "The best place to play was Aix-en-Provence," he says. "People often just threw ten francs in, which was quite nice back in the day. I think it was a pound."
Celebrities who change careers often come under scrutiny. Models-turned-actors like Cara Delevingne and Kaia Gerber are held under a magnifying glass. But what is it like for an actor-turned-singer? "We're not very good at changing lanes in this country," Lewis says. "I don't really understand it. But I think people can be persuaded, you know, if the music is good."
And what of the music? The emotional climax comes with one of the final songs in his set. 'She Comes', is a song Lewis has previously said is written about ghosts, "and one ghost in particular". Could it be about his former wife Helen McCrory, who died of breast cancer in 2021, just before he moved into music?
When Lewis sings the opening lines, "she comes as a blackbird, she comes as a fox" the crowd, who have been nattering away, fall silent. Afterwards I ask him if the songwriting experience has been cathartic, but he is surprisingly straightforward. "No, not in particular. But fun. Really fun."
View photos from the Rough Trade East event in our Gallery.
Damian's debut album Mission Creep was released June 16, 2023 and can be ordered from several outlets here. Upcoming shows include Union Chapel on July 11 in London and Mercury Lounge NYC on July 19. Additionally, Damian just announced new September/October UK Tour dates here. Don't miss out, get your tickets now!
'Mission Creep' Album – Damian Lewis Music Store (UK) here
'Mission Creep' Album – Damian Lewis Music Store (US) here
'Mission Creep' Album – Several music services here or Target
'Down on the Bowery' – Apple Music, iTunes, Spotify, YouTube, Amazon and more here
'Zaragoza' – Pandora, Tidal, Spotify, YouTube, Amazon and more here
'Makin' Plans' – Napster, Pandora, Tidal, Spotify, iTunes, Amazon and more here
'She Comes' – Spotify, YouTube, Apple Music and iTunes here
Read the rest of the original article at Evening Standard