Plus a Performance in the Paddock
by Mike Bedigan | Evening Standard | June 27, 2023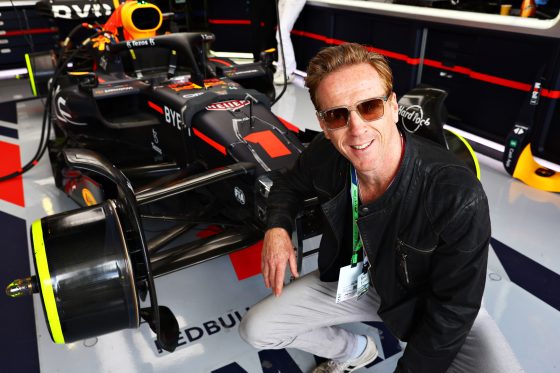 British actor Damian Lewis will perform the national anthem as he opens proceedings at the grid ceremony of the Formula 1 Aramco British Grand Prix on race day, Sunday, July 9, 2023, scheduled from 2:45-2:48 pm BST. Also, he and his band will perform live in the paddock at Silverstone on Saturday, July 8 after the qualifying session. Lewis's performance forms part of Silverstone's commitment to enhance its music and the arts offering. Some 160,000 people are expected to attend race day with millions more watching across the globe. It's not the first time Damian has attended the British Grand Prix – view photos of him from last year in 2022 – but it will be his first time performing at the event.  Lewis said:
"Never in a million years did I think I'd be singing the national anthem or playing a gig with my band at the British Grand Prix. It's so special, with a unique festival atmosphere and I'm honoured to have been asked."
The British Grand Prix takes place on Sunday, July 9, 2023. The race begins at 3:00 pm and will air live on Channel 4 and Sky Sports F1. Existing Sky Sports customers can live stream the race via the Sky Go app.  For those of you in the United States, you can watch the race on ESPN 2.
General Schedule:
Friday, July 7, 2023 – Practice 1
Friday, July 7, 2023 – Practice 2
Saturday, July 8, 2023 – Practice 3
Saturday, July 8, 2023 – Qualifying
Sunday, July 9, 2023 – Race
Full schedule here
For the first time, the 2023 British Grand Prix will officially open with a Thursday night show headlined by British music heavyweights Calvin Harris, Jess Glynne and Cat Burns. The music arena will see multiple acts over the weekend, with Jax Jones headlining the Friday and US group Black Eyed Peas taking Saturday's top slot. Tom Grennan will headline on Sunday in the music arena, which has been expanded this year to accommodate up to 45,000 people.
🎤 Lewis to sing on the grid! Award-winning actor turned singer-songwriter Damian Lewis will have the honour of leading the national anthem ahead of this year's #BritishGP.

He and his band will also be playing a special set in the paddock after #F1 qualifying on Saturday. 🎶 pic.twitter.com/KCMsRBKK5c

— Silverstone (@SilverstoneUK) July 5, 2023
Mission Creep, a personal collection of rootsy rock and jazz-tinged songs, was released by Decca Records on June 16. Since its release Lewis has sold out shows in London at The Omeara, The Tabernacle and Hoxton Hall, as well as at the Wilderness, Cheltenham Jazz and Black Deer festivals.
His album can be ordered from several outlets here. Upcoming shows include Union Chapel on July 11 in London and Mercury Lounge NYC on July 19. Additionally, Damian just announced new September/October UK Tour dates here. Don't miss out, get your tickets now!
'Mission Creep' Album – Damian Lewis Music Store (UK) here
'Mission Creep' Album – Damian Lewis Music Store (US) here
'Mission Creep' Album – Several music services here or Target
'Down on the Bowery' – Apple Music, iTunes, Spotify, YouTube, Amazon and more here
'Zaragoza' – Pandora, Tidal, Spotify, YouTube, Amazon and more here
'Makin' Plans' – Napster, Pandora, Tidal, Spotify, iTunes, Amazon and more here
'She Comes' – Spotify, YouTube, Apple Music and iTunes here
Read the rest of the original article at Evening Standard