Islington Conquered
by Gingersnap | damian-lewis.com | July 11, 2023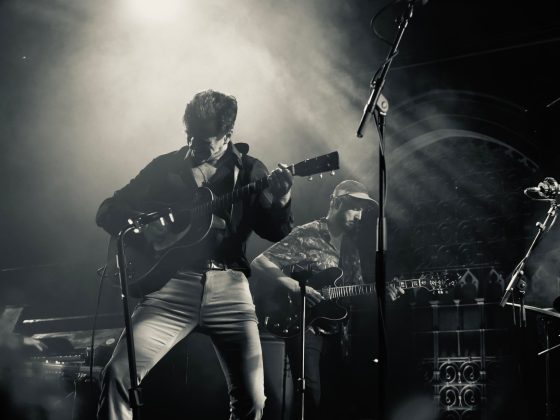 Just after the release of his debut album Mission Creep on June 16, 2023 and on the heels of playing Black Deer Festival and Rough Trade East, Damian returned to the stage with his fantastic band for a show at Union Chapel in London on Tuesday, July 11, 2023, with opening gig and supporting act from the brilliant Christy O'Donnell. The 14-song set included Down on the Bowery, Zaragoza, Hole in My Roof, Soho Tango, Harvest Moon, Never Judge a Man by His Umbrella, Werewolves of London, Wanna Grow Old in Paris, new song Fate, Makin' Plans, Why, She Comes, with encore performances of After Midnight and his new song She Makin' Me Change.
Before beginning his new song She Makin' Me Change, he said, "Manon and Gully, if you're out there, I love you." Others in the audience were his siblings Gareth, William and Amanda, as well as Sharmila Collins of Cure EB, Debbi Clark of Sir HvH Arts, members from the Fan Fun with Damian Lewis team and Damian's former drama school teacher Kenneth Rea, whom Damian wrote the foreword to his book The Outstanding Actor. Family and friends gathered for an afterparty at Islington's late night music pub, The Grace. View more images and videos from the event in our Gallery.
Union Chapel is a 19th century Gothic revival styled church and live entertainment venue located in the London borough of Islington at 19b Compton Terrace. The acoustics and stained glass window setting made for a magical evening!
Down on the Bowery
New Song – Fate
New Song – She Makin' Me Change