"The Right Amount of Groove"
by Daniel Perry | Music Republic Magazine | September 22, 2023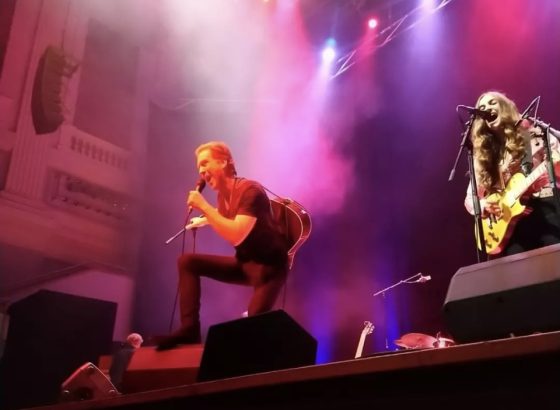 Birmingham concert audiences have been spoiled for choice lately for TV and film stars popping in to the city with their music side hustle.
Movie legend Johnny Depp in July this year at the Utilita Arena with The Hollywood Vampires, Keifer Sutherland at the 02 Institute and now, British film and TV star Damian Lewis and his band at the Town Hall for the second show on his 11-date tour, which opened in Nottingham the previous weekend.
The former Eton schoolboy gave it some rock and roll wellie for the show, backed by his excellent six-piece band (keyboards, drums, bass, horns, guitar, backing vox/guitar), and he ably delivered a mix of new self-penned songs from his debut album "Mission Creep" – released by Decca in June last year to critical acclaim – and a few snug-fit covers.
He threw in some new songs not on the album, such as "She Makin' Me Change" and "Pentonville Prison", for the appreciate audience. The all-seated 1,100 capacity venue was well attended and those who coughed up the £28.50 to £38.50 per ticket showed their loud and warm appreciation throughout his 80-minute set
The night began with support act Kitty Liv who opens the show for four dates: Birmingham, Cardiff, Bristol and Brighton. She filled her 30-minute spot solo, with just her electric guitar and vocals to hold the attention. Kitty is also part of Damian's band on guitar and backing vocals.
The songs from Damian's debut album "Mission Creep" are rootsy, rock and jazz-tinged tracks that reveal Damian's deep love of music.
He wrote all the original songs on his album and tonight the set list included "My Little One", the Jelly Roll Morton cover "Why?", JJ Cale's "After Midnight", "Hole in My Roof" and the opening album track, "Down On The Bowery", which many here recognised as the first single.
He has a good go at Neil Young's "Harvest Moon", a big song indelibly attached to its originator, as too is JJ Cale's classic "After Midnight", another cover from the album where Damian does a very decent job. A third cover from the record, Dr John's "Such a Night", has the right amount of groove nailed to it and is well worth a listen.
On this tour he gives a rousing and fun cover of Warren Zevon's classic "Werewolves of London", where Damian howls, literally, as he bashes his tambourine on his leg, his acoustic guitar strapped to his back after taking the microphone off the stand and pacing across the stage lost in the music.
While a lot of performers may seem as miserable as sin during a gig, as though they'd rather be elsewhere, 52-year-old Damian obviously enjoys every second of his time on stage fronting this band. He has a stage presence and a sparkle too, clearly comfortable and relaxed in his own skin.
After each show on this tour, fans get a treat when Damian rocks up front of house to sign autographs and pose for selfies.
Read the rest of the original article at Music Republic Magazine