A Real Lewis Family Affair
by James Mottram | Metro.co.uk | February 26, 2008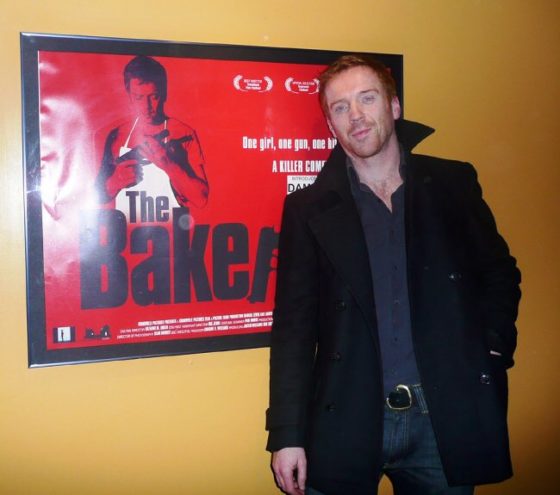 The actor and producer of The Baker talks to James Mottram about family matters, the brutalising nature of working in LA and taking control of his own destiny.
Damian Lewis is pacing back and forth across his London hotel suite. 'I've drunk a lot of cappuccino,' he says, running his hands through that distinct crop of red hair. When he finally sits, he starts playing with a ball of Blu Tack that he gets all over his fingers, forcing him to dash to the bathroom to wipe them clean. If it's a case of nerves, it's understandable: his first film as actor-producer, The Baker, is due out this week. Written and directed by his younger brother Gareth, it's a real Lewis family affair. 'Let's hope more people than just the family go and see it,' he retorts. 'I have a big family, though I don't think it'll quite do the numbers.'
In one respect, he's right to be concerned. Though he first came to attention in the Steven Spielberg-produced World War II saga Band of Brothers, his subsequent career has been blighted by the perils of working in low-budget films. His last film, Chromophobia, in which he excelled as a lawyer going belly up, slunk out just before Christmas to little fanfare. Likewise 2006's Keane, which saw him in magnificent form as a New York schizophrenic, is 'still a source of tremendous bitterness to me that it didn't get a bigger release'. But Lewis, who has been acting on screen for 15 years, is not naive. 'If you want to be seen, and you want control over your work, go and do theatre and slog it out,' he shrugs.
At least The Baker offers him some greater authority over the destiny of the end product. A light-hearted comedy – think The League of Gentlemen meets Leon – the film sees Lewis play Milo, a hitman who heads to a sleepy Welsh village, where he takes over a disused bakery to try and start a new life. Though Lewis was raised in London's St John's Wood, near Abbey Road, and educated at Eton, he, Gareth and their two elder siblings are Welsh 'by proxy'; their father's parents both originated from there. 'Dad doesn't speak five words of Welsh and can barely get through the National Anthem in Welsh, but he's very attached to his roots, ' he says.
If the film was something of a nostalgia trip for 37-year-old Lewis, it also required him to perform one of the more unusual sex scenes of his career – 'a comedy cake wrestle' as he calls it – with Kate Ashfield, who plays his love interest. In a deliberate nod to the infamous sequence between Jeff Goldblum and Emma Thompson in the Tall Guy, the pair make out in the kitchen and get covered in food. 'In the cold light of day, Kate and I got stripped off to our underwear and just had people throw chocolate and custard on us. And that was hard. I mean, it's much easier to be covered in custard and chocolate if you're in the heat of the moment.'
Fortunately, Lewis's wife, Helen McCrory, to whom he's been married since last July, is also an actress and so such comments probably don't seem strange to her. He met her on the 2004 production of Joanna Laurens' play Five Gold Rings, in which he played an unhappily married man. Since then, they haven't acted together, though that's partly due to the fact that she has given birth twice in the past 18 months. Lewis is now the father of daughter Manon and son Gulliver, who arrived while he was out in LA working on Life, a new NBC show in which Lewis plays a cop recently released from prison for a crime he didn't commit.
'I was quite hijacked by the work,' he admits. 'My family were there and we had always planned to go out there together. When we made the decision to go out we had one child, then we got pregnant again and it slightly changed the landscape. So she came out pregnant which meant she was out there being a pregnant mum, rather than enjoying the possibility of getting work, so it was tough for her. And I was at work 15, 16 hours a day at times. They don't know when to stop working; it's slightly brutalising. There's something a little bit sinister about it. It's rather mind-controlling.'
In truth, Lewis knows a show like Life will get him seen, though he adds: 'I want to try to be great at what I do before being known.' He can also soon be glimpsed in a supporting role in prison-break drama The Escapist, a brilliant thriller co-starring Brian Cox and Joseph Fiennes and the second film by Picture Farm Ltd, the company behind The Baker, which Lewis is partner in. Does this mean he sees himself moving more behind the camera? 'I'm not a natural-born producer,' he says. Still, he believes his choices reflect on him. 'You have to believe in them,' he says.
'Otherwise, it could just be a conservatory that you want to put on the back of your house.'