Be sure to watch Life tomorrow night (Wednesday, April 8, 2009) because episode 2.21 titled "One" will be the last episode of the season! 🙁

This NBC press release provides good news about the ratings for Life: 😀

ON WEDNESDAY, 'LIFE' TRACKS DOWN ITS BIGGEST OVERALL VIEWERSHIP IN TWO MONTHS, UP 29 PERCENT VERSUS THE PRIOR WEEK, DESPITE TOUGH COMPETITION FROM 'IDOL' AND 'LOST'

Wednesday from 9-10 p.m. ET, "Life" (1.5/4 in 18-49, 5.7 million viewers overall) tracked down its biggest overall audience since February 4, posting a week-to-week gain of 29 percent or 1.3 million persons in total viewers (5.7 million vs. 4.4 million). "Life" built on its lead-in by 25 percent in 18-49 rating and 13 percent in total viewers, despite intense competition in the hour from Fox's "American Idol" and ABC's "Lost," among other programs.

It is worth noting that "Life" has added an average 23 percent in adults 18-49 over the season's first five months when going from "live plus same day" to "live plus seven day" results, one of the biggest increases for any show on the major networks.

Thanks to Ann for the link!

Good job, Damian Lewis fans! Aaron Barnhart, television critic for the Kansas City Star had posted an online poll asking readers to help select a "TV show that deserves a second chance" for his next review. Life won by a landslide with 63% of the votes and today's headline on Aaron's online column reads: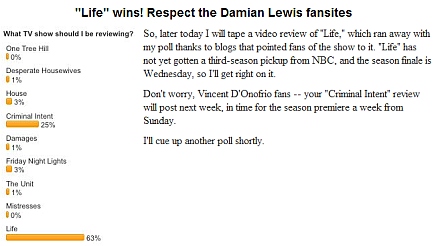 Thanks to Ryanne for the news!

Elissa Bass, television critic for The Day in Connecticut, is encouraging viewers to watch the season finale of Life tomorrow night on NBC:

But kids, you really should be watching Life. Especially if you complain about the lack of quality programming on television. Because Life = quality programming. It is quality programming. If you look up "quality programming" in the dictionary, there's a picture of Life (or at least of the scrumptious Damian Lewis)."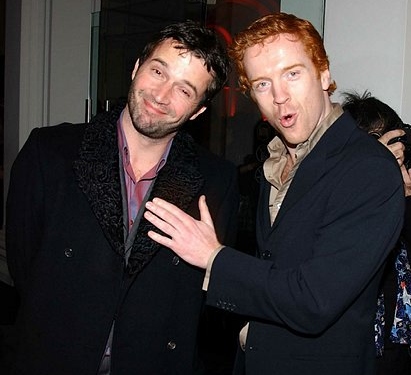 In an NBC Philadelphia News interview acclaimed British actor James Purefoy said that he consulted with fellow British actors Damian Lewis and Kevin McKidd before taking on the role of Tony Rist in NBC's new drama The Philanthropist:

"I spoke to Damien Lewis on 'Life,' and I spoke to [former 'Rome' co-star] Kevin McKidd who's now doing 'Grey's Anatomy," Purefoy recounted. "They all said, 'Yes, it's insane, and you are spat out at the end of your shoot, sort of [a] husk of a man,' because it's brutal, the shooting schedule… but at the end of the day I take that as a great challenge and I relish it, so I'm very excited by it."

Damian's wife, actress Helen McCrory, worked with James Purefoy in the Royal Shakespeare Company production of Les Enfants du Paradis and she co-starred with Kevin McKidd in Anna Karenina for Masterpiece Theater.