Damian and Helen Attend Cheltenham Literature Festival
by Damianista | Fan Fun with Damian Lewis | October 12, 2014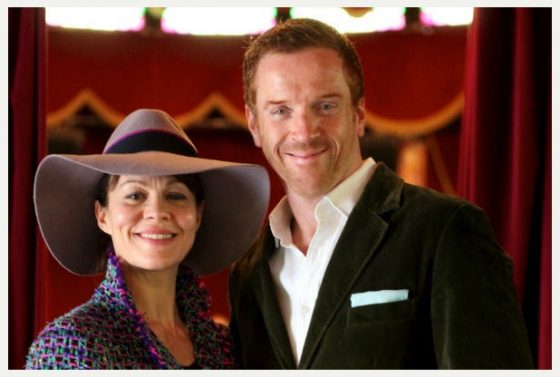 Damian loves and supports poetry and so do we! One poetry project he has actively supported is The Love Book, a brilliant collection of classic and contemporary love poems that vary from Shakespeare to E.E. Cummings to Maya Angelou coming together in a book as well as in an app. And it is our utmost pleasure to take you along to The Love Book event we were extremely lucky to attend at Cheltenham Literature Festival.
The reading took place in Times Forum, a huge 1400-seater. There was a giant screen so everyone could comfortably see the entire performance. The couple would stand on opposite sides of the stage and read.
Allie Esiri came to stage first and introduced Damian and Helen. The crowd was totally psyched and more than ready for this very original event where Damian and Helen would take turns reading love poems ultimately constructing a story about all different stages of a relationship.
They were witty, they were sexy, they were playful, doing accents and teasing each other — they were having a good time on stage!
Damian told the crowd it would be better if we did not clap after every reading which would create competition between the two of them.
Helen: "Yes, otherwise, there'll be arguments in the car driving back to London."
Damian received a huge applause when he read Robert Burns' A Red Red Rose in Scottish accent. He seemed to be particularly happy about it since his Scottish father-in-law was sitting in the audience.
Damian talked about this book signing on Desert Island Discs: "We were at the Cheltenham Literature Festival recently and we sat and signed books.
And I could have been her (Helen McCrory) assistant. Clearly, they'd all seen Medea and they all loved Peaky Blinders and I don't think they knew who I was actually.
It was quite nice… for a bit ."
Exclusive interview with Damian:
The complete set of poems Damian and Helen read at the event can be found here.
Note that you can always hear Damian Lewis, Helen McCrory, Helena Bonham Carter, Tom Hiddleston, Emma Watson and others reading poems on the Love Book app available on iTunes.
Source: Fan Fun with Damian Lewis