Talk of the Town
by MailOnline Reporter | The Daily Mail |  April 5, 2017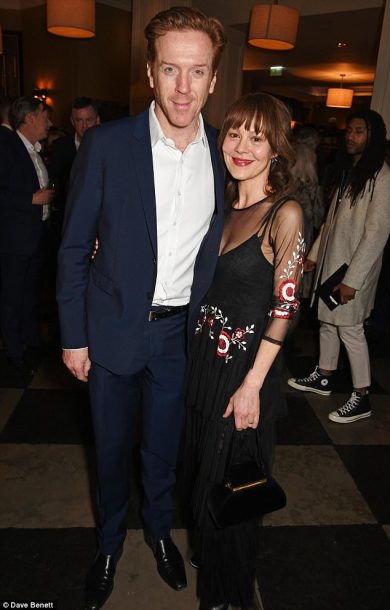 Damian Lewis cosies up to glamorous wife Helen McCrory as they toast the opening night of The Goat or Who is Sylvia? on Wednesday.
His new role is a controversial one, with The Goat or Who is Sylvia? a renowned yet divisive play.
But Damian Lewis looked in great spirits after the press night of the new production as he attended the afterparty with wife Helen McCrory.
Beaming broadly, despite the mixed reception, the actor, 46, was suprisingly chirpy at the Villandry, the comfortable and casual grand cafe serving flavourful dishes with a Mediterranean influence.
Looking dapper for the afterparty, the Homeland star donned a fitted blue suit that he teamed with an open collar white shirt.
Meanwhile, Helen looked sensational in a floor length black gown with a sheer overlay that was embroidered with floral detailing.
To view more images, please visit our Gallery.
Read the rest of the original article at Daily Mail