Showtime Billions at TCA18 
by JaniaJania – Fan Fun with Damian Lewis – January 6, 2018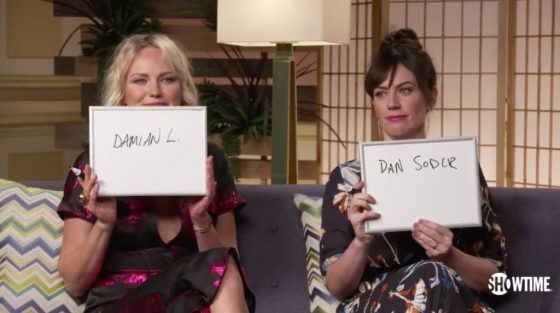 It's been a long winter, but now that Billions has announced a return date of March 25 for Season 3, bluier skies may be ahead. On Saturday, showrunners and stars graced the stage for this year's Television Critics Association winter press tour, where they dropped the first promo and got the buzz up and running for the new season.
The party got started in some fun Facebook live sessions. These short interviews were great at revealing actors' insights into the characters they play as well as some fun behind the scenes bits.
First was Asia Kate Dillon. As we've seen, Taylor has been playing an increasing bigger role since first appearing on canvas. Last season, Axe promoted Taylor to CIO. It looks like this season their role may be even more significant.
Q: "Axe doesn't trust many people, why does he trust Taylor?"
A: "In Taylor, Axe sees something unique and something practical: Taylor can make Axe a lot of money… Axe can see there is no ulterior motive."

Q: "They can appear almost impenetrable. Do you think they have any weaknesses?
A: "Taylor is full of emotion, certainly, but is aware of when and how to titrate those emotions to get a desired result."
Brr, that sounds cold, doesn't it? Also a bit magical that Taylor is able to envision a result of something while also living that thing. In a show where the brain butts up against the heart, the practical against the ideal, a character like Taylor seems to function as a fulcrum on the scale.
Read the rest of the original article at Fan Fun with Damian Lewis