"Billions Has Never Been Subtle"
by Liam Mathews | TV Guide  | March 23, 2018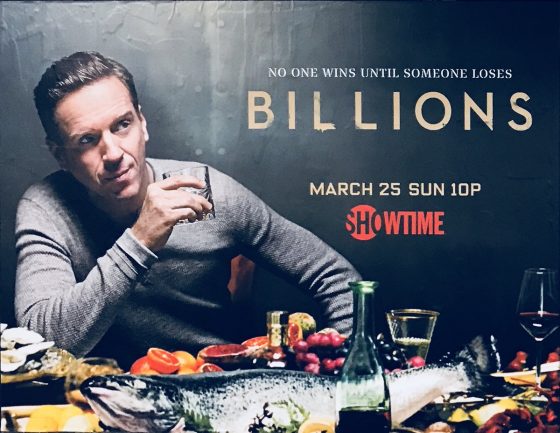 Warning: There are light spoilers for Billions Season 3 ahead.
In its first two seasons, Billions — Showtime's elevated soap opera about a crooked hedge fund billionaire and the U.S. Attorney determined to bring him down — was almost exclusively focused on the interpersonal manipulations of its characters. It avoided examining the larger world in which its titans played and how their petty feuds and reckless actions trickled down to the little people who bear the consequences of financial and political malfeasance.
There were brief flashes of it. Bobby Axelrod's (Damian Lewis) brutal treatment of an already economically depressed town after his plan to build a casino there fell through is the most notable example, but mostly the show existed in a vacuum. It presented Bobby Axelrod as a bad guy because he's a vindictive cheater and not for the real, broader reason, which is that the ruthless capitalism he engages in profits off the suffering of people he has the luxury of not thinking about.
That changes in Season 3, which premieres on Sunday, March 25. It's not the Bernie Sanders Show all of a sudden, but it develops a political conscience it previously lacked. Which is good, because even though he's a cool, smart guy who loves his kids, you're not supposed to root for Bobby Axelrod.
The conscience is developed in two ways: through liberal Taylor's (Asia Kate Dillon) discomfort with the real-world ramifications of how Axe Capital's money gets made, and through Chuck Rhoades' (Paul Giamatti) principled disobedience to a Jeff Sessions-style Attorney General.
Taylor was introduced in Season 2 and made the show better by putting an outside perspective into the middle of the action. Taylor, a gender nonbinary person who uses "they" pronouns, was involved in Occupy Wall Street in college and, by their own admission, "of course" is a vegan. They're also a brilliant analyst whose almost supernatural stock-picking abilities got them promoted from intern to Chief Investment Officer by the end of the season. For Taylor, the job is not really about the money, it's about the high-level problem solving — though the money is really, really seductive. But as Connerty (Toby Leonard Moore) said in a crucial scene in the penultimate episode of Season 2, Taylor still has a soul, and deep down still has doubts about the morality of what they're doing.
And now that Bobby has been sidelined by a criminal investigation, Taylor is the boss. They have to make the ruthless, profit-maximizing decisions. And it wears on them. When there's a tsunami in Brazil, Taylor makes the no-brainer call to short stocks in Brazilian companies.
"Don't we care about the people?" asks Axe Capital's resident softie Ben Kim (Daniel K. Isaac), and he gets dismissed, advised to donate money to the firm's philanthropic foundation to assuage his guilt. The cynicism is stomach-turning. Taylor becomes interested in venture philanthropy, investing in companies that make money while providing socially beneficial goods and services, which is better than nothing. But then another short position pays off big time as the result of another tragedy, and Taylor's disturbance is compounded by the unseemly celebration that erupts around them. They go see in-house psychiatrist Wendy (Maggie Siff) about their ambivalence.
"It's normal to feel two things at once," Wendy advises. "But when you're here, mind the truth that makes you money."
Taylor is the show's audience surrogate and the closest thing it has to a moral compass, so portraying their internal conflict makes us actually think about the human toll of moving numbers around on a computer, as well as making us complicit in considering that, well, maybe you can live with it for the right price, if you can use that money to do something good to make yourself feel better.
The show is less ambiguous in giving Chuck Rhoades something genuinely redeeming to do for once. As a prosecuting attorney, Chuck is ostensibly on the side of good will. And Chuck has always had a sense of justice, even if he didn't apply it to himself as he did outrageously awful things to his colleagues and family in pursuit of Bobby Axelrod. But in Season 3, he actually serves the people.
In the show's clearest bit of ripped-from-the-headlines inspiration, there's a conservative new presidential administration in Season 3, which means there's a new Attorney General, the right-wing Waylon "Jock" Jeffcoat (Clancy Brown). Jeffcoat swaps Jeff Sessions' Alabama piousness for Lyndon Johnson-esque Texas crudeness, but otherwise the resemblance is unmistakable. Jeffcoat directs Rhoades to pull back on holding the business community accountable and focus on prosecuting crimes that appeal to Fox News watchers, such as a case in which a young Latino man is accused of murdering a prison guard, even though he's clearly innocent. Rhoades can't abide this, and deputizes assistant attorney Sacker (Condola Rashad) to secretly go after meaningful social justice cases.
It's a rare case of Rhoades using his snakiness for unabashed good. He continues to do a lot of really bad stuff, but he does care about using his office for good. It a smart move for the show, since Chuck drifted a little too far into outright villainy in Season 2 and it became easy to forget that he's actually trying to stop bad guys from doing bad things.
Read the rest of the original article at TV Guide