Sit back, relax, and take a big slurp of Ice Juice — we've got everything you need for a new season of Billions
by Staff | The Ringer | March 26, 2018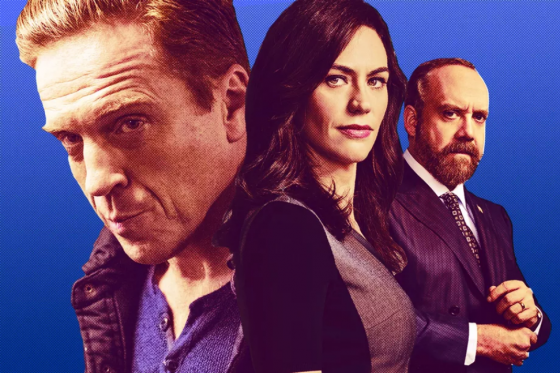 Showtime's financial drama Billions returns this week, and The Ringer has (forgive us) billions of different ways to prepare. From deep dives on past seasons to interviews with showrunner Brian Koppelman, this is your guide to making the most of the new season. Check in every week for a new Recappables podcast, which will break down the latest episode, and weekly recaps crowning the "The Best, Most, and Worst" of Billions Season 3.
Katie Baker: Just as it's tempting to relate all real-life instances of hapless political scheming to an episode of Veep, or to call every scary new bit of internet ephemera "something straight out of Black Mirror," Billions has turned into a "this-reminds-me-of" cultural avatar for current events. (Silicon Valley and House of Cards fit into this category too.) What these shows have in common is that they're designed to be tonally over the top, yet have had to fight to remain one step ahead of the real world.
Mallory Rubin and Jason Concepcion explore how power dynamics define the central characters in Season 1 of Billions (13:22), discuss Bobby Axelrod's real-life counterpart (1:06:52), rank seven of their favorite lines from Mike "Wags" Wagner (1:10:02), and celebrate the woman caught between the two central adversaries (1:15:33).
Mallory Rubin and Jason Concepcion explore how hubris drives the main characters' actions in Season 2 (17:50), explain the history behind an iconic New York City restaurant (1:09:57), list seven notable film references in the sophomore season (1:12:55), and crown Axe Cap's star prodigy (1:17:41).
Series cocreator Brian Koppelman joined The Bill Simmons Podcast to discuss the upcoming season, his experience writing the film Rounders, and how he and cocreator David Levien dictated the overall tone of Billions.
Bill Simmons and Mallory Rubin discuss where we left off since last season (2:13), the most scarring scene of the Season 3 premiere (13:39), Axe's new bachelor lifestyle (21:27), and what they're looking forward to the most on next week's episode (31:58).
Read the rest of the original article at The Ringer