NPR's All Songs Considered, Music Pods, Sound Opinions, Spotify Discover Weekly and Twitter Solicitation Beacons: Discovering Music for Billions
by Caitlin White | Uproxx | May 24, 2018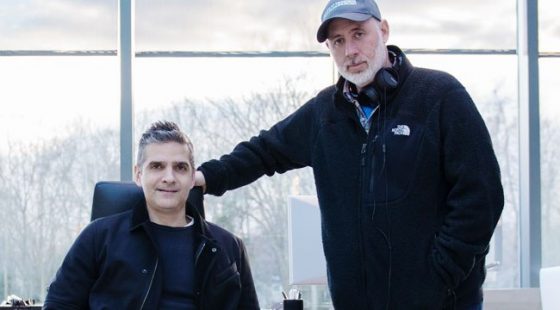 Last fall over the holidays I was desperately trying to avoid reality. Looking for an escape, I turned to a popular TV show called Billions because I'd noticed one of my favorite Uproxx TV writers, Brian Grubb, writing a love letter to it earlier in the year. It looked just far enough away from my own life to distract from the stupid minutia of what was bothering me, the characters were strong, powerful, and self-assured — but they were also caught up in tough situations, unfair portrayals, and pesky mistakes.
The plot was thick and moved with deftness, there was not one but two strong, badass female characters, there was a subplot involving a nonbinary character working in the midst of the boys club, and the whole thing swung on an unholy rivalry that was a thrill to watch. This all made for great, addictive TV, but as a music editor, what stopped me in my tracks was the soundtrack. Unexpectedly, I found old folk and indie rock favorites like Andrew Bird cropping up alongside a guest appearance from the rock gods themselves, Metallica!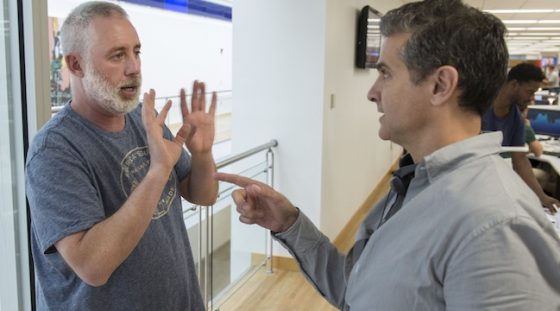 As I continued to binge Season One, The Replacements and The Pixies showed up, and by the time my favorite Jason Isbell song was invoked, I knew this show was using music in a very specific, very special way. The needle drops moved with a life of their own, drawing in outside emotional forces to help move the internal feelings of the show. It was brilliant and unexpected, and felt unlike anything I'd ever heard before in a prime-time television show; the musical selections were just as important as the choices the characters were making, and the two elements worked together seamlessly to create this bigger, third thing.
For creators Brian Koppelman and David Levien, music is more than just an addendum to their show, it is the show's heartbeat. In a past life, Koppelman worked within the music industry, first managing bands, then as an A&R rep for labels like Elektra and EMI. After moving into the film and TV industry, along with his lifelong friend and writing partner Levien, the two began working on Billions with music in the forefront of their minds, not an afterthought. Part of their process involves sending songs back and forth, soliciting suggestions for specific types of songs from friends and fans on Twitter, and endlessly searching for tracks that will act as an "emotional accelerator" for the viewer.
That's how artists like Courtney Barnett, Ryan Adams, The Hold Steady and Titus Andronicus make their way into episodes, alongside legacy acts like Van Halen, and Bob Dylan (who ends up being quite a force in the show, keep watching). Season Two included appearances from personal favorites like Car Seat Headrest, Mitski, and Drive-By Truckers. Season Three is currently in full swing and Lucy Dacus showed up in the first episode. As a fan of music and a fan of the show, I reached out to Koppelman and Levien to get some insight into their tastemaking process and song selection for Billions, to find out what artists they can't wait to include as the show continues to unfold. Read our conversation below.
I came into Billions purely as a viewer — I had no idea there was going to be such a strong music angle, especially in the indie world. But it seemed immediately clear to me as someone who both works in the music space and watches a fair amount of TV that the show was using music in a really different, unique way. When you started working on the show, were there certain songs or artists you knew you wanted to include?
Brian Koppelman: We're obsessive music fans, so we're always making lists of songs that could be good for the things we work on, just playlist after playlist. I think what happened is in the fourth episode of Season One, we came up with the notion of using that Andrew Bird song about psychopaths ["Oh No"] in the beginning and the end, and that's how we really found the tone of the show. With that song, we used it during the scene when Danzig is shooting the guns at the deer, and then put it back at the end of that episode when Axe walked out.
We realized that we'd locked in on how we could use music that way — from then on, we started scripting a lot of the music. We always had these playlists as soon as we got the show greenlit — Season One's playlist, Season Two, Season Three — Spotify playlists that are for just us and our editors to use. But it's really a lifetime of thinking about this music, thinking about the ways in which the music can be a tremendous emotional accelerator for what goes on, on screen.
David Levien: Totally, yes. The other part of it, besides making playlists Brian was talking about, we didn't even need to write the songs down because we'd been listening to them for so long. All the Bob Dylan stuff, any of the heavy metal stuff, and Van Halen — that's all stuff we've been listening to and waiting to use. There was an episode in Season One, Episode seven, when we used all '80s indie rock. Late '80's and early '90s indie rock.
Koppelman: Yeah, the episode that ends with "Debaser" by the Pixies. For instance, the Counting Crows song this season was a great combination of both. We had loved that album, August And Everything After, we're the perfect age where that album is super meaningful to us. It's a huge treat to be able to have this canvas to paint on with this music.
Totally, and I think it's a huge treat for the viewer too. That episode you mentioned from Season One is such a monumental part of the show, and in the plot. That's when I realized the show was really connected to music, because Axe flies to see Metallica, and the fact that the band appeared in the show was huge — even seeing Metallica in that episode feels so fun. How did you guys approach them as far as appearing?
Koppelman: Well, when I was a young person… I didn't sign Metallica, this guy named Michael Alago signed Metallica, (there's a great documentary about him and his role with the band that came out this year). But when he was leaving Elektra Records, I was hired within a week of that. Metallica's management remembered me as a kid who used to write them letters about heavy metal, so when I got to Elektra, they asked me to be Metallica's A&R guy. For a short period of time, a year, around the time And Justice for All came out I was the creative liaison between the band the label. I got to go out on the road with them a bunch during that tour, and became close friends with their managers, Cliff Bernstein and Peter Mensch. David has become friends with them over the years too, because Dave and I grew up together and have been best friends since we were kids.
So the idea for that episode came from a guy we know, who's a guy sort of like Axe, and he told us a similar story about his life. That he had gone to, I think, South By Southwest, but it might have been Austin City Limits, when a great, famous band was playing. And he helicoptered backstage and got to hang with the band and he brought his friends from home, his blue-collar friends from home and from growing up. And we heard that story and we thought, 'Well, Bobby will actually have to do that,' and then realized it should be Metallica.
When we called, those guys just all had faith in us. The band knew me, Lars knew me and remembered me. I don't know if the other guys remembered me — though James loved it when I showed him that I still have my all-access pass from 1989. So we were able to call them and walk them through it, sent them the script pages, and they quickly agreed. They were playing these two gigs in Quebec, and so we just flew up to Quebec and shot during the day that they shot. The "Harvester Of Sorrow" song they sing is in their real rehearsal room that they have at every stadium. And then we just shot the actual concert for Master Of Puppets.
The other episode that I found to be really moving as far as music selection was Season One, episode eight, which ends and closes with what is generally considered to be Jason Isbell's greatest song, "Cover Me Up." Given the emphasis on marriages and trust in the show, I thought that it was a perfect choice. But, I also love how it was juxtaposed with a violent FBI raid, when it's this gorgeous, sweet song about trust. How did you guys decide that that song would be for that scene?
Koppelman: We knew we wanted that song to end the episode. I remember we were in the editing room and someone had tried to put a very typical like aggressive SWAT score. And we were like, 'the problem is… that's not our show.' Our show is canted slightly, it's on an axis that's not conventional. I remember saying, 'let's try "Cover Me Up" in the beginning.' We had this feeling that as those cars were pulling up — the mournful tone. Because also we knew Donnie was sick.
Levien: We're huge Isbell fans and Drive By Truckers fans. We had a bunch of information the viewer didn't have, and wanted to be able to emotionally convey something about the mournfulness. Remember, Donnie is being interrupted when he's with his husband, Walter, in that room. So we wanted to convey that this was kind of — he wished he could be covered up, he wished he could just exist in the way that Jason's talking about Amanda in that song, and he couldn't be. So instead of emphasizing the FBI, we wanted to emphasize Walter and Donnie. And so the way we thought we could do that was with the music.
Yes, and it's such a beautiful moment. You guys mentioned the Truckers and I was actually thinking about another way that you use music which is really cool, when entire episodes are soundtracked almost by just one artist. Like in Season Two, episode six, both the songs used are by the Truckers. And in Season One, episode ten, there's three or four Parker Millsap songs, it makes the whole episode feel built into one discography or universe. I wanted you to talk about that concept a little bit.
Levien: Yeah, Parker Millsap's voice just fit that episode so well that we decided like, 'Let's just go for it and make this his episode, in a way, musically.'
Koppelman: It unifies things in a wonderful way when you do it, and that's how we feel about episode seven of Season One too, which is… even though it wasn't all one band, it was all this one period of time. You know, The Replacements and The dB's and Pylon and the Pixies — all that stuff. It's a great unifying thing when you can do it. The Parker episode was great. I found that album and — this is one of the great ways we work, because I'm obsessive, encyclopedic and insane about the music stuff. So I will send Dave all this stuff and I sent him that Parker album. Then he wrote me a note, 'we should use those Parker songs in this episode,' because he'd kept it in mind. He started listening after I sent it to him and then said we should do it. Suddenly, it made sense and fit the soundtrack of the episode.
The inclusion of certain artists on the show is constantly delighting me, as someone that has to know about emerging indie rock like Car Seat Headrest, Mitski. These are names that I don't really expect mainstream TV writers to be familiar with, though I know that you guys have a different background on that. It's very cool as a listener and as a viewer to find those worlds colliding a little bit. you talked about NPR's All Songs Considered, but what are some of the other ways that you find new music?
Koppelman: There are music pods that we both listen to, we both listen to All Songs, we both listen to Sound Opinions. I listen to them every week. But more than that, a really cool one I think is the song "Born In San Antone" Garrett T. Capps, which starts off Season Three, that was just a song on Spotify Discover Weekly, I think. It was so obvious that song should open the season. And that guy had like a thousand plays only, total before the show aired. Like, nobody knew who he was.
Car Seat Headrest happened because of another way that we find new music, Twitter. Sometimes I will send out a beacon. I'll be like, 'Hey, I want music that has these characteristics: I want it to be played within an inch of its life, melodic, but whoever did it has like everything at stake.' And out of that, we got Beach Slang and we got Car Seat Headrest. About 20 people tweeted me about Car Seat. Then, I got the album and started listening and then went back and listened to all of them. Then I had Will in my podcast, and we decided to use that song.
When you're writing, do you ever have a song in your mind that you know will already fit the scene, or has there been a connection you've made later that has totally surprised you? I know you've given a couple of examples but if there's any others that stand out, I would love to hear about them, too.
Levien: I think [Tom Petty's] "Even The Losers" came into our heads pretty early one day.
Koppelman: That was in the script.
Levien: Yeah, but like in the creation of that episode, we were already thinking of it.
Koppelman: Most of the time, yes there have been a couple of moments of surprise. But most of the time, it comes somewhere in the planning or writing — like that great moment when [Bob Dylan's] "Serve Somebody" plays in Season One, or when "Visions Of Johanna" plays in Season Two. And I will tease you, there is a Bob Dylan song in season three, though I don't want to tell you what it is.There will always be a Bob Dylan song, one in every season.
When "Visions Of Johanna" came the moment we all had the idea of that episode ending in the racetrack? The second we had that idea, we had the idea for "Visions Of Johanna." It all came as one piece. It was like, while they're sitting with Axe, the rest is at the racetrack, they walk down to the birthday party and "Visions Of Johanna" is playing. For some reason, the whole picture came to us at once.
Dylan is already so cinematic, so I love that he popped up. I'm a huge Bob Dylan fan. Are there any other artists that you're sort of looking forward to working with, including that you haven't gotten the chance to use yet?
Koppelman: Yeah, I don't wanna name too many of them. I'll say Phoebe Bridgers because I know we have not successfully gotten one of her songs into the show and we would love to. Also I just think she's amazing. I can't understand why everyone in the world isn't talking about her. Though I think they will be soon.
I think they will too! This questions if for both of you, what's your personal favorite music moment in the show so far, that we've seen has been?
Read the rest of the original article at Uproxx