Billions: "A Whip-Smart, Drum-Tight Financial Thriller"
by Sean T. Collins | Decider | December 28, 2018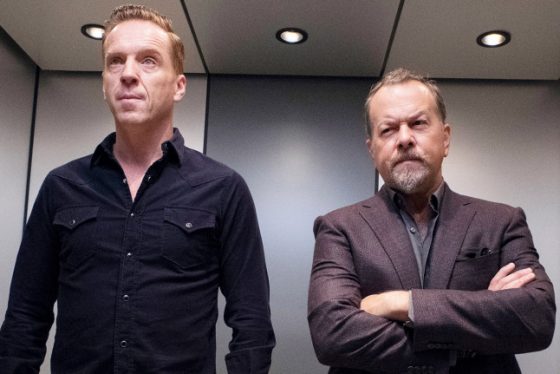 Weird 'Flix, but okay: 2018 saw a certain streaming behemoth finally achieve the approximate cultural reach and clout the Big Four broadcast networks still enjoyed as recently as a decade ago. Unfortunately, the level of artistic quality and risk-taking roughly followed suit.
But even the algorithm-assisted return of TV monoculture—you can have any flavor you like, as long as it's a flavor our data indicates you've enjoyed before—couldn't stamp out the hard-earned gains television has made as an art form since Tony Soprano woke up that morning 20 years ago. Shows predicated on the idea that challenging your audience is a vital part of entertaining that audience, even if it's an audience you have to will into existence in the process, are still out there.
Television can still make even a jaded viewer sob with sorrow and joy, recoil in suspense and terror, stare in silent (or shouting!) awe at the sheer emotional and aesthetic audacity of it all. Between them, the eight shows below did all that for me and more.
#5 – Billions
In the immortal words of Qui-Gon Jinn, "There's always a bigger fish." Billions, a show full of characters who might drop that quote into a conversation with only a hint of irony, demonstrated the truth of this maxim all season. Long the story of the Ahab vs. Moby-Dick conflict of ambitious federal attorney Chuck Rhoades and his hedge-fund-king nemesis Bobby Axelrod, the show's third outing spent its first half watching Axe extricate himself from the brilliantly planned trap Chuck sprang on him during Season Two, with Chuck's wife and Axe's close friend Wendy Rhoades as the fulcrum for the escape.
But all the while, Bobby's brainiac protege Taylor Mason (nonbinary actor Asia Kate Dillon in a role all the more groundbreaking for its matter-of-factness) and Chuck's hang-em-high boss Attorney General Jock Jeffcoat (Clancy Brown, looming and drawling like a bizarre High Plains Frankenstein) were moving closer to springing traps of their own. Season's end saw the one-time arch-enemies in an alliance against their new foes—and Brian Koppelman & David Levien's whip-smart, drum-tight financial thriller hit new heights of both entertainment and insight into the world of the One Percent.
Read the rest of the original article at Decider