"Everyone's Hands are Dirty as the Worlds of Politics and Privilege Merge"
by Dana Feldman | Forbes | March 13, 2019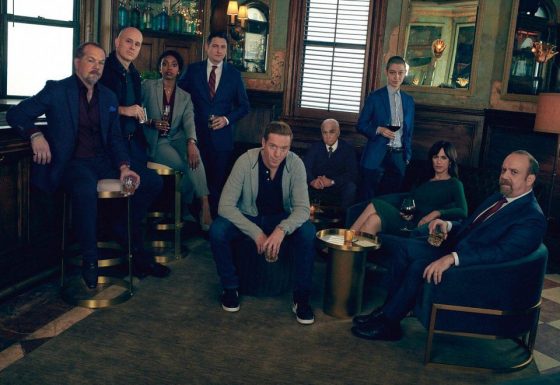 It's that time of year! Spring is in the air and Billions is returning for its highly-anticipated fourth season this Sunday. The motto for the new season: When everyone is out for revenge, no one is safe. 
Billions is one of the network's top drama series, with season three averaging 5 million weekly viewers across platforms. The season three premiere was its highest-rated ever, with the March 2018 debut up 23% from season two. And, the series grew throughout its second season on Sunday nights by more than 35% from premiere-to-finale.
Embroiled in a dark, sordid underworld of power, corruption, betrayal and revenge, Billions hooks viewers with the dramatic lengths its characters are willing to go when it comes to getting what they want. Simultaneously, the show remains reflective of the current times in which we live wherein money, greed, ambition and justice collide.
The writers are always one step ahead of the current news cycle, which is oftentimes quite by coincidence. In Billions, everyone's hands are dirty as the worlds of politics and privilege merge, a world not too dissimilar to our current reality.
Even in the "real" world, there are constant examples of those in power taking advantage of those without. A myriad of recent headlines exemplify this, including Operation Varsity Blues, wherein 50 people, including two Hollywood actresses, were just indicted in the biggest college entrance exam scandal ever.
The season three finale left fans anxiously awaiting some answers as to where their favorite characters are now. The ending of last season completely shifted alliances and loyalties by creating new power struggles. Previous enemies, billionaire hedge fund manager Bobby "Axe" Axelrod (Emmy and Golden Globe winner Damian Lewis) and disgraced former U.S. attorney Chuck Rhoades (Oscar nominee and Emmy and Golden Globe winner Paul Giamatti) are now allies, with Wendy (Maggie Siff) as the chief counselor to each as they unite to eradicate their rivals.
Now pitted against one another are Axe and his former protégé Taylor Mason (Asia Kate Dillon), catapulting an entirely new chain of events into play as Taylor is now aligned with unrelenting Russian oligarch Grigor Andolov (guest star John Malkovich).
Chuck, aiming to get his old job back, is squaring off against his former protégé, Bryan Connerty (Toby Leonard Moore) and anyone else that dares to get in his way.
Billions, created by Brian Koppelman, David Levien and Andrew Ross Sorkin, has always been known to fans for its whip-smart writing, fast-paced storylines and superb acting. So, what exactly sets this new season apart from the three prior?
Showrunners Koppelman and Levien, who also executive produce and serve as writers, opened up about what fans can expect moving forward. According to Levien, the new season will stay on par with the first three as far as twisting plots go. This season, however, will also explore each of these characters to find out exactly how high a price they'll have to pay to satisfy their mostly self-serving needs.  
"The thing we kept coming back to was vengeance. All of these characters had these scores to settle at the end of last season," says Levien. "Fans can look forward to seeing how far these characters will go in pursuit of vengeance. We also explored even more what it is that makes these people tick. What drives them and how far and at what cost to them and their families are they willing to take things?" 
Read the rest of the original article at Forbes