Kelly AuCoin Discusses What Went Down In 'Chickentown'
by Dana Feldman | Forbes | March 31, 2019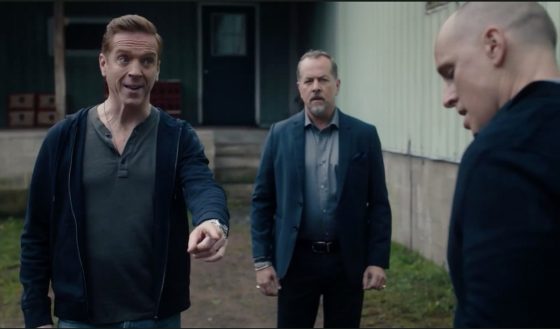 There's always a lot to unpack in every episode of Showtime's hit series Billions and the latest, entitled "Chickentown," is no exception. Let's just say if you're eating anything poultry-related, you may want to read this when you're finished.
Axe And Wags Stop Dollar Bill From Going To the Dark Side:
When Dollar Bill's (Kelly AuCoin) poultry-play quickly goes south, Axe (Damian Lewis) and Wags (David Costabile) step in to save the day and the food chain.
It all begins when Dollar Bill greets Axe at the office with his own rendition of Bruce Springsteen's "Atlantic City" with its famous opening lines: "Well, they blew up the chicken man in Philly last night and they blew up his house too." If you're a fan of Billions, you know the music is another member of the ensemble cast and there's always a direct link to the song choices and the story. In this case, the Springsteen classic about Philadelphia crime family mafia boss Philip Testa, who was taken out by a rival gang in the early 80s, makes reference to the "chicken man" and chickens get top billing in this week's episode.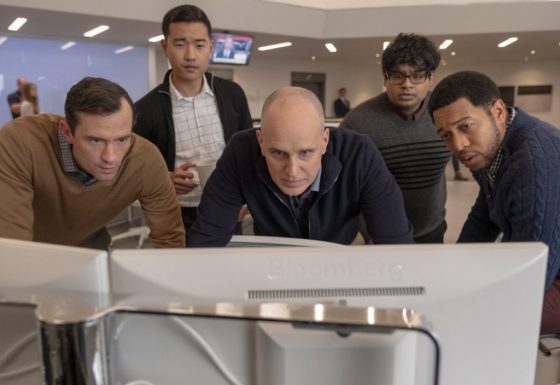 "I got chicken business with you," Dollar Bill says to Axe. He excitedly tells Axe and Wags about his new play, which involves the Arkansas chicken index: It's a market mover. Axe tells him to size up the position, as this play could lead to a $300 million dollar win for Axe Cap.
As Axe Cappers gather around him, Bill watches in horror as problems escalate and he's forced to go to Arkansas to figure out why the chicken index report was delayed. Unfortunately for Bill, this will end up being his first fail and he doesn't handle failure well…at all. 
When he gets there, he discovers that the chicken-man is dead and so is their position. Bill sees a possible, yet drastic, solution to their chicken problem in what Wags calls a "chicken holocaust." However, poisoning the food supply is going too far as far as Axe and Wags are concerned. They head out to stop him from killing a few hundred thousand chickens to up the price of poultry. Bill is the guy that always delivers, and this fail is a first for him. They console him and Axe even lets him off the hook. "We can't all be right all of the time," Axe says.
Kelly AuCoin Explains Dollar Bill, The Cheapest Billionaire In The World:
When AuCoin, who you may also recognize from The Americans, first stepped into the role of Dollar Bill Stearn in the show's pilot, he had no idea whether or not he'd return for another episode. "In the pilot I wasn't even listed as a potential returning character," AuCoin said in a phone interview. "Bill was initially described to me as the cheapest billionaire in the world. I knew there was something percolating here and I'm proud of the fact the role has grown into a series regular."
Throughout our conversation, AuCoin references the classic 1974 film Chinatown. There are, you will see, correlations between the film and this episode. He specifically points out the moment when Wags says, "Forget it, Bill. It's Chickentown."
AuCoin explains how meticulous they were when filming that scene. "It was hilarious to shoot. We were all obsessed with trying to get it exactly like the moment in the movie Chinatown. Costy (his nickname for Costabile) even knew exactly the way to grab my arm when I tried to turn back. It was hard not to laugh."
In a show with such a terrific ensemble cast, AuCoin says having Dollar Bill get such a great storyline is definitely a plus. "I love going to work on this show and I love what they give me. I will say whatever they want me to say."
This was Dollar Bill's first time letting Axe down in this way. "This is his first fail and it's really distressing to him. I think he's emotional because it's a point of pride. He's letting down his brother. He's the guy who gets things done, the guy that delivers and to not deliver is unfathomable to him." This, he explains, is why Dollar Bill is willing to take such drastic actions, such as poisoning the food chain.  
When asked to describe his character, AuCoin uses words like loyal and effective. "It's a little like making sausage. You don't want to see the process, but you enjoy the product. It's not always pretty but it's deadly effective." He's also a ladies' man, he adds, referencing Bill's two wives. "We still haven't fully figured out how he survived them finding out about one another in season one," he laughs.
"You'd think shooting at a chicken facility would put me off chicken for good," he answers when asked what it was like to shoot with chickens as co-stars. "And, a part of me thought I'd give it up after." After years of not eating fried chicken, he had to eat it in the scene with Wags and Axe as they're flying home. He admits it was as good as it looked. "My morals only go so far when there's delicious food in front of me."
Also, to set the record straight, in the scene Bill throws a sick chicken in a bag over a fence, he swears no living animal was inside. Another tidbit discussed was whether fans can expect to see more of the Spyros (Stephen Kunken) and Dollar Bill bromance, to which he wasn't at liberty to say. What he did say is how much fun the two have working together. Fingers crossed on that one!
Chuck's Career Aspirations Are Threatened When Past Misdeeds Come Back To Haunt Him:
Let's start with the fact Michael Bolton makes an appearance in this episode at Chuck's (Paul Giamatti) fundraiser. That's the only upside for Chuck in this episode. It all starts to go downhill when Lonnie Watley (Malachi Weir) visits his office and tells him the fundraiser is off.
"You don't know there's a missile coming at you," Lonnie warns. The missile is coming in the form of an impending news article that will spotlight an old case Chuck failed to prosecute on Sugar Vape, a company that had flavors marketed and targeted to hook kids. There was also the matter of a whistleblower Chuck hung out to dry. Chuck says he'll spike the article, but things aren't in his favor when the editor doesn't back down and refuses to kill the story.  
Chuck tries to explain his actions by saying the guy didn't have the goods and the case couldn't be won. Apparently, he was wrong. Chuck knows he's got to act fast to get himself out of this mess. He tries, and for a short time, gets the whistleblower to back off from the article. When Connerty (Toby Leonard Moore) and Kate Sacker (Condola Rashad) get wind that Chuck got to the guy, Sacker pays him a visit and convinces him to go on the record. The article comes out and Chuck, as they say, is screwed. As we know well by now, he won't stay down for long.
Wendy And Axe Team Up With A New Plan To Derail Taylor's Business:
When Axe, Wags and Wendy (Maggie Siff) come to learn that Mason Capital's remote log-ins haven't been given adequate scrutiny, they see a way in. Time, however, is of the essence. They're given Taylor's (Asia Kate Dillon) positions and trading pattern and at first Axe and Wags don't see the advantage, but Wendy immediately sees a way to unsettle Taylor and throw them off their game by picking tiny little percentages off their profits. "Their need for mathematical perfection will erode their well-being," explains Wendy. "Then a real mistake can be induced."  
Axe immediately takes the information to the office where Ben Kim (Daniel K. Isaac) is tasked with the job of locking in all the positions "big gulp size." Ben is at first confused, telling Axe there are other plays that would yield more upside. Axe explains they're limiting the upside for someone else. Ben finds this both exciting and scary but does what he's told.
Read the rest of the original article at Forbes