Chuck Risks Everything To Win
by Dana Feldman | Forbes | April 7, 2019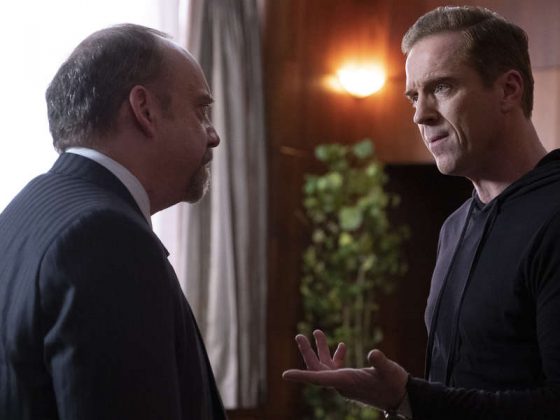 Everyone shows their true grit in the latest episode of Billions entitled "Overton Window." It's helpful to acknowledge what exactly the episode's title means: This window is the range of ideas tolerated in public discourse, aka the 'window of discourse'. In a nutshell, what behaviors will people accept in a political candidate?
The concept, which was first developed in the mid-1990s by Joseph Overton of the Mackinac Center for Public Policy, states that an idea's political viability depends mainly on whether or not it falls within this window, rather than on a politician's individual preferences. According to Overton, the window contains the range of policies that a politician can recommend without appearing too extreme to gain or keep public office in the current climate of public opinion.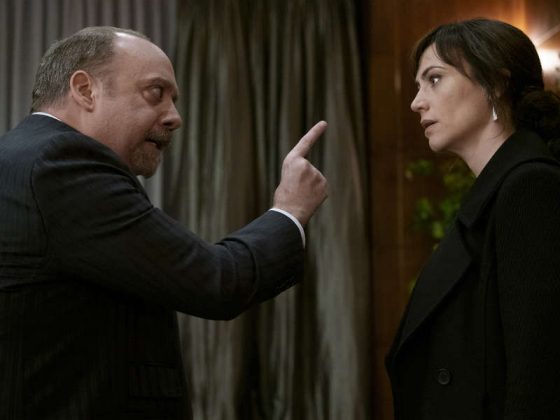 In this particular case, can New York handle an Attorney General with a proclivity to whips, blindfolds and handcuffs? Well, Chuck (Paul Giamatti) is certainly willing to bet his entire life that the answer is yes. He is, after all, a betting man.
Chuck Will Do Whatever It Takes To Win:
A dying "Black" Jack Foley (David Strathairn) sets a dark set of circumstances in motion when he threatens to expose Chuck and Wendy's (Maggie Siff) love of BDSM if Chuck doesn't back out of the race for Attorney General of New York. With only a few weeks to live, his aim with this final move is to keep the office pristine at any cost and to get immunity for his heirs.
Unfortunately for Wendy, Foley underestimates Chuck's desire to win at all costs. There are things you just don't do and betraying your spouse is at the top of that list. Chuck, apparently, didn't get the memo.
When Chuck suggests proceeding despite Foley's threats, Wendy's reasoning to back out includes her belief he'll lose, and they'll be a laughingstock. She brings up the Overton Window. "This behavior, our behavior, is so far outside that window it might as well be on f**king Mars."
He counters that the window is shifting. She strongly disagrees and stands her ground. She sees no other option than Chuck backing out of the race. He cannot expose their personal life. Though a part of him wants, needs, the humiliation, it's something she cannot, and will not, live with. He says he'll walk away but he just cannot do it. Chuck makes the boldest (and coldest) of moves to advance his career.
With everyone watching, Chuck goes on TV and tells the world that he and his wife partake in sadomasochism. "Bondage, dominance, all the rest," he says boldly. "Masks, binds, ropes, fire…I am a masochist. In order to achieve sexual gratification, I need to be tied up, punched, pinched, whipped, kicked, or otherwise tortured by my loving wife."
The risk pays off career-wise for Chuck as the exit polls prove. Personally, however, it just may destroy his marriage. The show skips 30 days forward and it's revealed that Chuck has won Attorney General for the state of New York. Will his smiles be short-lived? Will Wendy come around to his way of thinking?
When His Company Gets Hacked Axe Gets Help From Chuck And Rebecca:
Axe Cap gets hacked and it couldn't be at a worse time. The company's computers go down right on the cusp of a major industrial accident. Axe (Damian Lewis) gets a tip to get out of natural gas and he needs to dump all positions immediately.
Dollar Bill (Kelly AuCoin) is on it and if it wasn't for the hack, it'd be smooth sailing. Axe and Wags (David Costabile) show the team how things were done back in the day. They go old school "smiling and dialing" to get the job done. Ben Kim (Daniel K. Isaac) says he's never made a voice trade in his life, nor have any of the younger Axe Cappers, and they don't know how. Axe, of course, has a duffel bag filled with burner phones. Doesn't your boss? He tells his team to call every friend they have on the outside.
By closing bell, they dump roughly 90% of their natural gas positions. Dollar Bill gloats that he saved the company $70 million. Even though Axe Cap took a $48 million hit, it could've been a lot worse with the $512 million loss they were facing.
Though they're celebrating, they know who the culprit of this cyberattack was: Grigor Andolov (John Malkovich) took Axe Cap totally off the grid. He's a problem they have to deal with asap. This is where Chuck comes in as the newly-appointed AG for NY. His first order of business is to freeze Andolov's funds in the U.S. and send him and his family packing.
Axe isn't completely heartless; though Andolov's assets in the U.S. have been frozen, he's able to give a parting gift. The billions Andolov has in Taylor's company will be unfrozen and returned the moment he lands back home. The two agree to stay off one another's turf, so this should divert any revenge by the ruthless Russian oligarch.
Axe and Rebecca Cantu (Nina Arianda) are still spending quality time together. During their latest date, as they loop the racetrack in a $132,000 Mercedes-AMG GT, she tells him she's excited to go on a zero gravity flight she paid $165,000 for. As she's on her way to the airport, Axe is mid-hack and calls to ask a favor of her and she comes to his rescue. Could this be love? Will we ever see Lara (Malin Akerman) again?
Taylor Gets Into Business With Their Dad:
Unbeknownst to Taylor (Asia Kate Dillon), they're about to take a loss when Andolov's money is returned to him. Things might just turn out even better, however, when their father presents a business idea. At first, Taylor has reservations and is even put off by the proposed collaboration.
Read the rest of the original article at Forbes