An Insider-y Take On A Not So Insider-y Show
by Stacey Wilson Hunt | Fortune Magazine | May 1, 2020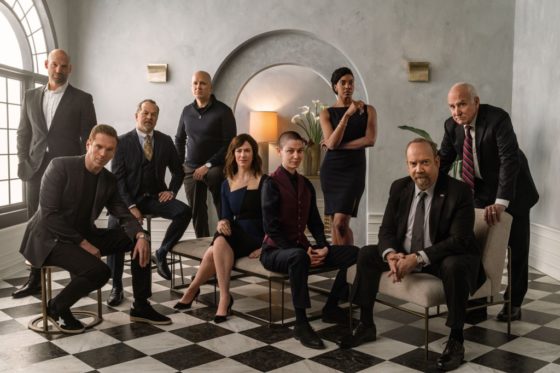 There's little that Brian Koppelman and David Levien haven't tackled in their artistic careers. From early forays in the music business (Koppelman), to novel-writing (Levien), to the ups and downs of screenwriting-in-tandem—including 1998's Rounders and 2007's Ocean's Thirteen—to making one of Showtime's most-watched drama, Billions, the New York natives have curated an almost Zen-like approach to their work: create cool, smart stuff and have a blast doing it.
But Koppelman and Levien faced the beginning of what is likely to be their most daunting challenge as storytellers when production on season five of Billons, which films on location all around New York City, was halted mid-March because of the global coronavirus pandemic. As a result, the series— which tells the ongoing saga of former U.S. Attorney Chuck Rhoades (Paul Giamatti) and hedge fund king Bobby "Axe" Axelrod (Damian Lewis)—will air a truncated installment of episodes starting Sunday, May 3, as Billions' tight-knit cast, crew, and its team of creators (which includes author Andrew Ross Sorkin) face what so many of us are confronting: nearly total uncertainty as to how and when all of this chaos will end.
To find out what fans can expect from season five's amended rollout, Fortune spoke by phone to Koppelman and Levien on April 13 and asked whether they plan to address the global pandemic in future episodes; how they're using Twitter to ease feelings of isolation (and raise money for coronavirus relief); and how their partnership, now curated remotely via Zoom, has offered calm at a time when they need it most.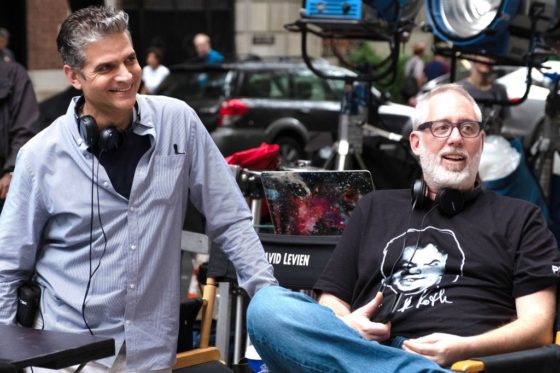 How are you both holding up? When was the last time you saw each other in person?
Koppelman: Our families are healthy and we have food, so we're in a lucky, fortunate place. We're really thinking about everybody else.
Levien: I've lived in Connecticut for around 17 years—it's definitely less dense here, but I think I had a mild case of [the coronavirus] about a week into isolation, probably from shooting in Brooklyn before that. I had a bunch of the symptoms but couldn't get tested so I can't be totally sure. But I do feel better now. Brian, I think we saw each other five weeks ago?
Koppelman: Yeah, the last week we were shooting before all this went down and we got out of the city. We now see each other on Zoom three or four times a week. We're completely in touch, as we've been almost our whole lives. We met when I was 16 and David was 14 and a half. We went to different colleges but talked on the phone three times a week, so we're used to maintaining a blood-like relationship from different locations.
How many episodes had you locked before production stopped, and how many will end up airing this season?
Levien: We'd completely shot seven and were shooting the eighth when we had to stop. Showtime has announced that we'll air the first seven, then take a break. We will go back and shoot the final episodes as soon as we can, hopefully air those in the fall, and then see about ramping up for next season. But it all remains to be seen. Unintentionally, episode seven has a fun ending, so it will work well under the circumstances.
Have you talked yet about how, if at all, you will address the coronavirus pandemic in the show, either in the yet-to-be-shot episodes of season five or next season?
Koppelman: No spoilers, but I'll say this: Billions takes place in the real world.
Actor Mark Blum, who very sadly passed away from the coronavirus on March 25, appears in episode two as Chuck Rhoades's therapist, and you pay tribute to him in the credits. Without betraying privacy, how are the rest of your cast and crew doing right now?
Levien: That was a tragedy. Really, really sucked. We loved Mark, and what he was doing with that character was amazing. We had a lot of plans for him, so obviously we've had to make edits. Just truly sad.
Koppelman: We're in touch with everybody and they seem to be okay, but I don't want to go down this road too much because we know how quickly the world changes.
Levien: We are a very, very close-knit show, like a family. We all just wish we could do more. It's very hard.
Let's pretend for a moment that we're in simpler times and you're just two showrunners promoting the latest season of your hit series. What were your biggest challenges when you sat down to break story for season five? Were you ever worried, "How much further can we take all of this?"
Levien: Novelist Mark Helprin talks about storytelling like this: He takes a rock, throws it as far as he can, walks to the rock, picks it up, and does it again. There's an element of that in how we've approached Billions. We've never said, "That's a great idea. Let's save it for season three." It's more, "Let's use everything we have, and we'll come up with more of the right stuff when we get there." Also, when you're telling stories about business, the instinct is to wonder, "Is it going to be sedentary? Too intellectual? Boring?" I think covering a lot of [narrative] ground works well against that and keeps it exciting, as long and we continue growing and changing the characters in organic ways. That's our compass.
Koppelman: That's a perfect answer, Dave. The only thing I'd add is that it's all much less daunting when you have actors who can do anything— Paul Giamatti, Damian Lewis, Maggie Siff, Asia Kate Dillon, David Costabile, Condola Rashad, Corey Stoll, and others. I can't tell you how it feels to know that, whatever you throw at these people, they're going to knock it out of the park. You're more able to "throw that rock" as far as you can. We also have an audience that's willing to go anywhere with us. They watch every episode three times, know every reference, and even start websites to talk about them! It's very inspiring. But mostly, even after more than 20 years, starting from when we wrote Rounders, the biggest thing for me is, all I want to do is make Dave laugh. I read something that he wrote recently and sent him a text in the middle of the night, "Dude, you fucking nailed that!"
You mentioned that your fan base can't get enough of the cultural references you embed into the show's dialogue. There's a moment this season that's classic Billions in that respect when Bonnie casually references "Fuck it, we'll do it live!," which is what Bill O'Reilly yelled during his infamous meltdown while anchoring Inside Edition in the early 1990s. Are you ever worried the show veers too insider-y?
Koppelman: (Laughs) No, because that is Billions. And you got the reference, right? Years ago, Billy Crystal visited the editing room of a movie we were doing together. He heard a line and said, "Oh, you threw that one in for the band," referencing 1950s performers who'd say something ribald that only the band would understand. What Dave and I decided is that our audience is the band; we're confident that, if they're watching our show, they're as hip as the hippest member of Buddy Rich's orchestra. We trust them to get all that stuff, to look them up, or to ask us about it on Twitter. We have faith that they can hang with us.
Corey Stoll joins Billions this season as Michael Prince, a titan from small-town Indiana who becomes Axe's latest adversary. Their relationship, and competitiveness, open up some interesting questions about the social and philanthropic responsibilities of the über-wealthy. What are you saying, if anything, about how you feel about this now very timely issue?
Levien: Their relationship is a fascinating antagonism. At the heart of it, Axe believes deeply that he's more genuine [than Prince] and sees hypocrisy in a guy who's fashioned himself into a good citizen, while Prince believes completely in the brick-and-mortar work he's done to make himself this good person and rejects Axe's premise. I think some people have undying faith in billionaires, private enterprise, and technology to be saviors for humanity; others believe that to become that wealthy, tremendous crimes must have been committed in the process. We're at neither of those poles; rather, solidly in between. We're fascinated by the question of billionaires, but we aren't going to say what an individual's responsibility is to society. We've witnessed incredible philanthropy from some we've interacted with. Hopefully we'll see a lot of that now, regardless of their motives.
A striking thing about Billions is how incredibly well-spoken, clever, and intelligent each character is, thus making their rapport with each other almost seamless. I think of other sprawling, dramatic ensembles, like that of The Sopranos, where characters exhibited overtly distinct speaking styles from each other. In what ways are you able to distinguish your characters despite what they have in common?
Koppelman: I think there are many things that Taylor would say that, say, Wags wouldn't and vice versa. There are also points of views the prosecutorial characters have that the hedge fund folks don't. But yes, we are very engaged by writing about people smarter than we are and made the decision a long time ago that they were culturally astute. We're also huge fans of The Sopranos; Mad Men too. And [writers] Aaron Sorkin and David Mamet.
I definitely see shades of both of them in your work.
Koppelman: Thank you. And if you look at Mamet or Sorkin, their characters are all distinct, but clearly live in the same worlds. Even going back to characters in Rounders—they weren't as "educated" as Billions characters, but were still culturally aware, smart people.
What is your process now as a writing team? Do you write alongside of each other in tandem or rotate taking passes at the other's work?
Levien: There's nothing as clear-cut as "He does the dialogue and I do the structure." We both do all aspects. There's a shared sensibility in the center, and then on the fringes are the individual interests we each bring in to keep it fresh. Either one of us could write an episode and it would be pure Billions, but it's simply more fun to do it together; splitting up scenes, seeing what the other guy did, and then going back and forth with it.
Koppelman: It's truly a partnership—one shared voice. We're lucky that we're like brothers but weren't raised in the same house, so we don't have any of the baggage. (Laughs) Just the positive parts. Dave, do you think you could tell in a vacuum which one of us wrote a certain scene?
Levien: It'd be very hard, and there's a chance we would have forgotten along the way who went first. (Laughs)
You've said you met as teenagers. Where and how did this first meeting take place?
Levien: At Kennedy Airport. Have you heard of a Teen Tour? It was a trip taken in the summer by kids who had aged out of summer camp. They'd have chaperones, go out West, and take buses through national parks and attractions. It was popular among New York kids in the early 1980s, and you'd meet everyone for the first time at the airport. So we both had signed up for one of those trips.
Koppelman: Dave was pretty cool back then; I was a little dorky and scrawny. I showed up carrying a briefcase full of cassettes, including a lot of Rush tapes. (Laughs)
Levien: Was this 1984?
Koppelman: No, no, 1982! You graduated high school in 1984. It was definitely 1982.
I feel like this all has the makings of a charming, coming-of-age feature film.
Levien: That was actually the first thing we tried to write together. It wasn't good. (Laughs)
What have you been watching in the past few weeks that's brought you comfort or respite from current events?
Levien: I just watched [HBO's] The New Pope. I love [writer/director] Paolo Sorrentino's work. Brian also turned me on to [the Epix series] Godfather of Harlem. It's intoxicating. [Actors] Forest Whitaker and Ilfenesh Hadera are just cool.
Koppelman: We got an early peek at [writer] Glenn Kenny's new book on the making of Goodfellas—it's spectacularly good. I watched the movie again and wow, everyone was firing on all cylinders in that one. I also just watched the ZZ Top documentary, That Little Ol' Band From Texas. I loved it.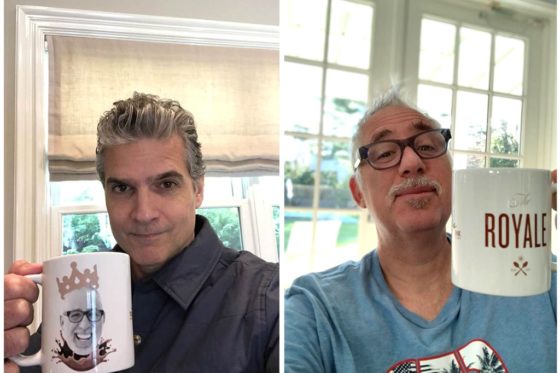 Brian, you've been very active on Twitter as of late. For those who don't know, can you talk about 'The Royale' and how you've parlayed this social media phenomenon into a philanthropic effort to aid coronavirus relief?
Koppelman: David always took coffee more seriously than I did when we were younger. In fact, he's the one who got me caring about it at all, so much so that I felt the first cup of the day was so special it deserved its own name. So I started calling mine "the Royale" and talking about it in my podcast and in social media. My friend Tom Kretchmar said, "You should share pictures of yourself drinking your Royale on Twitter, and people can share theirs." I was like, "That'd be a beautiful way to connect with people right now." Then another Twitter friend, Lance Bradley, a big poker-magazine writer, said, "You should make mugs with your face on them, sell them, and pick a charity for the proceeds." Another guy, Greg Sylvester, said, "I'll design it!" So I took Lance's idea, Greg's design, made these mugs, and have since raised thousands for the Food Bank for New York City. The fact that every morning 100 or so people share their Royale pictures makes us all feel much less alone. It's so beautiful. Dave even posted his own Royale pic recently.
Levien: I couldn't let the fun pass me by. By the way, I've been waiting for my mug to arrive. Delivery is not as reliable as it used to be!
Last and perhaps most important: How does each of you take your coffee?
Read the rest of the original article at Fortune Magazine