New Enemies, Reignited Rivalries and the Wreckage of Revenge
by Dana Feldman | Forbes | May 3, 2020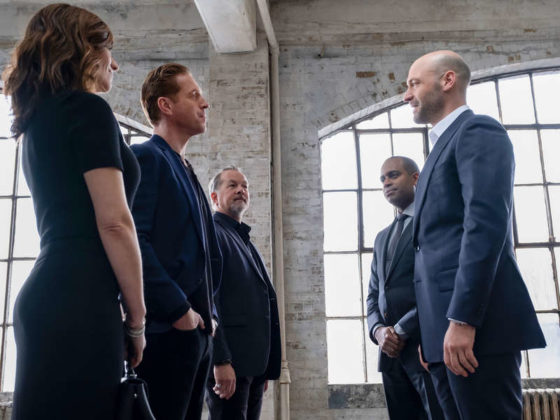 As many hit the wall in quarantine, wondering just how much more social isolation they can handle, a saving grace returns! Showtime's mega-hit drama Billions is back for its highly-anticipated fifth season, which is definitely on par with the first four as far as twisting plots and ever-evolving allegiances go.
Season five opens with the episode "The New Decas" as Bobby "Axe" Axelrod (Damian Lewis) and Chuck Rhoades (Paul Giamatti) reignite their rivalry. Axe, however, may have to pick his battles carefully as a new enemy surfaces in social impact pioneer Mike Prince, played by Corey Stoll (House of Cards), who proves himself to be a surprisingly formidable opponent.
Perhaps the renewed clarity and perspective Axe gained while doing Ayahuasca, aka nature's anti-depressant, with Wags (David Costabile) will help him navigate this new minefield. They did so to celebrate Axe's net worth of $10 billion but still, Axe isn't able to fully celebrate; something is missing.
A renewed sense of purpose is ignited when Axe's path merges with Prince at a Vanity Fair cover shoot honoring those with mind-blowing net worths. Will taking Prince down give him that feeling of satiety he's seeking? Axe knows one thing for certain: Keep your friends close and enemies closer if your intention is to bring them down. This will include both Prince and Chuck this season.
Chuck, per usual, balances multiple feuds simultaneously, including one with district attorney Mary Ann Gramm (Roma Maffia) and another with Axe, which is centered around cryptocurrency mining.
In addition, as Chuck Sr. (Jeffrey DeMunn) gets remarried, Chuck and Wendy (Maggie Siff) attempt to consciously uncouple. "I am on the brink of huge change," Chuck says to Wendy, begging her for another chance. "I am going to force myself to evolve." Can you say brilliant writing?
Will she take him back? Wendy will be forced by various circumstances this season to reevaluate her loyalties and forge surprising new alliances that put her at odds with both Chuck and Axe.
As busy as he is overcoming enemies and obstacles, Chuck is sidetracked this season when he crosses paths with Catherine Brant, played by Julianna Margulies (The Good Wife), an Ivy League sociology professor and bestselling author. Could there be a new romance on Chuck's horizon?
Also stuck between Axe and Chuck is Taylor Mason (Asia Kate Dillon), who is forced back to Axe Capital. There is major discord between their team and Axe's, which will force Taylor to fight to protect their employees and assets.
To help with company morale at Axe Cap, Wendy takes advice from Lauren (Jade Eshete) and decides to bring the fun back to the office. This leads to the most talked-about scene of the episode with a cameo from WWE superstar Becky Lynch, who steps in and coaches the divided team.
She explains in a way only she can, how in wrestling as in the world of hedge funds, it isn't about everyone liking one another, but rather at the end of the day, realizing that all are part of a bigger family. She reminds them that they're all in this together. This, in turn, forces Taylor to tell Axe they are there as Chuck's operative.
So, what's the theme for season five? Showrunners Brian Koppelman and David Levien, who also executive produce and serve as writers, said in an interview last year that season four would be heavily focused on vengeance and just how high a price each would be willing to pay to satisfy their mostly self-serving needs.
In an interview yesterday, Levien said one word kept coming up in the writers' room for this new season. "We kept coming back to the theme of 'wreckage'. Last season these characters were chasing vengeance so heavily and now they have to deal with the wreckage they left behind. These people did a lot of damage trying to satisfy the need for revenge. They created a lot of damage and left a lot of broken stuff around and now they have to climb out of it to move forward successfully."
As for Axe, he's finally met his match this season. "We know that Axe and Chuck have tangled a bunch and each is a very formidable opponent," says Levien. "Taylor has also been mixed up in this and they're a very crafty fighter. Now, Mike Prince comes onto the scene, which changes things up quite a bit."
Prince, adds Levien, has as much financial fire power as Axe, though he has a very different worldview. "Axe is fighting with his equal for the first time and adding this new player to the table sets up completely new challenges for him."
Billions is one of Showtime's top drama series, with an average of five million weekly viewers across platforms and the fanbase continues to grow season over season. According to Parrot Analytics, Billions ranks at 99% in the drama genre, meaning the series has higher demand than 99% of all drama titles in the U.S.
The coronavirus pandemic caused a shut-down in filming mid-season, so fans will be able to watch the first seven of twelve episodes with the remaining five episodes set to air later this year.
"When it's safe, we will go back and film the back-half of the season," says Levien. "We are excited about this season and fortuitously, episode seven ends with a really good, fun cliffhanger."
Read the rest of the original article at Forbes