Unity or Lack Thereof
by Damianista | Fan Fun with Damian Lewis | May 3, 2020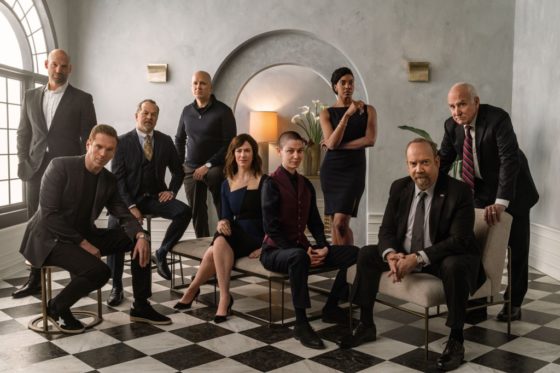 Advance Warning: This will be a long review. I just wanted to touch upon everything that happened in the season premiere because it sets the tone for what is to come! And you know, I just love talking about this show. Hope you bear with me – ENJOY!
Massive  thanks goes to Showtime for kindly releasing the BillionsSeason 5 Premiere at midnight Saturday which gave me ample time to watch the episode two times, sit down and write.
And now…
They are back! And I now know why Brian Koppelman has called this season the most Billions-y Billions! One episode in and my mind is spinning.
Season 5 picks up only a few months after we left our characters. And while it is a wild ride with twists and turns, the main theme is unity or lack thereof – in marriage, in friendship and in partnership.  Axe and Wags bond over a road trip as things get tribal at Axe Capital while Wendy does her best to convince the employees that they should be one company, one team, one family. While she tries to keep the work family intact, she is trying hard to get out of her marriage. And as Chuck and Wendy seem to be heading for divorce, Billions gives us hope that love still lives here with a couple being blessed in holy matrimony in the opening seconds of the season premiere.
I called it the second I saw the following picture in the first official teaser.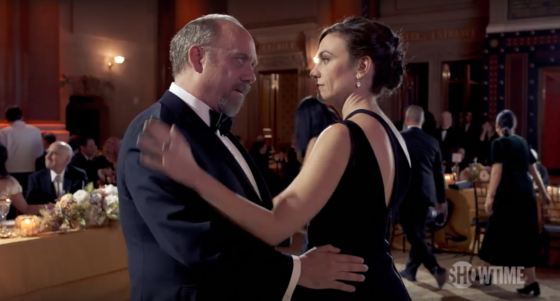 Chuck Sr. is getting married to Roxanne in a lavishly decorated room complete with Moet & Chandon flowing, a band singing love songs, and Chuck Senior wearing a bolo necktie!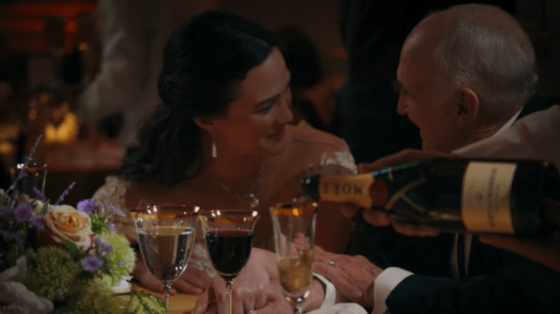 Chuck is at a table with his minions trying to endure the jokes about his failing marriage. Thankfully, a text from Kate saying she was here gives him an opportunity to leave the table and he catches his son Kevin drinking whiskey. While the young boy tells his dad that he finds it gross, he takes another sip once he makes sure his dad is out of sight. And Kate, who is here to get Chuck's blessing for the crypto mine take down they are planning, is anxious to see the toast! 😀
And as it is always with Billions, the most shocking thing is not the wedding but the fact that Chuck Sr's ex wife and Chuck's mother is attending the wedding to see her husband of more than five decades getting ready to live "under one blanket" with a woman that could be his granddaughter. She is sitting at a table with her ex-daughter-in-law- to-be.
As Wendy is sitting with his ex-mother-in-law trying to figure out why the fuck she is there and all she hears from her is that Chuck, the senior that is, always told her to soldier forth, and he was right. Wendy is certainly determined to soldier forth as well but on her own terms. And while she tells her ex-mother-in-law that maybe they need to put aside what the Rhoades men say and take control over their own lives, she cannot say no to the kind dance request by the bridegroom himself.
Who knew Chuck Senior had the Rudolph Valentino moves? 😀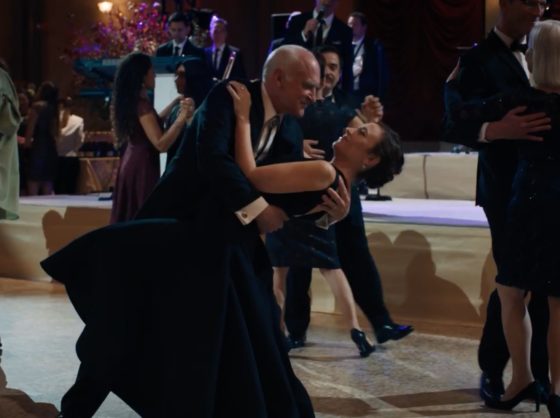 And he can multi-task, too! Just after a deep dip with Wendy, Chuck Sr wears his  family counselor hat:
"Go get some ass if that is what you want, go get it… and then re-up with the unit."
Ha!
And he does not show mercy to Chuck who arrives to save Wendy from Chuck Sr.
"You had your chance, Sonny…"
Sad but true. It Chuck's obsession with Jeffcoat and obliviousness towards Wendy brought them here. And while Chuck still remembers the good old days where they would get away from the wedding like McQueen and MacGraw in The Getaway…
Read the rest of the original article at our sister site Fan Fun with Damian Lewis