Becoming Fluent in the Musical Language of Billions
by Al Shipley | Complex | May 3, 2020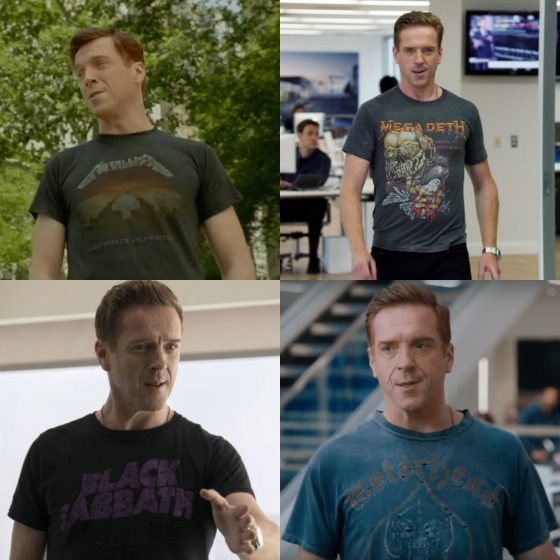 At a time when TV prestige dramas often have 90-second opening credits with an epic theme song and lavish visuals, Billions on Showtime has an unusually short and simple title sequence: an ominous aerial view of Manhattan, soundtracked by a queasy low electronic pulse, in and out in about 15 seconds. The show's score and theme music is by Eskmo, an electronic producer associated with labels like Ninja Tune and Warp Records, who puts moody, unobtrusive beds of sound under the dialogue-heavy show about powerful hedge fund manager Bobby Axelrod, his company Axe Capital, and the public officials trying to catch them breaking the law. But Billions, which returns with the Season 5 premiere on May 3, has gotten increasingly flashy with its nods to music since the Season 2 scene that featured a lengthy discussion of Jeff Tweedy and Jay Bennett's creative chemistry in Wilco.
Increasingly, Billions has been rife with moments where music didn't just provide an emotional backdrop but memorable dialogue. "Dollar" Bill Stern (Kelly AuCoin) belted out the opening verse of Bruce Springsteen's "Atlantic City" when Axe Capital hatched a plan involving "the chicken man" who sets prices in the poultry industry. Politician Chuck Rhodes (Paul Giamatti) air drummed to Al Green and offered a critical breakdown of 1977's The Belle Album. And when Attorney General Waylon Jeffcoat (Clancy Brown) tried to intimidate Rhodes's corrupt father into a confession, he said that he has a witness "singin' like Hank Williams the elder, tellin' us all about your cheatin' heart."
When Billions premiered in 2016, it seemed like a prototypical cable drama about male antiheros, but it often undercuts that image with humor and cleverly shifting power dynamics between the characters. Co-creators David Levien and Brian Koppelman, the son of a music publisher and himself a former label A&R rep, are hands-on with music in the show, and often go heavy on the dad-rock canon of Dylan and Springsteen that has figured heavily in prestige TV since The Sopranos. The first season of Billions even closed an episode with Dylan's "Gotta Serve Somebody," a memorable early Sopranos needle-drop. There's also a healthy share of hip indie rock like Mitski and Car Seat Headrest.
Some of the show's music choices can be playfully on-the-nose, as when the episode that takes place on January 1st opens with U2's "New Year's Day," or when two characters sign up to fight in a charity boxing match and their comic training montage is set to "Eye of the Tiger." But Billions can also use the right moment in a character's life to wring all the emotion out of a song like Joni Mitchell's "River," which cathartically ended an especially brooding Season 4 episode that featured little other music.
Most of the characters on Billions are middle-aged and/or very wealthy, and sometimes the musical nods feel like an easy, if deserved, joke about their banal middlebrow taste. When Axe Capital throws a karaoke party, COO Mike "Wags" Wagner (David Costabile) sneers that someone else probably expected him to sing Steely Dan, congratulating himself for instead hamming it up with "Brick House" by The Commodores. When a '90s Natalie Merchant hit is cued up later at the party, dorky millennial Axe employee Ben Kim (Daniel J. Isaacs) proudly proclaims "this one's mine!" Billions doesn't go so far as to turn its characters into American Psycho's Patrick Bateman waxing rhapsodic about Huey Lewis & The News. But it's hard not to wonder if they were nodding in that direction when Wags declared, "Like Huey Lewis crooned, we're goin' back in time."
When musicians make cameos on the show, it's usually because the characters can afford to hire Ben Folds, Michael Bolton, or The Hold Steady to play their private events. But the first and most notable musician cameo on Billions was also a good example of how Billions uses music to underscore character moments. Metallica co-starred in a Season 1 episode where Bobby Axelrod flew to Quebec to see the band perform. Hanging out with the band before the show, Axelrod confesses he's having trouble "unplugging" on his rock vacation and asks James Hetfield what he does to feel free and unfettered. The rock star responds, a little awkwardly, "I play, man…I play." During the concert, Axelrod can't help but take a business call during "Master of Puppets." But a couple of episodes later, Axelrod hears the same song in his car and spontaneously gives his driver the night off, joyriding in a convertible to the thrash metal classic.
In Season 2, Billions broke ground in series television with the introduction of a non-binary character, Axe analyst Taylor Mason (Asia Kate Dillon), who quickly climbed the corporate ladder despite not fitting into the company's chest-thumping macho culture. Eventually, you see how much Mason has bonded with her domineering alpha male boss when you see that they've found common ground in a hard-rocking but extremely nerdy band. Axelrod sarcastically suggests delaying the cap raise in a contract until the year 2112, "as a celebration of Rush's second-best album." Mason responds, "You mean Moving Pictures is number one, but I think it goes Hemispheres, then A Farewell To Kings, then 2112, then Pictures." This season, Taylor was seen dialing in 2-1-1-2 as the PIN number to open a door, and "2112: Overture" blared while Bryan (Toby Leonard Moore) sweated out in a cycling class at the gym. Billions was in production in January when drummer Neil Peart passed away, so the likelihood of further Rush tributes in Season 5 seems high.
In the fourth season, Taylor Mason has left Axe Capital and is determined to create a different culture at their own firm. But it seems like the finance bro fixation on communicating in song lyrics has stuck with them, and Taylor stops a negotiation in its tracks with a rant about the subtext of the lyrics to The Turtles' "Happy Together."
Read the rest of the original article at Complex