Bobby Axelrod Wants to Do Some Good—But Who Does He Really Want to Help?
by Paul Vigna | Wall Street Journal | May 24, 2020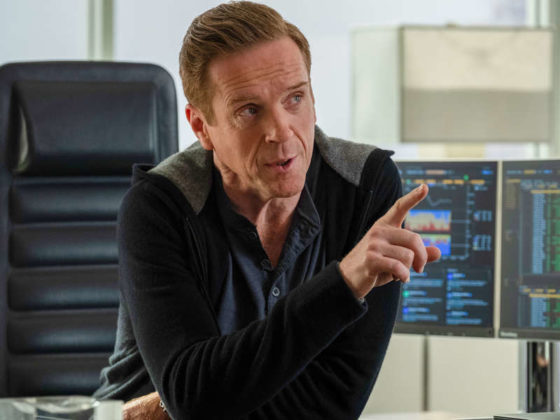 It all started with a shovel.
In "Opportunity Zone," the latest episode of "Billions" (written by Brian Koppelman, David Levien and Emily Hornsby, directed by Laurie Collyer), we get the entire Bobby Axelrod back story: a poor kid in Yonkers who turned snow shoveling into a business, turned his business into an investment, and turned his investments into an empire.
It's a heartwarming narrative, and it's got visuals: Bobby stands in an alley next to the Yonkers house where he grew up, shooting hoops with Savion Williams (Akili McDowell), a 14-year-old who lives there now. This tale ends up as a feature in the "Financial Journal" (if they're referencing the WSJ, we're insulted that they think we'd be taken in by such an obvious snow job.)
What's all this about? Opportunity. Bobby and Mike Prince are both vying to control an "opportunity zone" in Yonkers. For Prince, it's business. For Bobby, it's personal, though what that really means becomes clear only at the end.
In his own words, Axe is a "monster." This episode revolves around investing schemes that try to channel his greed into something for the broader good. According to Adam Smith, capitalism is already supposed to do this. That it doesn't always is really what makes "Billions" tick.
Opportunity zones are real. They came out of the 2017 tax overhaul, although the Treasury Department just finalized rules for them in December. The idea is investors who are sitting on significant capital gains can take that money and invest it into an opportunity fund, for which they get a tax break. The fund in turn invests in businesses in disadvantaged neighborhoods. It is Smith's invisible hand expressed in a tax code.
Yes, Yonkers does have an opportunity zone, but that's about the only thing this episode gets right.
For one thing, no one group controls an opportunity zone. The zones are assigned for specific census tracts; you can invest in any business within the area. The idea that Bobby and Axe are competing to run one entire zone just doesn't make sense.
While the Rhoades men share a breakfast, Chuck Sr. mentions that the zones have "real capital gains advantages." Chuck Jr. counters that the money is supposed to help the community. But there's no conflict there. The whole point of the zones is to offer investors a gift on their capital gains in exchange for investing in businesses in the zones.
There's no limit on how much you can invest, but you need to keep it invested for at least 10 years to get the benefit. That makes it less attractive for hedge funds, which likely won't want to tie up their capital for that long. Indeed, in the real world, hedge funds have not moved aggressively into opportunity zones.
An investment like that may be attractive to Bobby or Prince personally, as a tax scheme, but not as a real business opportunity. Instead, we see Bobby canvassing possible partners (including a cameo from FUBU founder Daymond John). He finally strikes a deal with Franklin Sacker (Harry Lennix)—Kate's father—and Prince tries to strong-arm him into dumping Axe.
It culminates with a public hearing in front of Yonkers' zoning board (in the real world, the board meets at 6 p.m., but this hearing is in the middle of the day). This doesn't really make any sense, either. You don't need a zoning board's approval to invest in a business.
Meanwhile, Taylor and Axe both realize that Taylor's "save the Earth" play could be a big opportunity. The idea is to convince fossil-fuel companies to go green to attract capital from college endowments under pressure to go green themselves. It's a win-win and a win, with the firm cleaning up in the middle.
Does any of this make sense?
Kind of, yes. Socially conscious investing is becoming a big business. Inflows to "ESG" funds—environmental, social and governance—quadrupled last year. In January, BlackRock said it would take a tough stance against companies that aren't making ESG part of their company.
BlackRock, in case you don't know, is the largest asset manager in the world, with $7 trillion in assets under management. It carries a lot of weight. The firm said on a conference call just last week it expects this will become a $1 trillion market over the next decade.
The trend started even before that, though. BP began touting itself as "Beyond Petroleum" way back in 2000. Exxon Mobil has been producing annual "sustainability" reports since at least 2010.
Taylor and Wendy meet with a big-time oil CEO—a man so manly he eats a T-bone with A.1. Sauce during meetings. This is a second meeting—the CEO had initially laughed off Taylor's proposal. But Wendy, in two minutes, persuades him to completely change his company.
Or did he? Now, it's absurd to think a CEO would turn his entire company around on one pep talk from Wendy. But he sees more than she even offers. "You're greenwashing me," he says with glee. "Greenwashing" is the term for a corporate marketing campaign to make a company look environmentally friendly, when it really isn't. T-bone fits right in on "Billions."
The success of this prompts Taylor to suggest they begin an impact fund (these are a real thing) to try to lure others in. Is Taylor's idea itself being greenwashed?
Back in Yonkers, Axe finally gets a win over Prince. The zoning board approves his plan. Prince, in a tuxedo outside the Metropolitan Opera, places a concession call to a triumphant Axe, who is about to celebrate with Savion and his mom. Prince says being an outsider, he never was going to win over Yonkers. But Axe? "You never really left. It's in your manner, your bearing. You stink of the place. And now you're back in it."
This is delivered with such cool condescension it crushes Axe.
Read the rest of the original article at Wall Street Journal