It Takes a Monster to Destroy a Monster
by Dana Feldman | Forbes | May 25, 2020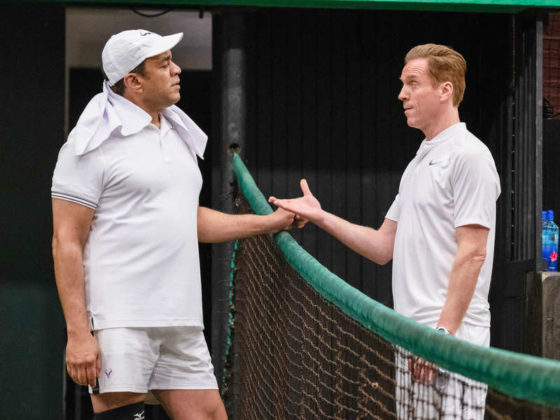 Winning isn't as fun if your enemy no longer wants what you have. If Axe and Mike Prince are keeping score, it isn't clear exactly who won this latest round in "Opportunity Zone."
Axe (Damian Lewis) learns the hard way that winning isn't everything. When he returns to his roots in Yonkers, he fights to beat Mike Prince (Corey Stoll) and Chuck Senior (Jeffrey DeMunn) in a bid for an up-for-grabs opportunity zone in his hometown. Winning would mean he could be directly involved in a major development project that would help the locals and benefit the community financially. These are his people, or so he says.
When Axe plays he does so to win and a well-planned article does the trick. He befriends a young boy, Savion Williams (Akili McDowell) and his mom, who currently live in the house he grew up in. Axe and Savion are photographed playing basketball outside the home and Axe tells the boy how he came up with his first entrepreneurial venture living in that house, on those rough streets shoveling snow for his neighbors. He hired friends, expanded into other areas and invested the money he earned into other ideas. This, he says, is how he got his start. "I have Yonkers to thank for my success," he tells him as the two pose for the camera.
The article is a start but to get legit street credit, he needs to partner with someone who can help him gain the approval of the people. He tries to enlist Shark Tank's Daymond John as a partner but this shark sees right through it and calls Axe out for trying to use him as a way to connect with the minority community.
Axe then approaches Kate Sacker's (Condola Rashad) father Franklin (Harry Lennix) and the two form a partnership that extends beyond the Yonkers deal into banking. A displeased Kate warns her father that he's being used as a pawn by Axe but he's ok with this because, as he tells her, in business everyone puts their own interests first and recognizing this fact is the key to success.
Kate tells Chuck (Paul Giamatti) about her father's new business endeavors with Axe. She also points out to her boss that Axe and Mike are like two dogs fighting over the same bone, which prompts Chuck to have an epiphany: Mike is Axe's real enemy.
After a failed attempt of his own to partner with Franklin, Mike agrees to a meeting with Chuck, who tells him he wants to help him beat Axe. Mike initially refuses but returns later and admits to Chuck that this fight with Axe has reignited something dark within him. He's felt a pull to his old ways, which he cannot succumb to. The endorphins and adrenaline in this type of fight might feel good in the moment, but he knows they can lead to a bad place and he will not let Axe turn him back into a monster. Chuck suggests he win this game and leave the feeling bad for later because they cannot let Axe win.
When the board picks Axe, the feeling of victory is very short-lived. Though Mike attempts to fight his monster, he lets him out just long enough to make a phone call. Axe answers as he and Chef Ryan pull up to his childhood home to bring dinner for Savion and his mom. At first, it appears Mike is laying down his sword but what he's really doing is twisting it in Axe's back. "Yonkers is you. You are Yonkers. You've never really left. It's in your manner, your bearing. You stink of the place and now you're back in it." Axe has done everything to distance himself from the poverty that plagued his childhood and these words ignite something within him and he quickly leaves.
As for Wendy (Maggie Siff), her work is never done. After a dinner with Axe, where it seemed for a moment as if something might finally happen between them, she agrees to help him with Nico Tanner (Frank Grillo), who Axe claims is struggling with painters-block.
She pays Nico a visit and takes note of the blank canvasses on the wall. In a staring contest he has no chance of winning, she gets him to admit he's struggling. Once he signed the contract and agreed to the commission, he felt like a sell-out. Even though money shouldn't change anything, it's gotten into his head; he's so focused on Axe's reaction to his work that he's blocked.
Wendy imparts wisdom: he can vilify the money or accept he's on the precipice of the type of success very few artists will ever have. Nico has created an obstruction between himself and that success and she helps him get over it and he's soon back to creating. Might there also be some sparks between Wendy and Nico? If so, and if that dinner was any indication, could this be a potential love triangle with Wendy caught between Nico and Axe?
Chuck also has a potential romance on the horizon when he meets an intriguing colleague in Julianna Margulies' Catherine 'Cat' Brant, a bestselling author and Ivy League sociology professor at Yale. Coincidentally, she's doing a lecture on Chuck's famous coming-out speech on being a sexual masochist. She's fascinated with the subject matter of owning one's sexuality and not being ashamed of it and asks if he'd do her the honor of coming to her class so she can ask him some questions in front of the students. At first, he says no and compares the idea to a root canal but he does eventually agree.
When a struggling Taylor (Asia Kate Dillon) and Lauren (Jade Eshete) meet with the head of an oil company and explain how captured CO2 can be used to create synthetic fuel, the meeting doesn't go well. Not only does he only want to talk to Axe but he also refers to Taylor, who is gender non-binary, as a woman.
Taylor admits to Wendy that something is blocking their efficiency and they need to learn how to win again. Wendy arranges a meeting to discuss the rift between Axe and Taylor. As Wendy sees it, and she's never wrong about these things, there's poor communication and a lack of alignment between the two and both are to blame.
Axe and Taylor clear the air because as Wendy points out, a unified team is a much more powerful image than either individual. Axe gets Taylor a second meeting but they have to bring Wendy. This meeting goes extremely well, which leads Taylor to approach Wendy with an idea for a partnership. They can turn Mason Capital into an impact fund together within Axe Cap. The opportunities are endless and Wendy sees the vast potential.
Read the rest of the original article at Forbes