Buff Artist Frank Grillo Steals the Show
by Miles Surrey | The Ringer | May 25, 2020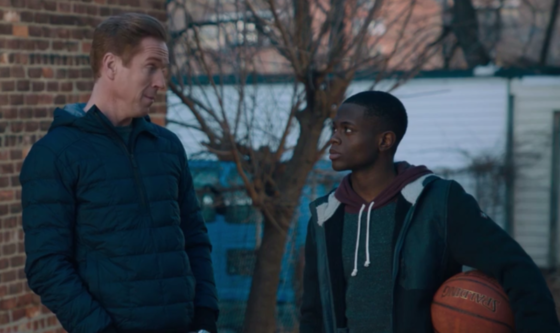 First, an apology: We didn't do any superlatives for last week's episode of Billions. Too many other things got in the way—like reflecting on the one-year anniversary of the Game of Thrones series finale, a show that is way worse than Billions, and celebrating the 15-year anniversary of Revenge of the Sith, the greatest movie ever made. But I understand if you're upset enough to want to string me up in Chuck Rhoades's BDSM dungeon or force me to chug Ice Juice. Totally normal recourse for skipping out on some sweet, sweet content. I get it.
But let's focus on the positives. Billions is settling into another ridiculous groove, introducing Buff Artist Frank Grillo—the character's name is Nico Tanner, but going forward he will be known here only as Buff Artist Frank Grillo—in the third episode doing some paintings for Axe on commission. I truly cannot believe this show added Frank Grillo—a gruff character actor from the Purge franchise and a couple Captain America movies whose whole vibe screams "law enforcement/mercenary" and decided to make him paint. My brain would never arrive at this conclusion, which is precisely why I'm not a staff writer for Billions (yet!).
Elsewhere, we not only got confirmation that at least one of Axe's children is alive, but that Gordie is getting in trouble at boarding school for overloading a town's power grid in a botched cryptocurrency mining operation. (He takes after pops!) Also, Chuck is now going to teach at Yale Law, a place that sounds terribly dull but for our guy is basically a safe space.
That sets a lot of wheels in motion for the fourth episode, "Opportunity Zone." Let's jump into this week's superlatives.
Most Subtle Media Op
"Opportunity Zone" opens in Yonkers, the hometown of Bobby Axelrod, as he's rebounding the ball for a kid who's shooting hoops in a driveway. (If you can't buy that Damian Lewis is a Yonkers native, please just try your best to suspend your disbelief.) We soon learn that Axe is revisiting his childhood house. He starts telling the kid, Savion, about how he started his first business shoveling snow with his buddies when a reporter shows up and begins recording the conversation.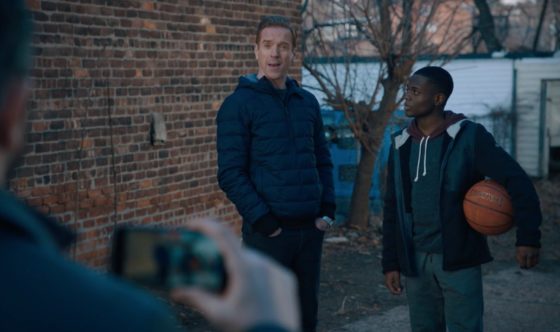 On Billions, even a nice gesture doesn't come without an agenda. Yonkers is being billed as an opportunity zone—where tax breaks are used to spur economic growth in a community—and Axe wants to inject money into the place where he grew up. It's probably the closest Axe has gotten to the kind of capitalism-for-social-good that his billionaire rival Mike Prince claims to be a proponent of, but soon Mike is trying to pry the Yonkers opportunity zone away from him. And whether he's doing this because of his love of Yonkers or to satiate his ego—let's be real, it's about the ego—Axe is once again going to war with Mike. [Pretends to be shocked.]
Best Athlete Cameo
The Billions universe is steeped in sports: Everyone has a boundless knowledge of sports references, and Mark Cuban and Kevin Durant have already appeared on the show. Now we can add the Human Highlight Reel, Dominique Wilkins, to the list.
Wilkins plays one-on-one with Mike Prince, who likes to remind people every chance he gets that he was really good at high school basketball. Again, I'm still hoping for more details about his high school and college career: Did he have an all-around game like Chris Paul, or was he more of a shoot-first combo guard? I just really need the Mike Prince Ballislife mixtape.
I'm not a Mike fan, but credit where it's due, that jumper is wet: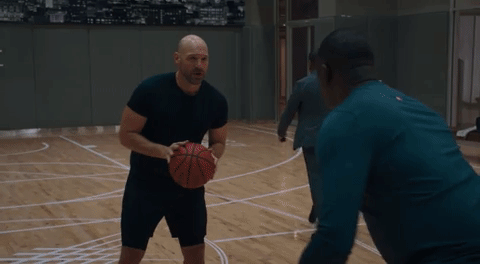 Sexiest Potential Ship
Things are not going well for Buff Artist Frank Grillo. Since accepting Axe's commission, he's lost his painting mojo; the creative spark is gone. And while Wendy Rhoades is normally tasked with making sure Axe Cap traders are on their A game, right now Axe wants her to check in on his Buff Artist Frank Grillo investment. Wendy's psychoanalysis has worked wonders for several characters in the world of finance, but does it translate to the arts?
In short: Yes. After one conversation with Wendy, Buff Artist Frank Grillo has something on the canvas. (Wendy pointed out he might have imposter syndrome because he thinks signing a contract with Axe makes him a sellout; she convinces him otherwise.) But more captivating than whatever Buff Artist Frank Grillo ends up painting is the tangible chemistry between him and Wendy. Even with Chuck out of the picture, Axe and Wendy are still in a will-they-won't-they limbo, but I could see Buff Artist Frank Grillo swooping in and sweeping her off her feet with his Buff Frank Grillo arms. The vibes are a little weird, but still good: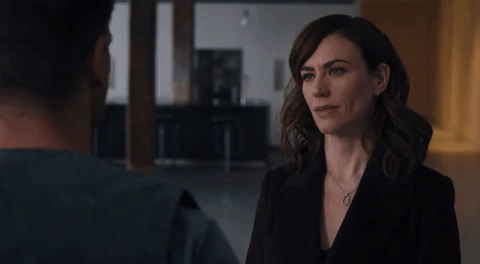 What's not to like? He's an artist, he's buff, he's played by Frank Grillo, and I think Billions works better when it's dangling Axe and Wendy as a romantic pairing without having them actually seal the deal. It would be darkly funny if Axe gets jealous that Buff Artist Frank Grillo and Wendy hit it off, and as a result destroys the paintings he paid millions for out of spite. (If this actually happens, let the record show that I have not watched past this point of the show.)
Worst Father-Son Bonding Activity
It has been a season of reckoning for Wags. First, he discovers that one of his children is a stripper at a joint close to Mike Prince's ideas conference; now, he's trying to make up for lost time with his son, George. The good news: George does not work at a Chippendales. The bad news (for Wags, at least) is that his son is one with God. The visible discomfort on the elder Wags's face when George wants to say grace over their lunch is unreal: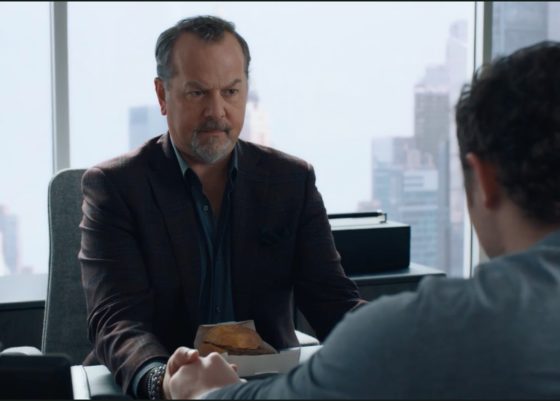 In fact, this is precisely why George agreed to reunite his dad. "I'm here to save you," he says. "Your soul. Let me baptize you." There are so many perfect layers to this—beginning with the fact that, because of his pointy facial hair, Wags deadass looks like a caricature of Satan in an expensive suit. I would imagine that baptizing Wags would either just piss him off or cause him to scream and convulse, steam rising from his flesh until his soul is purified from decades of booze, drugs, and infidelity.
Unfortunately, the baptism occurs off-screen, and it doesn't have the intended effect of saving his soul. "I lost another: one to the pole and one to Jesus," Wags tells Axe. Instead of trying to make amends with his various offspring, Wags decides he's going to have another kid and mold them in his own twisted image. "I am not young, but she will be," he says of his wife-to-be. I hope he doesn't lead with that on his dating profile.
Most Washed
So, about that: Wags swiping on dating apps is as sad as you'd expect.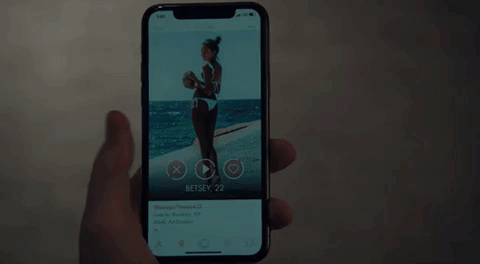 I can't wait to see how this develops. I want a whole Billions bottle episode in which Wags is forced to do speed dating. It can be an hour-long single take.
Dumbest Reason to Hang With Your Boys
Mafee's relationship with the Axe Cap bros and Bonnie seemed to be irreparably broken once he left for Taylor Mason Capital and fought Dollar Bill in a boxing ring. But time, apparently, heals all wounds. (Not literal wounds; the Mafee–Dollar Bill fight was a total anticlimax.) Now that Axe Cap and Taylor Mason Cap are under one roof, Mafee can't stop himself from going to chill with his old buddies again. And by "chill" I mean see how many marshmallows he can stuff into his mouth at once.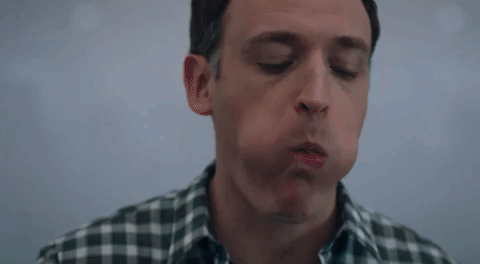 (The answer, by the way, is 14 marshmallows.)
Taylor gives Mafee permission to move his workspace back to the Axe Cap trading desk, where his dudebro sensibilities are more appreciated. Mafee is like a golden retriever, and he's clearly happier hanging with the old gang. This also means that we can look forward to more elite banter from the group that so often steals the show—from Dollar Bill making a problematic gesture to Ben Kim saying something super wholesome.
Most Uncomfortable Lecture
The beginning of Chuck's professorship at Yale Law means the addition of yet another member to the Billions ensemble: The Good Wife and ER alum Julianna Margulies. Whether you're a Billions fan or not, there's no denying that the show has perhaps the deepest bench of That Guys and A-listers of any series on television. Margulies plays Catherine Brant, a sociology professor and published author—we learn via Chuck that her most popular book is called The O-Gap and, well, I think you can read between the lines about what that's all about. (If only it were a real book.)
Brant tells Chuck that she's doing a lecture on his infamous BDSM speech, and invites him to come to the class and engage with the students. Shockingly, Chuck shows up, and it's as incredible and awkward as you'd expect. Before the students realize he's in the room, one kid posits that Chuck was engaging in the "ultimate act of humiliation"—and once he goes to the front of the class, another asks him if he felt any sexual gratification from the public humiliation of giving the speech.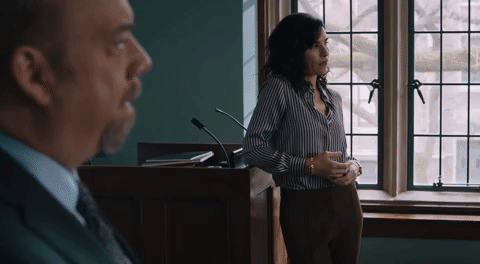 "The release I felt was more emotional than carnal," Chuck assures the group, a huge win for anyone who's ever wanted to hear the great thespian Paul Giamatti say the word "carnal." (Read: me.) I'm not sure where the show is heading with Brant and Chuck—she's clearly taken an interest in him, but I think it's more out of professional fascination than anything sexual. One thing's for sure: The fact that Catharine is played by a TV powerhouse like Margulies means this definitely isn't the last we'll be seeing of her, and the character will probably have a much bigger part to play this season than lecturing about Chuck Rhoades being a dirty, submissive boy.
Weakest Excuse for Axe Being an Asshole
Axe defeats Mike Prince on the Yonkers opportunity zone by aligning with Franklin Sacker (yes, Kate Sacker's dad) and playing up his community roots. As much as Axe wanted to rub this win in Mike's face, there is clearly something about Yonkers that still makes this self-described monster a little sentimental. He is still a ruthless capitalist with very few redeeming qualities, but Axe has always been proud of his humble upbringing.
Yet somehow, "Opportunity Zone" expects us to accept that one snide comment from Mike about Yonkers would mess with Axe's head. Axe gets a concession call as he's about to roll over to Savion's house for dinner—prepared by Chef Ryan, of course—which Mike uses as an excuse to tear down the community. "Yonkers is you, you are Yonkers," Mike says. "It's in your manner, your bearing—you stink of the place, and now you're back in it." Within a flash, Axe tells Chef Ryan to go inside with the dinner solo: "I gotta get the fuck out of this dipshit town."
Sorry, I don't buy it. I do buy that Axe is ridiculously thin-skinned and that he'd hold a grudge as well as Michael Jordan, but he's also the kind of guy who's always four steps ahead of his enemies and wouldn't be stupid enough to fall for Mike's last-ditch effort to puncture his ego. And, again, Axe has built his entire reputation on the fact that he came from nothing—suddenly being ashamed of Yonkers doesn't really fit with what we've come to know about him. (The juxtaposition between Mike making the call outside of Lincoln Center in a tuxedo while Axe answers steps from his childhood home was a nice touch, though.)
This isn't "Dany kind of forgot about the Iron Fleet" levels of bad, but for Billions, this seems like lazy writing. I can't believe I'm out here defending the principles of Bobby Axelrod, but…
Read the rest of the original article at The Ringer