Axe is Facing Charges of Art Fraud
by Paul Vigna | Wall Street Journal | June 7, 2020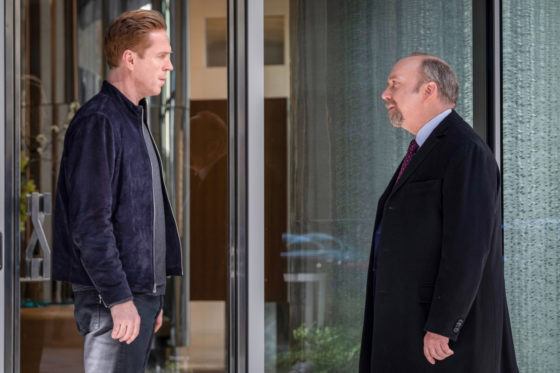 Bobby Axelrod still doesn't have his bank, but he does have a museum.
Art and commerce mix quite a bit in "The Nordic Model" (story by Adam Perlman and Stephanie Mickus, directed by Shaz Bennett), the latest installment of "Billions." Not only is Axe having trouble getting his bank, but his art collection could land him in jail, courtesy of Chuck Rhoades.
He gets around it by orchestrating an "Ocean's Eleven"-caliber scheme that is more outlandish than anything Danny Ocean ever organized. Let's look at what Axe did, and what would have really happened.
First, we'd love to get off this bank thing, but the show won't drop it. The chairwoman of the Securities and Exchange Commission, Maureen Ryder (Kathleen Garrett), is in a conference room in Axe Capital headquarters, in New York, meeting with Bobby, Wags, and Ari Spyros (Stephen Kunken). Axe is trying to convince her to write a letter recommending that other regulators give Axe his bank.
Now, let's get one thing straight. The head of the SEC is not traveling to New York to see Bobby Axelrod. If he wanted that letter, he would be going down to Washington, D.C., not the other way around. Second, the SEC is not a collection of high-school guidance counselors. They do not write recommendation letters.
The SEC's job is to make sure that material corporate information is shared publicly. The commission does not weigh in on the filings that companies make. It enforces transparency. The SEC wouldn't publicly come out for or against Axe's bank application, and the head of the commission certainly would not put any opinion in writing.
His bank plan is thrown into even greater peril by his art collection. Axe is purportedly storing hundreds of millions worth of art in a "freeport" run by an associate, Danny Margolis (Daniel Cosgrove).
"Freeports" are just tax-free zones, and they've become a favorite of art collectors, who use them to store art and other valuables without having to pay import taxes. There are massive warehouses in Geneva, Singapore, and Luxembourg, and more recently in Delaware and Harlem, N.Y.
So, yes, believe it not, hundreds of billions worth of art is currently being stored in boxes in warehouses around the world so that the owners don't have to pay customs duties on it.
The "Billions" freeport takes this whole concept a step further. Danny's freeport is a scam version. He allows people like Bobby to store fake art in the freeport, and keep the real stuff hanging on their walls.
Axe has a number of paintings hanging in a "spare" apartment Wendy was using, and which Chuck had visited in this season's premiere. When Chuck gets a hold of Danny's marketing materials, showing Axe's collection, he realizes it's a con.
(For the record, the works in Axe's apartment are: Vincent Van Gogh's "The Siesta," in the Musée D'Orsay, Paris; Georges Seurat's "Circus Sideshow," in the Metropolitan Museum of Art in New York; Gustave Caillebotte's "Skiffs," in the National Gallery of Art in Washington; and "The Floor Planers," also by Caillebotte and also in the Musée D'Orsay.)
U.S. Customs and Border Protection raids the freeport, Axe realizes he's in trouble, he gets the fake art out, turns his apartment into a museum, and brings the real art there, all to a jaunty soundtrack with a midday wine reception. Slap the dirt off your hands and call it a day, right?
Not exactly.
First off, Danny's scam is really, really odd. All the art in his freeport is stored in cargo containers, which apparently he shuttles around from airport to airport. As we mentioned above, these freeports operate out of stationary warehouses. Then, when the CBP raids it, Danny's there, for some reason, to keep them from actually inspecting the art.
The CBP would not have just raided it with a bunch of officers who weren't art experts, and then, like, went home. The CBP would have taken possession of those containers, and examined the artwork at its leisure. That fake art is now evidence in a tax-fraud case. The entire scheme would have ended there, and Bobby Axelrod would be headed to jail.
Instead, we get the art-switcheroo caper, which itself doesn't make a lot of sense. Axe transfers the art to his private foundation, which uses it to open a private museum—in Axe's spare apartment. Chuck shows up with his art expert and a subpoena and gets roasted by Axe.
Who cares about the real art when the fakes have already been taken into custody? Not to beat a dead horse, but it is again just astounding that Bobby would risk anything over such a stupid idea. A couple of weeks ago, he admonished his son Gordie about risk versus reward. It does not appear to be a lesson he has learned himself.
Elsewhere in the Axe empire, Taylor Mason Carbon is looking for investments. A new employee, Rian (Eva Victor) comes up with a candidate: Marithane. It's a company that harvests methane from the ocean floor. How did she come up with this name? She created a tool to track who VCs are following online. Interest in Marithane is rising. That's enough for Taylor, who says set the meeting.
While some VCs do indeed follow potential investments on social media (we asked around), a smart investor still should want to see more than what's hot on Twitter. We question Taylor and Wendy's judgment on this one.
Still, this yields a somewhat entertaining little battle between Taylor Mason Carbon and Oscar Langstraat (Mike Birbiglia), their one-time investor and love interest.
Read the rest of the original article at Wall Street Journal