A Taut Realism That Will Knock You For A Loop
by Staff | This Week in New York | August 19, 2022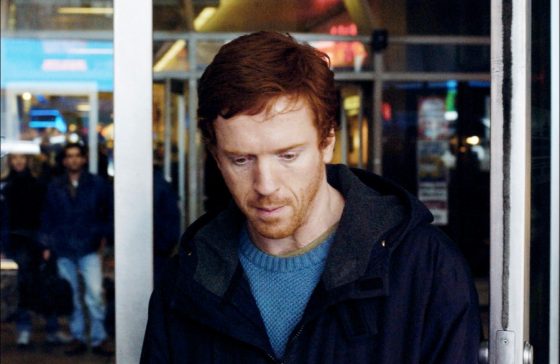 KEANE (Lodge Kerrigan, 2004)
Film at Lincoln Center, Francesca Beale Theater, Elinor Bunin Munroe Film Center
144 West 65th St. between Eighth Ave & Broadway
Opens Friday, August 19, 2022
www.filmlinc.org
grasshopperfilm.com
Lodge Kerrigan's remarkable third feature, Keane, is mesmerizing, always teetering on the brink of insanity. Damian Lewis, years before Homeland and Billions, stars as William Keane, whom we first meet as he rants and raves in the Port Authority, filled with anger, paranoia, and a twitchiness that immediately sets you on edge and never lets up. He is trying to figure out what went wrong when his daughter was abducted from the area, but he now acts like just another crazy at the bus depot. As he befriends a desperate woman (Gone Baby Gone's Amy Ryan) and her daughter (Little Miss Sunshine's Abigail Breslin), you'll feel a gamut of terrifying emotions rush through your body. The cast also features such familiar faces as Liza Colón-Zayas, Christopher Evan Welch, Chris Bauer, Frank Wood, Stephen McKinley Henderson, and others in tiny roles.
With Keane, Kerrigan, who made a big indie splash with his 1993 debut, Clean, Shaven, has created a brilliant psychological film centered on one man's obsession that will leave you emotionally and physically spent. Filmed on location in 35mm with a handheld camera (with only one shot per scene) and natural sound, Keane has a taut realism that will knock you for a loop. You'll love this film, but it will also scare the hell out of you.
A selection of the 2004 New York Film Festival, Keane is back at Lincoln Center beginning August 19 in a brand-new 4K restoration supervised by Kerrigan and TV and film editor Kristina Boden; Lewis and Kerrigan — who has made only one film since Keane, 2010's Rebecca H. (Return to the Dogs), instead concentrating on directing episodes of such series as Homeland, The Killing, and The Girlfriend Experience — will participate in a Q&A following the 6:30 screening on August 20, moderated by Christopher Abbott.
Read the rest of the original article at TWINY