Lewis is an Absolute Revelation: A Gorgeously Urgent Piece of Filmmaking
by Joshua Brunsting | Criterion Cast | August 19, 2022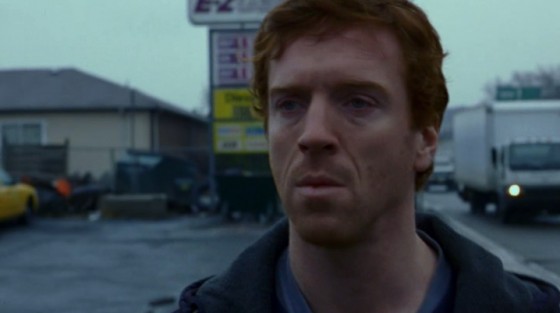 Now nearly 30 years on from his debut feature, Clean, Shaven, director Lodge Kerrigan has become arguably better known for his TV work (primarily as creator on the TV adaptation of The Girlfriend Experience as well as stints on everything from The Killing to Longmire) than his feature work, with only four features to his name. However, with one in The Criterion Collection and now one the recipient of a breathtaking new restoration from Grasshopper Films, Kerrigan may be on the brink of the reappraisal his career deserves.
Originally released in 2004, Keane stars Damian Lewis as the titular William Keane, a man on the edge of sanity following a terrible tragedy. William has, according to his disturbingly vivid memory, seen his marriage crumble in the wake of the abduction of his daughter six months prior to the start of the film. Trolling New York City's Port Authority bus terminal in the hopes of replaying the events enough to catch the kidnapper in the act again, William begins to get closer to a woman (Amy Ryan) and more specifically her seven-year-old daughter Kira (Abigail Breslin), culminating in one of the more harrowing and unnerving finales of the early 2000s. With as much a focus on mental instability as seen in his debut film, Kerrigan shines his ever bright light upon the world of mental health once again for this long underrated masterpiece, spearheaded by a career defining lead performance and some stunning cinematography.
Lewis is this film's biggest star, even in the face of an auteur like Lodge Kerrigan. Best known for his work on Showtime's beloved Homeland, Lewis is seen in just about every frame of this film, and while that may seem like a heavy load to carry and a heavy burden to put upon the shoulders of an actor within primarily the television world, Lewis is an absolute revelation. Keane, as a character, is absolutely on the edge of his own sanity, and the manic nature of the man is given a sense of truth and depth thanks to Lewis' star-making performance. The viewer is never quite sure of Keane's true back story (the film leaves one to wonder if his memory is true, or if it is yet another instance of his crumbling mental state following his divorce), and Lewis' performance feels raw and true, but with that pitch perfect touch of uncertainty.
Keane then meets Lynn and her young daughter Kira, and sparks a relationship with them, adding yet another layer to an ever deepening web of drama. Amy Ryan is superb as Lynn, a single mother who becomes intertwined in Keane's kinetic world. However, the show is stolen by young Abigail Breslin, who not only adds an ultimately devastating sense of heart to the picture, but makes the film even more thematically interesting. Fawned over by Keane as, more or less, his daughter's proxy, the pair have an often troubling relationship, that ultimately proves to pack a wallop of an emotional punch. All three performances encompass the majority of the cast, and are more than superb.
Thankfully, Kerrigan is on the top of his game as well. The logical next step for a man as focused on brazen, almost experimental, realism, Keane feels less anarchic than his previous works, but feels all the more intimate. Featuring claustrophobic camera work and an ever moving frame, Kerrigan gets gritty and cold photography from the Independent Spirit Award-nominated John Foster that feels like a gloomy winter day in that part of New York that gets you a little more tense when entering. Ultimately full of heart breaking vitality, Kerrigan's frame is kinetic and often in as tight as one could ever handle, adding to the film's overall sense of uneasiness and sadness.
The new restoration is an absolute knockout too. Shot by John Foster, Keane is a gorgeously urgent piece of filmmaking, with textured photography given a sense of vitality to a film that could easily devolve into little more than trauma porn. Instead we watch as our lead ebbs and flows between mania and reality, resulting in a final act that's as tense as it is genuinely devastating. There are moments here like Keane begging to be let off a bus or frantically asking people in the terminal if they've seen his daughter that reach near thriller territory thanks to the naturalistic camerawork. Recast these roles with non-actors and you'd be hard pressed to see a difference between this and a modern documentary, and its that tactile energy that carries this film to rare heights.
The film hits theaters August 19, 2022.
Read the rest of the original article at Criterion Cast