Press Release
by Staff | Grasshopper Film | August 19, 2022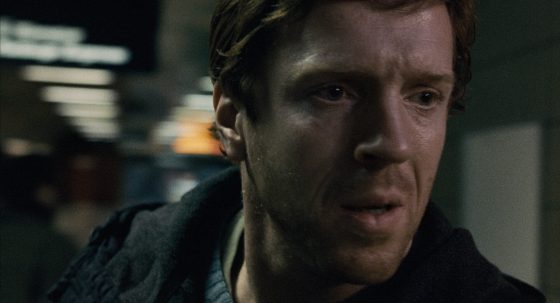 Keane
USA / 2004 / 94 minutes / NR
William Keane (Damian Lewis) is barely able to cope. It has been six months since his six-year-old daughter was abducted from New York City's Port Authority Bus Terminal while traveling with him. Repeatedly drawn to the site of the abduction, Keane wanders the bus station, compulsively replaying the events of that fateful day, as if hoping to change the outcome. One day he meets a financially strapped woman, Lynn Bedik (Amy Ryan), and her seven-year-old daughter, Kira (Abigail Breslin), at a transient hotel. Keane becomes increasingly attached to Kira and, in a harrowing climax, uses her in an attempt to fill the void left by his daughter's disappearance.
Where To Watch
Film at Lincoln Center – New York, NY – 08/19/2022
American Cinematheque – Los Angeles, CA – 08/28/2022
Alamo Drafthouse New Mission – San Francisco, CA- 09/18/22
Alamo Drafthouse Lower Manhattan – New York, NY – 09/19/22
Alamo Drafthouse Raleigh – Raleigh, NC – 09/20/22
Brattle Theatre – Boston, MA – 09/23/2022
Facets Cinematheque (Facebook link) – Chicago, IL – 10/23/22
Past Festivals
2004 Telluride Film Festival (World Premiere)
2004 Toronto International Film Festival
2004 New York Film Festival
2005 Cannes Film Festival, Directors' Fortnight
Select Press Quotes From the 2005 U.S. Theatrical Release
"One of the best American films of the year." – Scott Foundas, L.A. Weekly
"Keane might just be the greatest American film of the past fifteen years." – IndieWire
"A very fine film with an unexpected jolt of deep feeling. Mr. Kerrigan pulls off an extremely deft narrative sleight of hand." – Manohla Dargis, The New York Times
"Exhilarating and tender." – David Denby, The New Yorker
"A dazzling, phenomenal film." – Michael Atkinson, The Village Voice
"Lodge Kerrigan has made a stunningly intimate psychological thriller—scary, brilliant and wrenchingly sad. Damian Lewis gives an Oscar-worthy performance." – Karen Durbin, Elle
"Astonishing. Visceral and flooring."– Wesley Morris, The Boston Globe
"Lodge Kerrigan is without peer at plumbing the violence of the mind. KEANE means to shake us, and does." – Peter Travers, Rolling Stone
"Mesmerizing."– Joe Morgensten, The Wall Street Journal
About the 4K Restoration
The 4K restoration of KEANE from the 35mm original camera negative was supervised by Lodge Kerrigan and Kristina Boden. Nat Jencks was the colorist, Larry Blake was the re-recording mixer, and Travis Gerdes was the post-production supervisor. It was completed in early 2022 at PostWorks, New York.
Director's Statement:
Keane changed my approach to directing. I wrote most of the script on location in order to capture a raw energy and sense of realism and, as such, I was able to show the actors, Damian, Abigail and Amy, the specific locations very early.

I moved away from a more traditional approach to rehearsals and instead focused on reading through the script on location, having the actors improvise various scenes, in the event they wanted to adjust the dialogue, and walk through the blocking. It was very important to me that they felt they owned their characters. By doing this in the actual locations we were going to shoot, the actors could see their characters' worlds, and I was able to answer any questions they had, well in advance of shooting.

I invited John Foster, our DP, and Urs Hirschbiegel, our 1st AD, to the rehearsals so we were able to discuss any technical problems, again well before production started. The film is shot entirely handheld, but also with only one shot per scene. (The only edits in the film are jump cuts.) This presented certain challenges, in particular how to eliminate crew reflections, but the rehearsals also confirmed our overall approach to lighting, which was to use as much natural light as possible and augment it with practical lighting whenever necessary, and helped me to determine the pacing of the film and the in-camera editing.

With one shot per scene, the length of any scene was limited to the 35mm loads, which at 400 feet, amounted to approximately four minutes. Some scenes in the film rolled out just after we cut. This approach to coverage was certainly high-risk, especially when we were shooting in "live" locations that we did not control, such as the Port Authority Bus Terminal, but it also gave the actors time and space, and was exhilarating to experience. At the end of the day, one of most important things to me as both a filmmaker and audience member is unpredictability in front of the camera, the sense that the scene is really alive. Very early in the shoot, I saw how Damian and Abigail and Amy were in the zone. Just how locked in they were. I realized something special was unfolding and I did my best to step out of the way, to be concise and clear with direction and to capture the scenes as quickly as possible. Again, the fact we were A Grasshopper Film Release 6KEANE shooting in a lot of "live" environments, with mostly natural or practical lighting and a handheld camera, lent itself to this.

Everything started with writing and then rehearsing on location, and the accompanying energy and intensity of New York City. —Lodge Kerrigan
Lodge Kerrigan Bio
Lodge Kerrigan's writer/director feature credits include CLEAN, SHAVEN (1993), CLAIRE DOLAN (1998), KEANE (2004), and REBECCA H. (RETURN TO THE DOGS) (2010). He co-created, wrote and directed the television series THE GIRLFRIEND EXPERIENCE. His television directing credits also include episodes of HOMELAND, THE AMERICANS and THE KILLING.
Damian Lewis Bio
Damian Lewis is a Golden Globe and Emmy Award-winning actor who has worked extensively in theater, film and television making his mark as one of this generation's most respected and sought-after actors. He has made indelible impressions in his performances including Major Richard "Dick" Winters in HBO's critically acclaimed BAND OF BROTHERS, Sergeant Nicholas Brody in Showtime's award-winning television series HOMELAND, and Henry VIII in the PBS Masterpiece miniseries WOLF HALL. Currently, he can be seen as Bobby Axelrod in Showtime's highly successful series BILLIONS. Damian has starred in many films, including DREAMCATCHER (2003) directed by Lawrence Kasdan, QUEEN OF THE DESERT (2015) directed by Werner Herzog, OUR KIND OF TRAITOR (2016) directed by Susannah White, THE BAKER (2007) directed by Gareth Lewis, THE ESCAPIST (2008) directed by Rupert Wyatt, DREAM HORSE (2020) directed by Euros Lynn, and most recently, ONCE UPON A TIME IN HOLLYWOOD (2019) directed by Quentin Tarantino. On stage, Lewis has appeared in West End productions of THE GOAT, OR WHO IS SYLVIA?, AMERICAN BUFFALO and THE MISANTHROPE. He has also starred in productions for The Royal Shakespeare Company and The National Theatre. In 2014, Lewis was awarded an OBE by Her Majesty the Queen for Services to Drama.
Abigail Breslin Bio
Academy Award-nominated Abigail Breslin is most widely recognized for her role as 'Olive' in the critically acclaimed feature film LITTLE MISS SUNSHINE. Abigail's film credits include AUGUST: OSAGE COUNTY, THE CALL, RANGO, MY SISTER'S KEEPER, NEW YEAR'S EVE, RAISING HELEN, NO RESERVATIONS, DEFINITELY MAYBE, and M. Night Shyamalan's 2012 film SIGNS, opposite Mel Gibson. She also starred in the popular films ZOMBIELAND and ZOMBIELAND 2. Breslin's television credits include the FOX series SCREAM QUEENS, and ABC/Lionsgate's DIRTY DANCING. Most recently Breslin starred in STILLWATER, opposite Matt Damon, for director Tom McCarthy. The film debuted at the 2021 
Cannes Film Festival.
Amy Ryan Bio
Academy Award-nominated actress, Amy Ryan, is well known for her work on the big and small screen alike, as well as her Tony-nominated work on stage. Ryan recently wrapped a starring role opposite Joaquin Phoenix in writer/director Ari Aster's DISAPPOINTMENT BLVD for A24. She can also be seen starring opposite Steve Martin, Martin Short, and Selena Gomez in Hulu's ONLY MURDERS IN THE BUILDING. Some notable film credits include WORTH, BIRDMAN, CLEAR HISTORY, LOST GIRLS, LATE NIGHT, STRANGE BUT TRUE, GONE BABY GONE, BRIDGE OF SPIES, WIN WIN, JACK GOES BOATING, CAPOTE, GREEN ZONE, BEFORE THE DEVIL KNOWS YOU'RE DEAD and CENTRAL INTELLIGENCE. Television credits include THE WIRE, THE OFFICE, IN TREATMENT, BROAD CITY, and HIGH MAINTENANCE. Amy's work onstage earned her two Tony nominations for A STREETCAR NAMED DESIRE and UNCLE VANYA, and an Obie award for her performance in LOVE LOVE LOVE.
Credits
Director / Writer: Lodge Kerrigan
Cast: Damian Lewis, Abigail Breslin, Amy Ryan
Executive Producer: Steven Soderbergh
Producer: Andrew Fierberg
Co-producer: Brian Bell, Jenny Schweitzer
Cinematographer: John Foster
Editor: Andrew Hafitz
Production Designer: Petra Barchi
Costume Designer: Catherine George
Casting: Heidi Levitt, Bernard Telsey, David Vaccari
Supervising Sound Editor: Larry Blake
Film website: https://grasshopperfilm.com/film/keane/
Source: Grasshopper Film