Once Upon a Time…
by Gingersnap | damian-lewis.com | July 8, 2023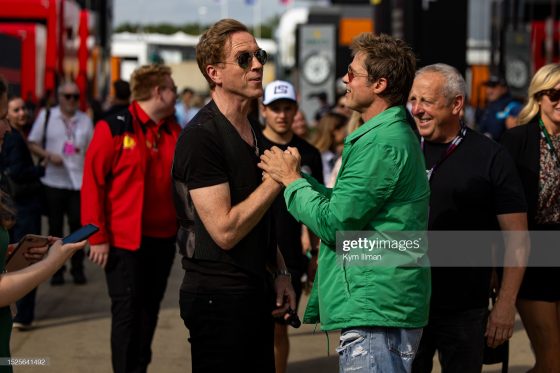 Damian rocked the Paddock by performing songs from his debut album Mission Creep after the qualifying event on Saturday, July 08, 2023 at Silverstone Circuit in Northampton, England, but not before running into his former Once Upon a Time…in Hollywood co-star Brad Pitt! The two can be seen here all smiles as they shake hands and catch up. Media outlets report Brad is filming scenes for an upcoming movie about Formula One racing. And we know why Damian is there!
Damian also attended the rooftop party of Hilton's Garden Inn Silverstone grand opening on Saturday, bumping into Paris Hilton and Lando Norris. Tune in tomorrow because Damian will perform the national anthem as he opens proceedings at the grid ceremony of the Formula 1 Aramco British Grand Prix on race day, Sunday, July 9, 2023, scheduled from 2:45-2:48 pm BST. View more images from today's event in our Gallery here.
Damian's album Mission Creep can be ordered from several outlets here. Upcoming shows include Union Chapel on July 11 in London and Mercury Lounge NYC on July 19. Additionally, Damian just announced new September/October UK Tour dates here. Don't miss out, get your tickets now!
'Mission Creep' Album – Damian Lewis Music Store (UK) here
'Mission Creep' Album – Damian Lewis Music Store (US) here
'Mission Creep' Album – Several music services here or Target
'Down on the Bowery' – Apple Music, iTunes, Spotify, YouTube, Amazon and more here
'Zaragoza' – Pandora, Tidal, Spotify, YouTube, Amazon and more here
'Makin' Plans' – Napster, Pandora, Tidal, Spotify, iTunes, Amazon and more here
'She Comes' – Spotify, YouTube, Apple Music and iTunes here