A Jazzed Up Rendition
by Gingersnap | damian-lewis.com | July 9, 2023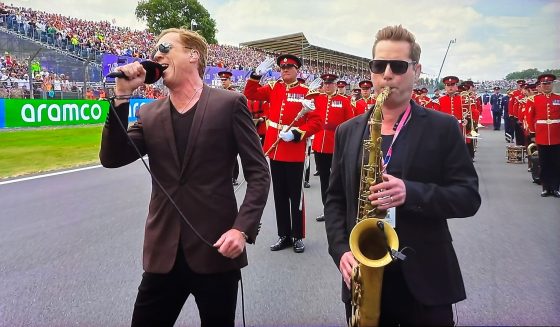 Damian opened the proceedings at the grid ceremony of the Formula 1 Aramco British Grand Prix on race day, Sunday, July 9, 2023. From the starting line he performed the British National Anthem "God Save the King" with a jazz twist and a saxophonist. The day before, Saturday, July 08, 2023, Damian rocked the Paddock by performing songs from his debut album Mission Creep after the qualifying event at Silverstone Circuit in Northampton, England,
View more images from race day/national anthem (DAY 2) in our Gallery here.
View more images from paddock performance/qualifying event (DAY 1) in our Gallery here.
Interview clip provided by Darlene Billows:
Damian's album Mission Creep can be ordered from several outlets here. Upcoming shows include Union Chapel on July 11 in London and Mercury Lounge NYC on July 19. Additionally, Damian just announced new September/October UK Tour dates here. Don't miss out, get your tickets now!
'Mission Creep' Album – Damian Lewis Music Store (UK) here
'Mission Creep' Album – Damian Lewis Music Store (US) here
'Mission Creep' Album – Several music services here or Target
'Down on the Bowery' – Apple Music, iTunes, Spotify, YouTube, Amazon and more here
'Zaragoza' – Pandora, Tidal, Spotify, YouTube, Amazon and more here
'Makin' Plans' – Napster, Pandora, Tidal, Spotify, iTunes, Amazon and more here
'She Comes' – Spotify, YouTube, Apple Music and iTunes here