Axe: Swagger in Too Tight Pants
by Ileane Rudolph | TV Insider | August 1, 2023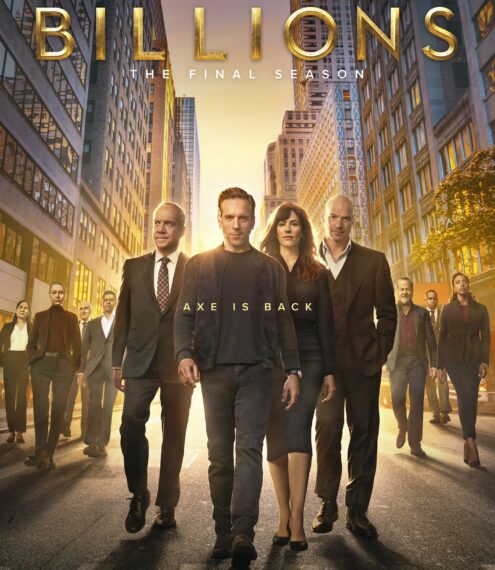 [This interview was conducted prior to the SAG-AFTRA strike authorization.]
Former hedge fund mogul Bobby "Axe" Axelrod (Damian Lewis) did not give up his business empire easily. At the end of Season 5 of Showtime's Wall Street thriller Billions, it took a two-pronged attack to drive Axe from New York City to Switzerland, turning him from a swaggering master of the universe into a financial fugitive. New York State Attorney General Chuck Rhoades (Paul Giamatti) had him on trumped-up money-laundering charges, and billionaire nemesis Michael Prince (Corey Stoll) bought Axelrod's huge assets way below market price. But now Axe has reentered the ring for this seventh and final season, his charming, ruthless confidence intact.
"Bobby wants back in the game," says Lewis (who left the show in 2021 to spend time with family after the death of his wife, actress Helen McCrory). On a show that is legendary for its betrayals, double-crosses and very flexible alliances, the possibilities of who will be going after whom seem endless. Giamatti and Lewis spoke to TV Insider about doing time on Billions.
Damian, welcome back! Did you plan to return for the final season or did you have to be convinced?
Lewis: Neither. I didn't expect to come back, but I wanted to in the end. Axe has a rock 'n' roll swagger that's fun to play, and all my colleagues on the show are my bros.
Paul, what did you miss most about your scene partner?
Giamatti: I missed it all: the too-tight pants, the swagger. The character is iconic and unique. It was vital to have him back. Also, he's a lovely chap and a lot of fun to act with.
Though admired by many, Bobby has always been about money, whether it's acquired honestly or not. Has he evolved in any significant way?
Lewis: No, he hasn't. Bobby found a way to make money from a major global conflict [the Ukraine-Russia war], and he's doing business with a character you will enjoy seeing again. He's an old-fashioned opportunist who is just out to make dough. If he's the slightest bit likable, it's because he enjoys the friendship of the group. But he will turn quickly to maneuver to where he needs to be.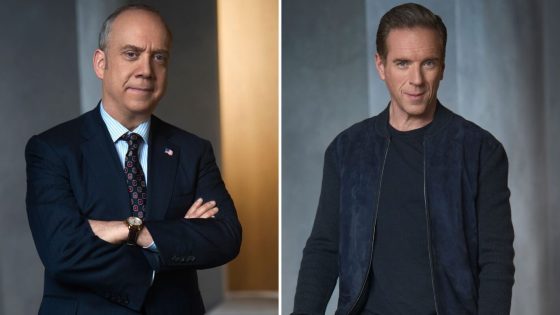 How much does he want revenge on Prince?
Lewis: I'll say any reentry into that story on Bobby's part might involve Prince. There's dissatisfaction within the ranks left behind with him. There's still animus with Chuck, of course. But Bobby is [General] Sherman–esque in his scorched-earth approach to business and life, so he's going to have to rebuild bridges.
Giamatti: Prince is such an interesting character. It was an attempt to create someone who did seem to try to be the good billionaire, but that seems to be a facade, which maybe makes him worse.
Is taking that guy down enough of a mutual mission for Bobby and Chuck to temporarily become allies, despite their deep distrust of each other?
Giamatti: Yeah. In reclaiming his throne [as U.S. attorney] for the Southern District, Chuck attempts to reclaim some moral compass. Maybe he'll try to do the right thing for the right reasons. Handing the reins of power over to [Prince], a self-interested monster, is wrong and un-American. That becomes his mandate.
At one point, Chuck talks about how the U.S. founders were conflicted, flawed men trying to transcend themselves. Could that be true for your characters?
Giamatti: What's interesting about my character is his failure to live up to those ideals, though he attempts to. Bobby doesn't have those ideals, but he doesn't need to. That's what makes Chuck envy those [billionaires]. They have no constraints.
What role does Wendy Rhoades (Maggie Siff), Chuck's ex-wife and Bobby's adviser and almost lover, play in the new season?
Giamatti: She's still maintaining this monkey-in-the-middle stance and trying to negotiate both sides, because she has her own feelings about Prince.
Lewis: If you're a fan of Billions, there's a long con always, and Wendy has proved herself as good a grifter as the next person, which is the overall arc for the show. I think, conclusively now, anyone who enters the sphere of the Billions world is corrupted by the money and power.
Giamatti: She may be the closest on the show to having a moral compass, but yes, she doesn't really survive the corrupting influences around her.
Does Chuck want to rekindle his marriage to Wendy? Does Bobby want to further the relationship he started with her?
Giamatti: Chuck still harbors feelings for her — that's dealt with this season.
Lewis: By far, the most profound relationship is between Chuck and Wendy. For Bobby, it would be an interesting, sexy thing for them to get together, but they know who they both are.
Taylor Mason (Asia Kate Dillon), now co-running Michael Prince Capital, tried to keep an ethical core too, no?
Lewis: Asia plays it so beautifully. It's odd that a character who is seemingly devoid of emotional impulses and tries to rationalize in an algo­rithmic way is seduced by Bobby more than anyone.
Is Bobby eager to work with longtime right-hand man Wags (David Costabile) again?
Lewis: Absolutely — if loyalty is proven.
Giamatti: That's unquestionable with Wags. Who's Watson without Sherlock Holmes, Robin without Batman? I must say one of the principal pleasures for me this season is getting to work with Costabile finally!
Could Chuck have made less-reckless mistakes if he'd had his own Wags?
Giamatti: That's a good point. He didn't really have somebody like that, not only to share his hijinks, but to keep him real. That will change a little this season, but he's actually a very lonely guy.
How does it feel coming to the end of such a compelling drama?
Giamatti: I don't know if I was sorry to leave Chuck. It's not the most pleasant space to occupy as an actor all the time, but for sure it was extraordinary to do.
Lewis: Leaving this time felt like the end. As an actor, you're always ready to move on, but there's sadness too, especially if the work has been this enjoyable.
Billions, Season 7 Premiere, Friday, August 11, Paramount+
Source: TV Insider. This is an abbreviated version of the Billions cover story from the August issue. For more in-depth coverage, click here.