Mission Creep and Billions
by Gingersnap | damian-lewis.com | September 12, 2023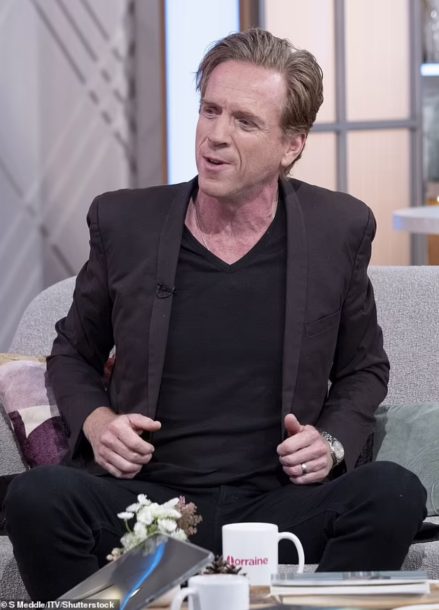 Damian made a guest appearance on the Lorraine Kelly Show (ITV) today, Tuesday, September 12, 2023, to discuss what he's got in the pipeline as he and his band head out on tour in support of his debut album Mission Creep. Damian also discussed his return to Billions season 7, as well as performed a song live on the morning show. View tour dates and ticket outlets here.
Just seconds into the interview it was clear Lorraine and Damian were set to have a giddy time, as they joked about Damian taking home a Lorraine mug he seemed smitten with – only to learn he already had one in the his cupboard at home. When describing the series Billions, Damian cheerfully explained "It's a show about arseholes being arseholes, every single one of them. Every person. And it's about the corrupting influence of money, which is a good moral tale."  Watch that clip here.
When discussing his album Mission Creep he told Lorraine it was a series of happy accidents. He went on to explain, "Music, songs, records, they're a bit like journal entries. They're bound to reflect the time you write in. A couple of records reflect that time, with Helen…it's not a sad album. That wasn't the purpose when I sat down to write it."
As the interview drew to a close, Lorraine said: "This is hilarious, I've just been told that we have to apologize for you saying a-hole and I said it as well. I have to apologize for myself, I thought that was allowed?!"
Damian replied: "Oh really? I apologize, I apologize!"
Lorraine joked: "Everybody watching all went, 'Oooh' and they're so offended, not."
View more photos from the interview in our Gallery.
Primary Source: Daily Mail
Secondary Source: Lorraine Show
Tertiary Source: Metro UK