Bon Appetite
by Damianista | Fan Fun with Damian Lewis | September 13, 2023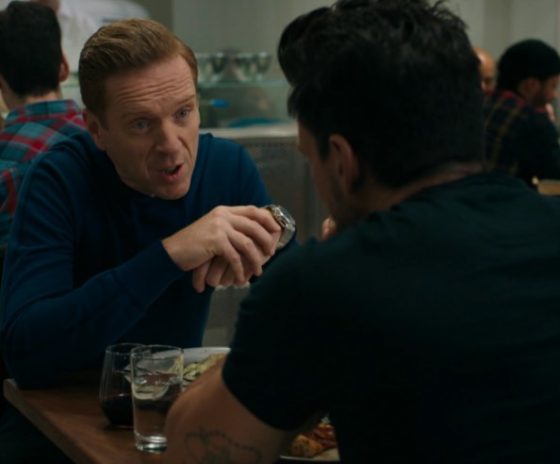 One of my favorite things about my favorite TV show is how it showcases the New York dining scene from hole-in-the-walls to neighborhood gems to Michelin-starred restaurants. And it has been my pleasure to share the information about restaurants appearing on the show first in my weekly recaps and then in a full dining guide by the end of the season for Season 1,  Season 2, Season 3.  Season 4. and Season 5.
Fan Fun Billions dining guides are some of the most popular posts  on the blog and even some leading media outlets have noticed. Look what Forbes Magazine says about us!
"There are posts on actor Damian Lewis's official website, that diligently track, with screenshots, all the food locations featured in every season. These posts even manage to name-check the take-out Chinese in one scene as the beloved eatery Wo-Hop."
I describe each restaurant/bar that makes an appearance or gets a mention in Billions Season 5 below with a picture of the scene as a refresher, a link to the establishment's website, its location as well as its Yelp review where available. I really hope you have a chance to try one or several of these places!
Many of you already know that I sat down and wrote a book that has a complete listing of the restaurants, bars, cafes, bakeries and more that either appeared or was mentioned in Billions in order of their appearance in the show. Each entry includes a description of that place's particular significance in the show – (who dines there? what are they eating? what's the occasion?) as well as in the New York culinary scene (its history, its chef, signature dish). There is also practical information about each restaurant (location, price level, happy hour, dress codes, and so on). The last section in the book offers several restaurant recommendations for a New York weekend of your choice (romantic, family friendly, splurge, and so on). You can order a copy on Amazon or other online booksellers.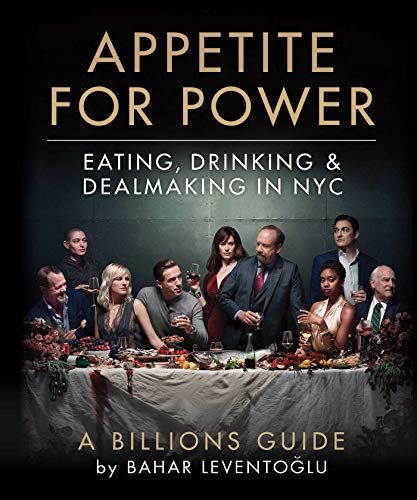 Bon Appetite!
Episode 1: Tower of London
The one where an indicted Chuck has dinner with family
Primola: An old school Italian joint and I am not only talking about the food. All the employees have an Italian accent and attitude here!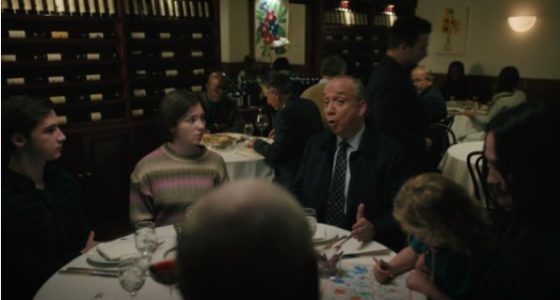 Chuck realizes that his family is embarrassed to be seen with an indicted man in public when he arrives at the early dinner at Primola. Even Wendy who needs to leave soon occupies a seat forcing Chuck to sit at a chair where he will not be visible to other patrons 🙂
1226 2nd Avenue (at 64th Street), New York, NY 10065
The one with leftovers from last night at Chuck Sr's and Roxanne's apartment 
Le Bernardine: One of the handful of three Michelin star restaurants in the city, Le Bernardine is a seafood-focused French restaurant. For me, it is the epitome of perfection: Perfect food served in perfect ambiance with perfect service. Oh yes I am a huge fan.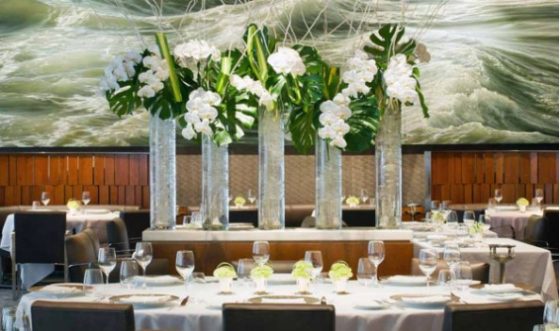 Chef Eric Ripert was only 29 years old when Le Bernardine earned a four-star rating from the New York Times. And the restaurant has been able to maintain this superior status for this length of time.
Le Bernardine is certainly a special occasion place, I had my last milestone birthday dinner there, and so I know that while it is very expensive, it is worth every penny if you want to have a meal that you will remember for a long time. The Chef's tasting menu is to die for.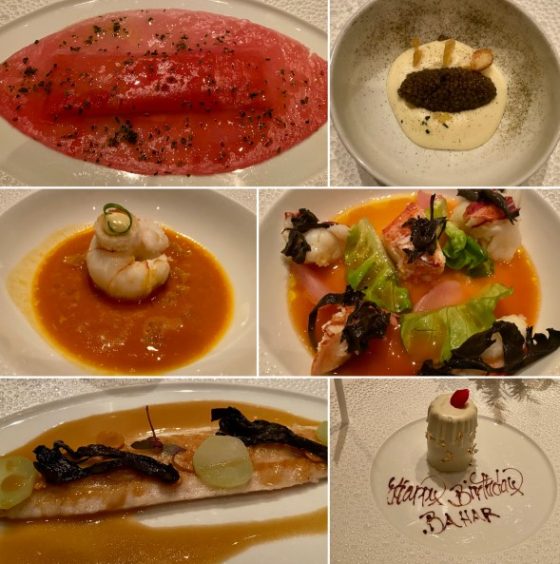 In Billions, Le Bernardine gets a mention at Primola as the family is embarrassed to be seen with an indicted Chuck in public. Roxanne offers to go to their apartment and have the leftovers from last night's dinner at Le Bernardine 🙂 Good one!
155 W 51st St, New York, NY 10019
The one where Wendy tells Wags that Prince is dangerous
Wo-Hop: A take-out friendly Chinatown staple that is very easy to recognize from the dollar bills and photos covering its walls! We actually saw Kate and her colleagues having take out lunch from during her SDNY days.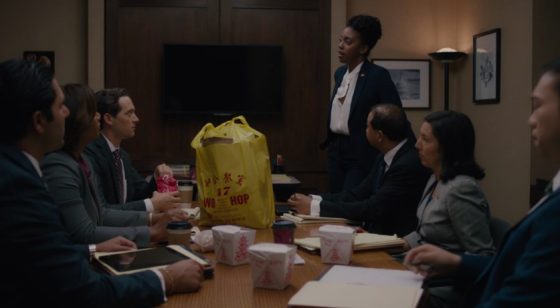 And Forbes Magazine was impressed then by our name-check abilities:
"There are posts on actor Damian Lewis's official website, that diligently track, with screenshots, all the food locations featured in every season. These posts even manage to name-check the take-out Chinese in one scene as the beloved eatery Wo-Hop."
I wonder whether Kate recommended the restaurant to Wendy 🙂 The restaurant is famous particularly for its Egg Foo Young and that is what Wendy and Wags have in addition to other dishes.
17 Mott St, New York, NY 10013
The one with Wendy offering up a slice to Orrin Bach
Joe's Pizza: A true New York institution, Joe's Pizza has been serving the perfect NY slice (and also pies) since 1975! If you feel hungry after midnight, no worries. Joe's is open until 3am!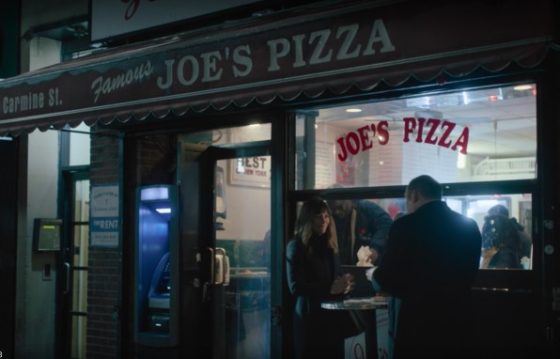 I have a soft spot for Joe's fresh mozzarella slice. And remember what Orrin Bach says when Wendy thanks him for meeting her.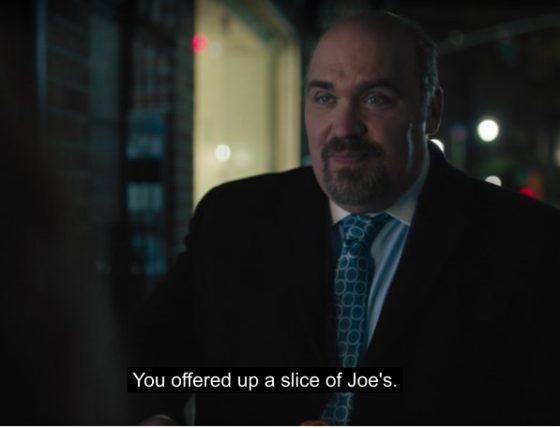 Indeed.
7 Carmine Street, New York, NY
The one with Chuck sitting proudly in public with his kids
Sant Ambroeus: Popular Italian eatery serving authentic time-honored recipes and home-made desserts. The original Sant Ambroeus opened in Milan, Italy in 1936.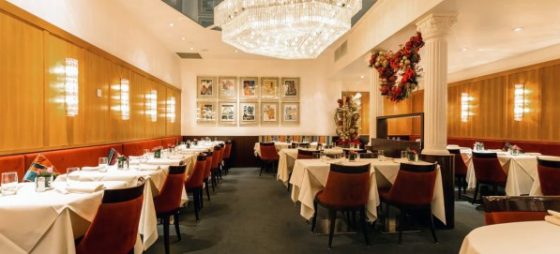 Now a mini-chain, with branches all over Manhattan, the Hamptons, Palm Beach, Florida and Aspen, Colorado, the Madison Avenue branch that we see in Billions is the flagship that opened in 1980s and had some loyal following over a short period of time. It is now a staple on the Upper East Side.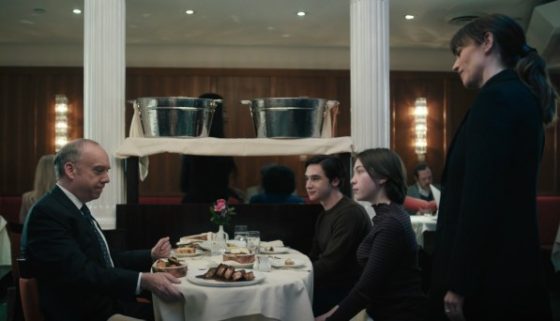 Thanks to his PR campaign, Chuck is reborn from his ashes and Chuck takes his kids to lunch and sits at a very central table at Sant Ambroeus and gets compliments from other patrons!
1000 Madison Avenue, New York, NY 10065 
Episode 2: Original Sin
The one where Chuck has a drink on the house
The Dead Rabbit: The Dead Rabbit provides three different kinds of place on three floors. The Taproom is a take on a 21st century Irish Bar. Modern cocktails are served along with traditional pub dishes, cider, beer, and Irish Whiskey in a casual environment. If you reserve the Parlor, you have an elevated cocktail experience -they have a menu of 16 cocktails that are not available elsewhere. And then there is the Occasional Room which you can book for private bookings and events. And I can confidently say that it lives up to the hype!
Read the rest of the original article at Fan Fun with Damian Lewis here.