The Unbeatable, Unstoppable, Unparalleled MVPs 
by Staff | Fan Fun With Damian Lewis | September 13, 2023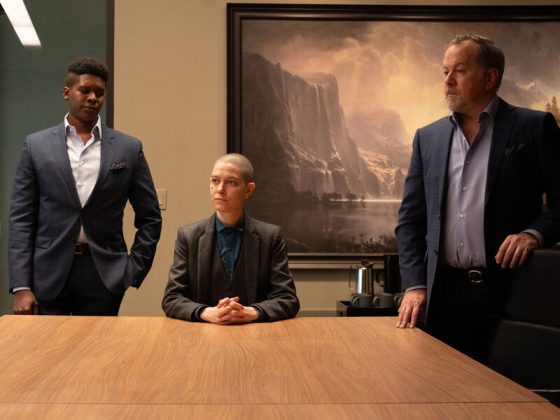 Billions is back and so is our MVP series! We continue to award our Most Valuable Players for Billions season seven in our series compilation, the 'Billions MVP Fanbook,' which commemorates all those in honor of achievement for the utmost brazen, uber shameless, ultra scheming, unmatched bad asses from the episode – from sports references, music and tasty food to pop culture remarks, shocking twists and ultimate paybacks. In case you missed it, catch up with the MVPs of the season seven premiere Tower of London, episode two Original Sin, episode three Winston Dick Energy and episode four Hurricane Rosie.
Now let's dive in. Here are the Billions MVP awards for Season 7, Episode 5, "The Gulag Archipelago."
Gingersnap
Homecoming King – The crown goes to Bryan Connerty for making a brief appearance in the episode. I got my wish! In our 'Billions Season 7 Wishes, Expectations and Fantasies' post, my fantasy was for days of old characters to make brief appearances so we could close the chapter on their journey. I mentioned a slew of people including, Lara, Axe's children (we got Gordie in episode 2 'Original Sin'), Bryan Connerty, Rebecca Cantu, Lonnie Watley, Axe's mom, Sara, Lauren, Oliver Dake, Dr. Gus, Chef Ryan, Oscar Langstraat, Rudy and so much more. That spurred another post 'Our Top 3 Billions Characters We'd Love to See Return,' and my top choices were Rebecca Cantu, Bryan Connerty and Rudy.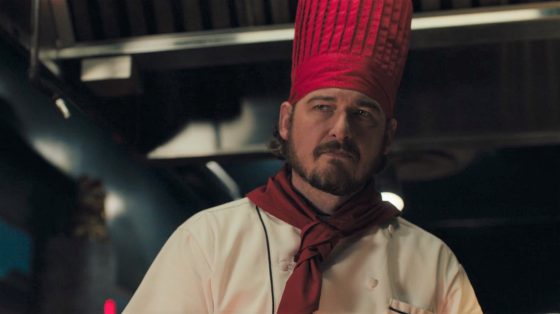 Turns out Kate Sacker accelerated Bryan's release from prison to ensure he wouldn't be a liability when she runs for Congress and he now works as a chef at the hibachi restaurant Shogun in Queens! Leave it to Billions to go from Chef Ryan to Chef Bryan 😉 Bryan does have culinary skills though. He made the infamous onion volcano, spun the egg and tossed it into the top of his chef's hat after playing bouncy ball with it on his spatula, juggled the pepper mill behind his back and showed off his knife skills by chopping up that egg so fast and harsh like he was dicing Chuck into a million little pieces. Check out the montage here:
Very cool to get a Bryan update, but let's hope he's not in the food industry too long with that shaggy hair and beard.
It does sound like Bryan has hopeful plans to leave the hospitality business because he asked Kate to help restore his law license. She didn't say no.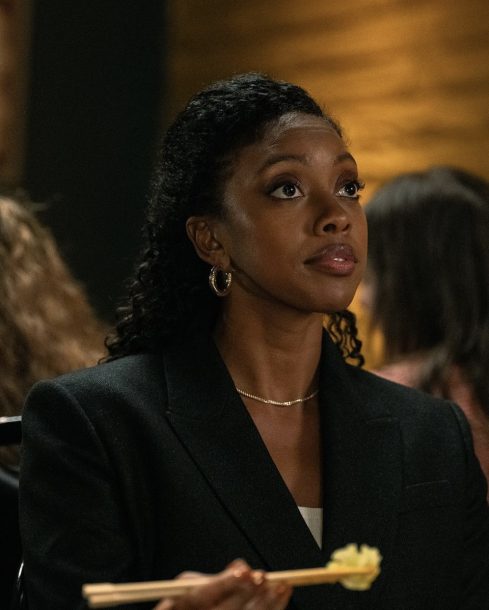 Manpower of Mayhem – Award goes to Dollar Bill and his helium party favors. Leave it to $Bill to turn sucking helium and funny voices into profit. During his show-and-tell at MCP, he explains there is a helium shortage so getting in on half a million shares at Titan Industries – who will be the only company that can fulfill their helium contracts – would turn 10x their investment. Even Victor partakes in helium inhalation, screeching in his comical voice and Ben Kim, Tuk, Philip and Rian take a balloon. Celebrations abound.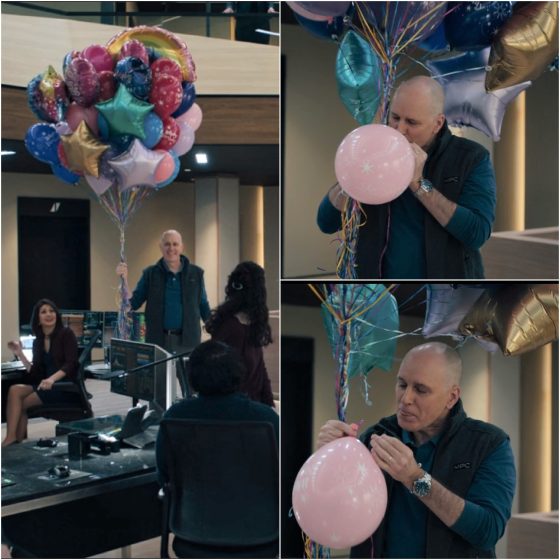 Best Pop Culture Reference in a Song – Taylor Mason. They told Victor to "pass the dutchie" somewhere else, rejecting the offer to suck helium from his balloon and join in on the funny voices shenanigans. Pass the Dutchie is a song by reggae group Musical Youth and was a popular, catchy tune in the 80's. While debated today, "pass the dutchie" originally meant passing a joint (marijuana) around a smoking circle. So Taylor wasn't partaking in the helium circle. Taylor does end up sucking helium from a balloon and speaking in a squeaky voice, but only to Wags and Wendy afterhours.
Top Pop Culture Reference in a Sport – Athlete and greatest sprinter of all time, Usain Bolt. Ira tells Chuck that his mugger was so fast he couldn't catch him, like Usain Bolt. Full circle moment here – Damian Lewis has played Soccer Aid with Usain a couple of times. Usain was captain of World XI while Damian played for England in the 2022 match. Here they are for Soccer Aid 2018: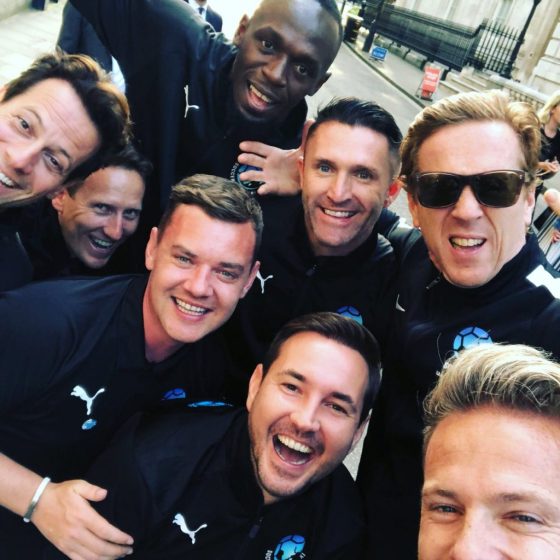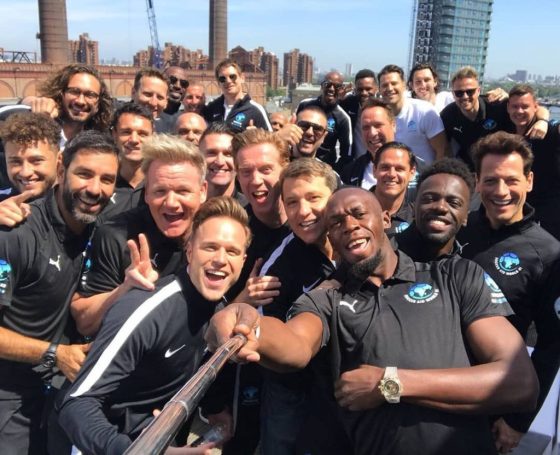 Finest Facial Expressions – Chuck Rhoades. Chuck's face of intrigue while listening to Ira explain how he was mugged of his phone that contained a "vanilla" sex video involving a sex swing was hilarious and ironic. I mean, this reaction coming from a kinky guy like Chuck who gets his own rocks off if he's whipped, tied up and peed on??? P.S. I agree with Raul, a sex swing is considered vanilla? More like fudge ripple! Or Dave who thinks it's more like rocky road because of the nutty ingredient. 😉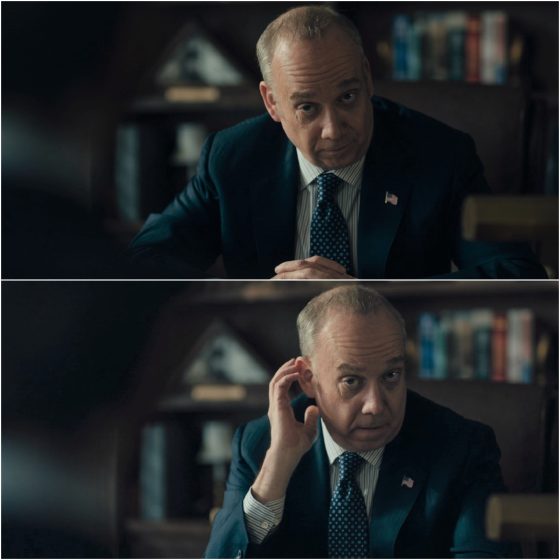 Bridgerton Kindred Award – I bestow this upon Chuck Rhoades as well. Chuck would later describe Ira's mugging to Raul as "burgled while promenading the boulevards of our fine city." LMAO I immediately pictured Daphne and the Duke of Hastings Simon Basset taking their public stroll, making their courtship known to the gossip mongers that they were each other's objects of affection.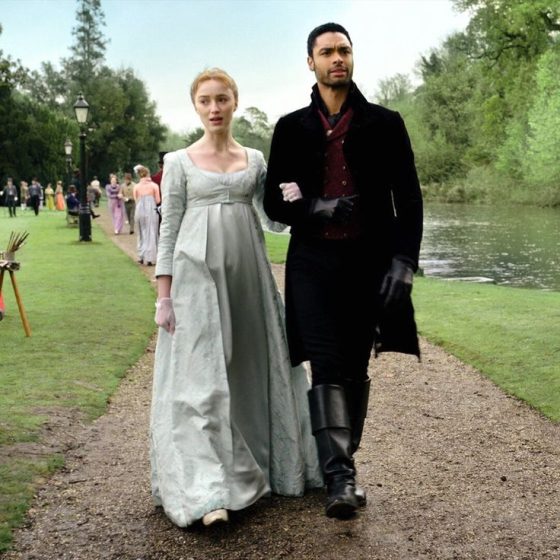 Spyros the Slaughterer – Spyros gets this dishonor for absolutely butchering Van Halen's I'll Wait song. After that mock drumming, air guitar playing and cringeworthy voice, I'm definitely not captured under his spell. But I do give Stephen Kunken kudos for imitating the motion of sliding down the neck of the guitar like Eddie.
Food for Thought:
Karl's knowledge of identify theft best practices makes me think he'd be Hall's perfect understudy.
Bradford Luke and Kate Sacker have more chemistry and flirtatious behavior over a manila folder than Bradford and Wendy have over anything.
Loved the Flashdance reference. Dollar Bill said his helium play was "sitting as pretty as Jennifer Beals holding the blowtorch."
Cameo: This Bravoholic recognized Chef Kwame as a former contestant on Top Chef!
Damianista
Complete Idiot –  Ira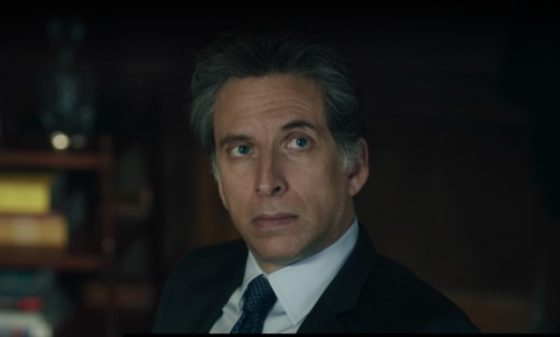 Ira is a good man. A great friend. But I am sorry to say he is a complete idiot. First we learn that he has been keeping his homemade sex videos on his phone! Then, when he finally gets his phone back, he hesitates to delete the videos (so I do not believe him when he tells Chuck it was Taiga's idea to make the videos). And as I am asking myself what kind of man does that, I find out: the kind that has his birthday as his password! OH. MY. GOD.
Read the rest of the original article at Fan Fun With Damian Lewis here.