Vogue Brings Fashion Fantasia to the West End
by Gingersnap | damian-lewis.com | September 14, 2023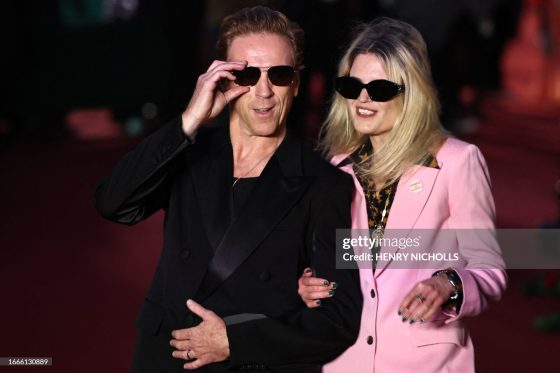 Damian and Alison walked the red carpet in style as they attended the star-studded Vogue World: London show at Theatre Royal Drury Lane in London on Thursday, September 14, 2023. The theme and dress code for the evening was Opening Night for the 1,500 guests. Damian performed on stage in a punchy tartan frock coat and worked the crowd playing a hammy theater usher as part of the original comedy sketch Safety Curtain alongside James McAvoy, James Corden, Sienna Miller and others. The evening concluded with a live performance by the fabulous and talented Annie Lennox singing 'Sweet Dreams.' View more photos from the event in our Gallery.
Vogue brought its very own fashion fantasia to the West End as audience members and streaming viewers watched the magazine dramatically bring to life the pages of Vogue. Masterminded by BAFTA- and Olivier-winning director Stephen Daldry, show director Emily Burns, and creative producer Fran Miller, alongside the Vogue team, the evening ran the gamut of the performing arts—opera and ballet and theater, oh my—with a galaxy of fashionable stars ranging from Kate Moss, Jared Leto, Brian Cox and Cindy Crawford to Sophie Okonedo, Ian McKellen, Linda Evangelista and Stormzy. Other guests included Baz Luhrmann, Princess Beatrice, Princess Eugenie and Maisie Williams.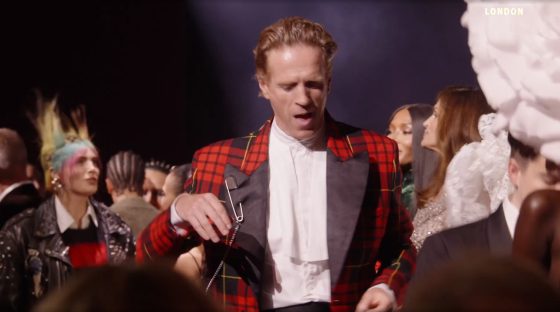 Damian dances to Sweet Dreams
Held at the beginning of London Fashion Week, not only was the event a celebration of the ever evolving, gloriously diverse arts scene in London, but a tribute to the capital's fashion prowess, too. Contributing looks for the performers and guests were 16Arlington, Ahluwalia, Burberry, Charles Jeffrey LOVERBOY, Erdem, Maison Margiela, and SS Daley, among dozens of other design luminaries.
100% of net ticket proceeds from the event will go to support performing arts organizations, including the National Theatre, the Royal Opera House, South Bank Sinfonia and the Rambert dance company.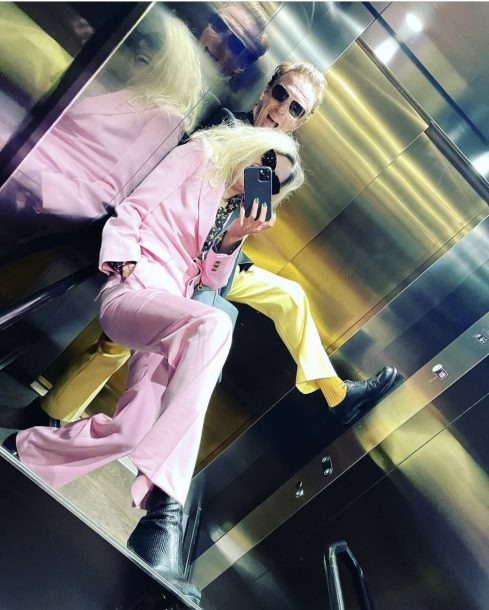 Elevator shenanigans. Photo by: Alison Mosshart
Watch the re-broadcast below. Damian and Alison hit the red carpet at about 12:00 minutes in, and Damian's skit begins around 46:00 minutes in.
Full Programme:
The show kicked off with the ringing of Big Ben, then backstage footage of John Galliano dressing Kate Moss in custom Maison Margiela. After that, opera singer Hongni Wu delivered a moving rendition of "When I Am Laid In Earth" from Henry Purcell's Dido and Aeneas.
In the second act, FKA Twigs performed an original song with dancers from Rambert, providing a righteous and punk-ish vibe. Then Stormzy and Sophie Okonedo brought Shakespeare back to life.
The communion with Shakespeare continued in act four, with Tom Sturridge taking on the part of Romeo and theater actor Helena Wilson playing Juliet.
Before act five, for a moment, it seemed as if the show was over, as a series of red-coated ushers proceeded to clean the theater—except, these weren't real ushers at all, but luminaries of stage and screen: Sienna Miller, Cush Jumbo, James Corden, Damian Lewis and James McAvoy, who all performed an original comedy sketch penned for the occasion by prolific playwright James Graham (Ink, Quiz, Best of Enemies, Dear England). It was a reflection on the dream and the much harsher realities of working in the West End and attempting to make it as a performer, but also a meditation on the power of theater and what keeps people going, against the odds.
At one point Jumbo said: "It's what it's all about: everybody's feeling part of something, feeling alive." McAvoy pitched in that there "was an actual scientific study on human beings and what happens when they're sitting together in a theater, how their heartbeats begin to beat as one, all together, and share the same rhythm…but here's the thing. That only happens when we're all here together, in one room." And as if on cue, the applause rose through the room guests were all together in.
There was also a tribute to the musical My Fair Lady.
Annie Lennox provided a barnstorming finale singing 'Sweet Dreams' accompanied by the London Community Gospel Choir. This surprise performance would've made for an impressive closing act in itself, but the organizers of Vogue World: London had yet another surprise up their sleeves – the original supermodels and Vogue's September cover stars, Naomi Campbell, Cindy Crawford, Linda Evangelista, and Christy Turlington appearing and walking out in coordinating looks, before the final curtain call. Bravo.
Source: Vogue World