Swapping Billions for Ballads
by Sam Lambeth | Louder Than War | September 15, 2023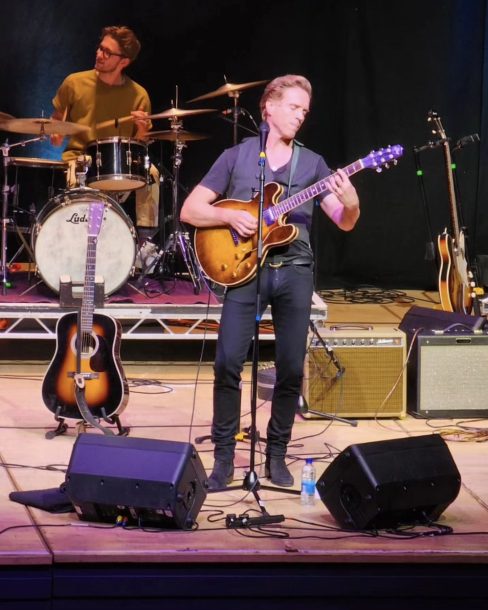 Damian Lewis bounds onstage with the aura of a rockstar – lithe, agile and sartorially accurate (all black, desert boots, nifty waistcoat). "When I was last in Birmingham, the Birmingham Post gave me a scathing review," he laughs. "I'm hoping tonight's reviews will be kinder."
He does have cause for trepidation, don't forget. Actors venturing into music have often found themselves hitting a dead end, with even the most casual music fan ready to pour scorn. Thankfully, Lewis' debut album sees him enter the Hugh Laurie category, as opposed to the dark and musty files of Russell Crowe.
Like Laurie, Lewis' music is more esoteric – a potent, whiskey-tinged blend of tasteful jazz, niche rhythm and blues, and sharp injections of '50s-indebted rock and roll. As an English actor with a bulk of acclaimed American roles under his belt, it's also fitting that Lewis' music hits a transatlantic sweet spot – think the raucous R&B of JJ Cale combined with the jazzy inflections of Van Morrison.
His debut album, Mission Creep, is one of temperature and place. You can feel the humid conditions turn to thunder in the foreboding 'Zaragoza,' Lewis' recollection of busking alone throughout Europe. Elsewhere, heat and sexual tension ricochet in the lilting 'Down on the Bowery,' and a sea breeze runs through the fragmented, elegiac 'Wanna Grow Old In Paris.'
It is also a record of grief, and there is catharsis to be found in its emotional centrepiece, 'She Comes.' Written as a tribute to Lewis' late wife Helen McCrory, it's a stately, superb ballad recalling the folk of Iron & Wine. Conversely, the other nod to McCrory, 'My Little One,' is a spry, whip-smart rocker from the days of Decca.
There are songs of levity, too. 'Hole In My Roof' is an uptempo jazz throb, while the open-road rock of 'Makin' Plans' recalls the '70s pomp of Elton John or Boz Scaggs.
Lewis' choice of influences certainly can't be called into question and the slew of covers he and his well-oiled band perform perfectly complement his originals. A faithful but fantastic take on Neil Young's 'Harvest Moon' radiates delicacy. On the other hand, a raucous and rapturously received rip through Warren Zevon's classic 'Werewolves of London' allows Lewis to really lock into some zany stage hamminess.
And on the subject of acting, being a thespian is certainly not a hindrance when it comes to being a frontman. Throughout the evening, Lewis is engaged and charismatic, able to bat back heckles with casual charm. As a performer, his guitar work is nimble and unconventional, while his voice – a potent mix of honey and concrete, at some points high and soaring, at others husky and aloof – carries well throughout.
Closing with a groove-inflected cover of JJ Cale's classic 'After Midnight,' Lewis glides offstage, his fears of a bad Birmingham review firmly evaporating.
Read the rest of the original article at Louder Than War