Whodunnit: A Theatrical Murder Mystery
by Press Association | Ludlow Advertiser | April 2, 2019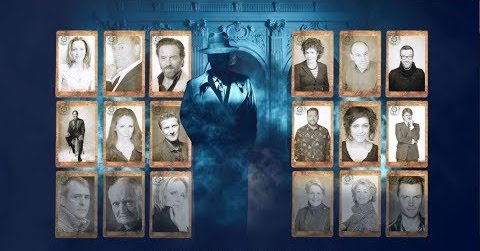 Gillian Anderson, Jim Broadbent and Damian Lewis appear in Park Theatre's Whodunnit Unrehearsed. They are among the stars appearing in a new play – without having rehearsed or seen a script – at London's Park Theatre this summer.
Whodunnit (Unrehearsed) will see a different guest performer step onstage each night with a rehearsed ensemble cast of a scripted murder mystery play, despite not having had any direction prior to their appearance. The only direction will come via a hidden earpiece to receive instructions as they attempt to solve the crime in real time. The mystery is not so much who the murderer is, but who the inspector will be. The audiences won't know which celebrity is appearing each night until the start.
The Evening Standard corroborates stating,
"The actors all appear as the inspector in Whodunnit [Unrehearsed] and will be sent on stage without a script to join the rest of the cast and identify the killer."
Described as a "murder mystery spoof" with "one hell of a twist", the play is set in an isolated manor against the backdrop of a brewing storm. The setting is a classic 1950s murder mystery, an isolated manor, a body and a cast of characters that includes the Lord of the Manor, his wayward daughter, the housekeeper, and her son who is in love with the daughter. Then a mysterious stranger arrives.
Whodunnit (Unrehearsed) will be narrated by Sir Ian McKellen and Dame Judi Dench as a different celebrity appears each night.
Others confirmed to be taking part include Gyles Brandreth, Catherine Tate, Jim Broadbent, Simon Callow, Ronan Keating, Maureen Lipman, Juliet Stevenson, Tim Vine, Bradley Walsh, Adrian Dunbar, Matthew Broderick, and Meera Syal.
The stars are donating their time to support a fundraising effort, with money raised going towards the cost of keeping the Park Theatre – a registered charity – open to the public.
Continue reading Damian Scheduled to Appear in Murder Mystery Play – April 2, 2019