The Old Market – Brighton/Hove
by Nick Linazasoro | Brighton and Hove News | October 1, 2023
*DISCLAIMER: We received this message, "Hiya, We at Brighton & Hove News have reviewed Damian's Old Market show, enjoy and share 🙂 " So we're sharing it with their permission! All photos by Cris Watkins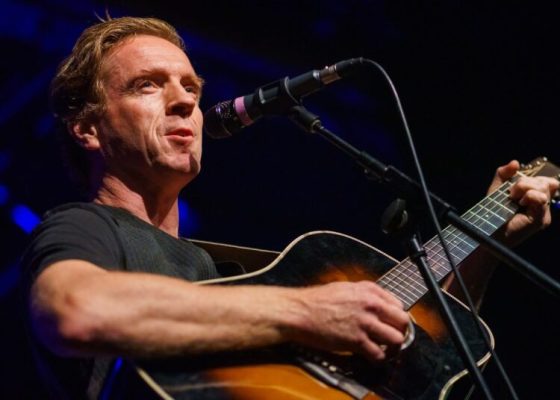 Photo by Cris Watkins
DAMIAN LEWIS + KITTY LIV – THE OLD MARKET, HOVE 29.9.23
When you get the opportunity to see United States Marine Corps Gunnery Sergeant Nicholas Brody in the flesh you certainly don't turn it down! 'Homeland' fans will know exactly what I'm talking about.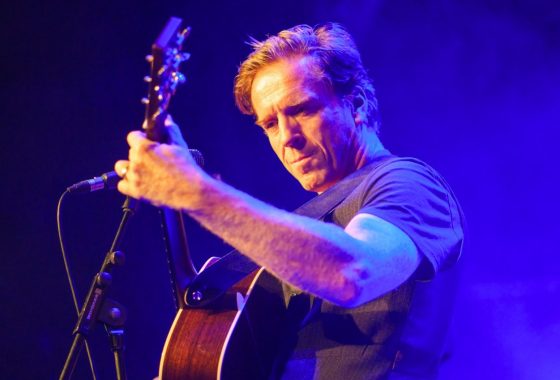 Photo by Cris Watkins
But in case you can't recall what happened a decade ago or simply aren't aware of the multi-award winning espionage thriller television series, then Nicholas Brody (along with CIA operations officer Carrie Mathison) were the stars of the series! Carrie Mathison was played by New York born actress Claire Danes and Nicholas Brody was played by Londoner Damian Lewis. In my wholehearted opinion, the acting of the duo is quite possibly the best I've ever witnessed on the small screen!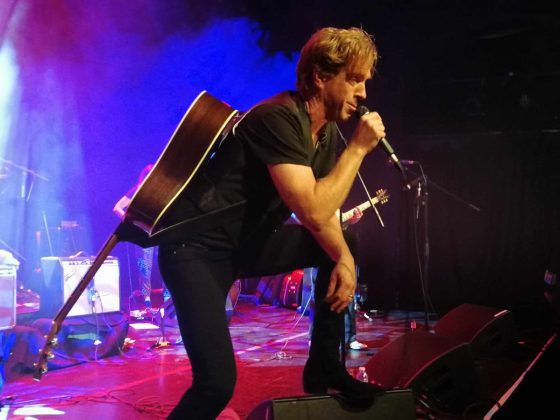 Photo by Nick Linazasoro
I was so impressed with Damian Lewis that I was almost certain that the powers that be would be casting him as a future James Bond! Sadly this failed to materialise as Daniel Craig held on to the role from 2006 to 2021.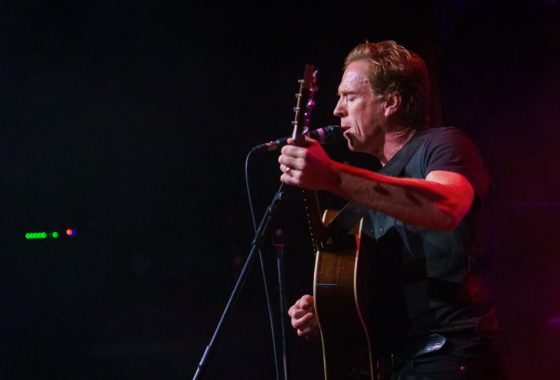 Photo by Cris Watkins
Clearly, Damian's formative years here in Sussex put him in good stead. He was educated at the independent Ashdown House School in Forest Row, and then went onto Eton College, and graduated from the Guildhall School of Music and Drama in 1993. He has thus far appeared in 21 motion pictures and coincidentally 21 television shows to date, as well as appearing in 8 stage plays. Clearly Damian had found his niche, however, what many were unaware of was that after leaving school, he swapped the rigorous day-to-day regime that had dominated his life for 10 years for something altogether less structured. He took to the road with his guitar (which he learned to play at age 13) and went busking through France and Spain and this experience has stayed with Damian ever since.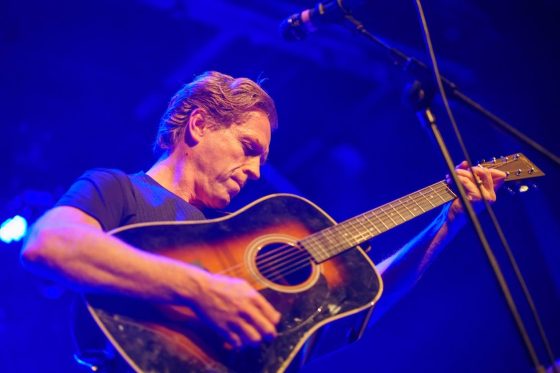 Photo by Cris Watkins
When Covid struck and the lockdowns were enforced Damian and his actress wife Helen McCrory OBE – who actually did appear in James Bond, as Clair Dowar MP in 2012's 'Skyfall' – put their (limited) time to very good use indeed and supported Feed NHS, a fundraiser to give food from high street restaurants to NHS staff. By April 2020, they had raised £1m for the charity. However, disaster struck a year later when Helen succumbed to breast cancer and passed away at home in London on 16th April 2021 at the young age of 52.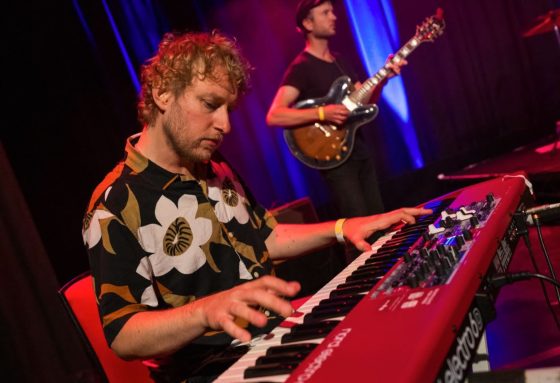 Joe Webb. Photo by Cris Watkins
During the lockdown period the idea of making a record seemed to be appealing to Damian and with the time and space away from a busy acting schedule the star was able to throw himself into playing and writing songs, and the ideas started to flow and 'Mission Creep' was born. Damian was taken back to the time he played the guitar every day, but with the additional maturity and experience that an eventful life has given him. Damian stated that he "Wanted the album to give a sense of a journey to this point, from busking 'til now".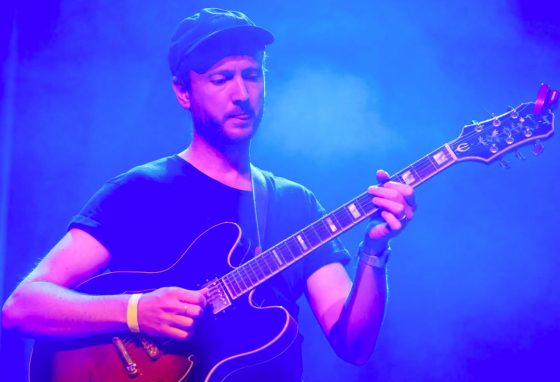 David Archer. Photo by Cris Watkins
Meeting and then teaming up with American jazz musician Giacomo Smith inspired Damian to start playing his own songs in public. Smith introduced Damian to some of the musicians from the much revered Kansas Smitty's House Band, with whom he immediately jelled – in the studio and on stage. They formed a band fronted by Damian and started gigging. A festival appearance at 'Wilderness' last year led to more live shows and has led to an appearance this evening at The Old Market, Hove's number one grassroots independent venue, as date five of a select eight-date UK tour.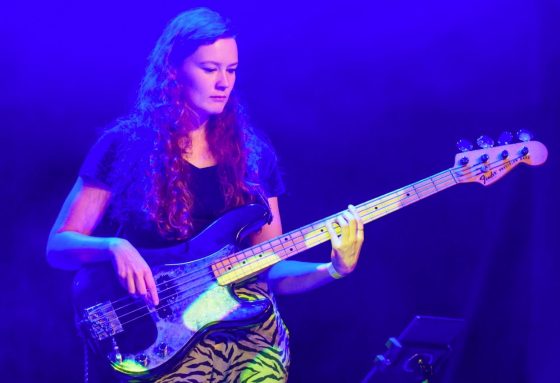 Flo. Photo by Cris Watkins
Such is Damian's pull that he has sold out the venue, which after releasing just one album is impressive. The 'Mission Creep' album dropped on 16th June and is a thoughtful collection of rootsy, rock and jazz-tinged songs that reveals a deep love of music, and a deep need to communicate. There are 13 tunes contained on the platter and no less than 11 of these are performed for us this evening, as well as a trio of unreleased numbers which Damian suggested would all be appearing on album two…and why not?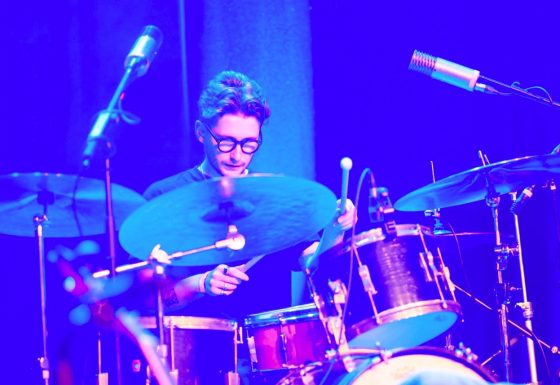 Will Cleasby. Photo by Cris Watkins
This evening's set lasts a compact 63 minutes from 8:32pm until 9:35pm and Damian, who supplies lead vocals, both electric and acoustic guitars, plus tambourine, is accompanied by a handful of young musicians, who are as far as I can work out are four of the Kansas Smitty's House Band musicians who played on his album, including Joe Webb on Nord Electro 6D keyboard, David Archer on Gibson guitar, Will Cleasby on drums, Kitty Durham aka support act Kitty Liv on backing vocals, harmonica and shakers, and an artist not on the album, being referred to as Flo (who's second name isn't given) on double-bass and Fender Precision bass.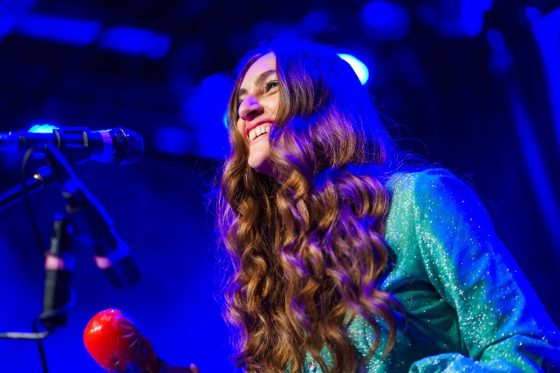 Kitty Liv. Photo by Cris Watkins
As Damian takes to the stage he says "Hello Brighton…..or would you like to be called Hove?", then adding "Oooooh third in the league!". Then then asked who is into football, and then went on to ask who is into rugby. Astonishingly, those present in the audience in favour of rugby got a louder cheer. This surprised both Damian and myself. Tonight's audience was in general a more mature bunch and vastly different from the youngsters that grace establishments a short distance away along Western Road to the likes of The Hope & Ruin in Queens Road and the Green Door Store by Brighton Station.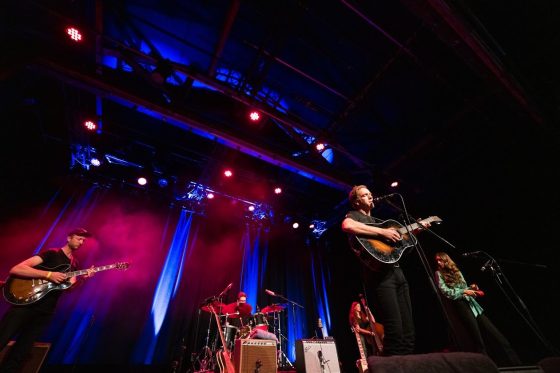 Photo by Cris Watkins
The six musicians began the 16 song set with 'Down On The Bowery' which was a quiet number and is the first single off of 'Mission Creep'. I immediately noted that Damian's vocal style delivery had an American twang. Next came 'Zaragoza', the second single from the LP, and Damian made reference to his travels in Spain with a tent with a hole in the roof, and on that subject, the third offering was the more swinging 'Hole In My Roof', during which Dave Archer showed us what he could do with his Gibson guitar. Selection four was 'My Little One' which was a hand-clapping number, which seriously hit the energetic blues half way through and Will Cleasby on drums and the harmonica playing of Kitty Liv shone through.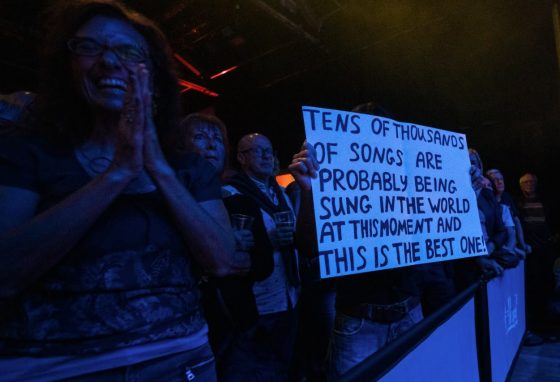 Bahar of Fan Fun with Damian Lewis team with other fans. Photo by Cris Watkins
The mood was slowed and quietened a little for the fifth selection, 'Soho Tango', which benefited from some honky tonk keys from Joe Webb as well as whistling from Damian. After which he enquired who in the audience were fans of JJ Cale and Neil Young. Many indeed were, and the sextet set off with their cover of Neil Young's 'Harvest Moon', which was most pleasant and featured some lovely work on the keys. We were then informed that the next tune, 'Never Judge A Man By His Umbrella', was about spies. For this, Damian slung his acoustic guitar over his shoulder and onto his back and he strangely reminded me of Alvin Stardust for some unknown reason. This boppy tune was the best track thus far.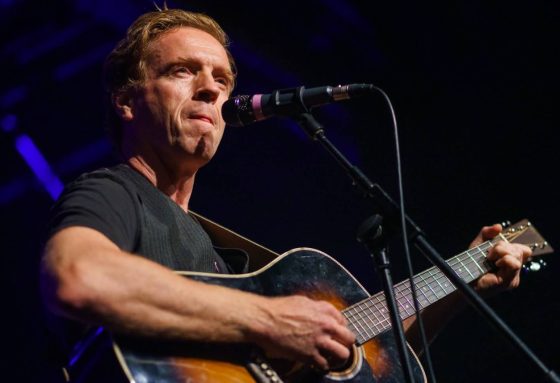 Photo by Cris Watkins
After seven tunes from the album, it was time for the musicians to offload their rendition of Warren Zevon's 1978 hit 'Werewolves Of London'. For this, Damon made use of Kitty's tambourine as they rocked out. After they concluded, Kitty jokingly requested her instrument back which brought many smiles in the crowd. 'Wanna Grow Old In Paris' is a slow chugging tune and was performed next. The first of a trio of unreleased material was their next offering, this being a funky little number with the title of 'Pentonville Prison'. Damian truly expressed himself during this tune as did Flo on bass, and David Archer on guitar. Damian started the theme of "and this could be the first track on the second album".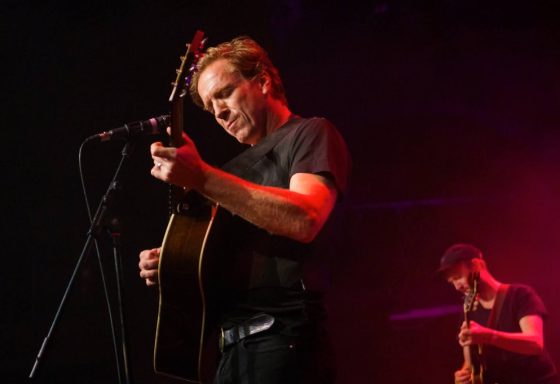 Photo by Cris Watkins
'Makin Plans' from the album was next and this is a very rock'n'roll honky tonk blues style tune that you might expect to hear from The Rolling Stones. This, for me, was the choice track of the night, although having said that, the next track, 'Traffic Jam' was almost as good. This was the second of the three as yet to be recorded compositions and as Damian continued "and this could be the second track on the second album". Initially this was a comical number on account of its hilarious lyrics, but as it went on it got more serious. The backing of this track reminded me of Roxy Music's cover of Wilson Pickett's 'In The Midnight Hour' and lyrically culled and adapted two lines from David Bowie's classic 'Space Oddity'. I shall very much like to hear if this account remains intact for the second record, I hope it does!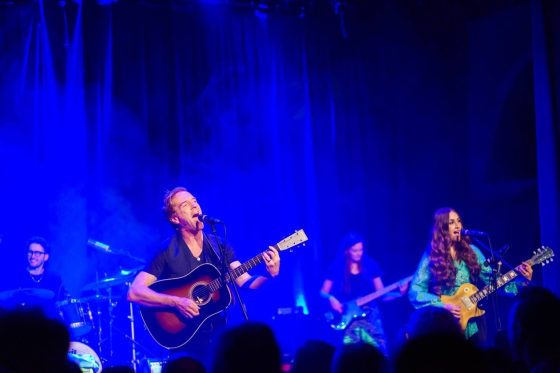 Photo by Cris Watkins
Talking of covers of other people's covers, the next selection was 'Why?', which wasn't the Nile Rodgers and Bernard Edwards penned hit for American singer-songwriter Carly Simon, or even Annie Lennox's hit from ten years after that. This tune was taking it way back to Jelly Roll Morton who was an American ragtime and jazz pianist, bandleader, and composer. It's claimed that Morton was jazz's first arranger, proving that a genre rooted in improvisation could retain its essential characteristics when notated. His composition 'Jelly Roll Blues', published in 1915, was one of the first published jazz compositions. He also claimed to have invented the genre. Anyway, Damian's 'Why?' was different in style from all other material tonight and is based on a cover of a cover by some other artists take that I failed to recall of Morton's tune. Tonight's version has a 1920's/1930's plinky keys vibe going down and as a result Joe Webb received audience applause during the actual song for his epic keyboard playing.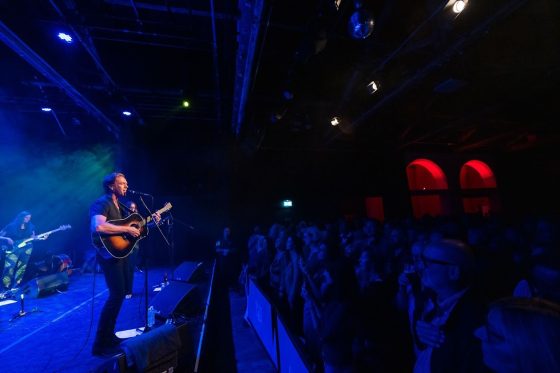 Photo by Cris Watkins
The final track before the two song encore was 'She Comes' which Damian tells us is about ghosts. Initially this track has a Richard Hawley vibe, who incidentally Kitty Liv has supported live with her sister Daisy and brother Lewis (not Damian) as Kitty, Daisy & Lewis, who have been making music together since 2000 and have sold over a quarter of a million records worldwide. 'She Comes' then progressively builds the longer it goes on and is an obvious song to leave the stage to.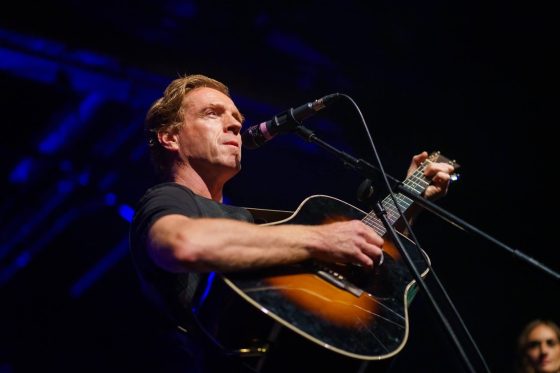 Photo by Cris Watkins
The third and final unreleased tune tonight was 'She Making Me Change' which Damian stated "and this could be the third track on the second album". I felt a definite Beatles vibe going down on this tune and judging by the three as yet to be recorded songs, the proposition of album two is looking very strong indeed. Damian then made reference to his earlier comment about JJ Cale and signed off with his take on 'After Midnight'. At 9:53pm he blew us a kiss and left The Old Market stage, whilst his chums played on for almost another minute. I would suggest that for all those present tonight, that this evening was a big hit for them, especially those queuing for merch afterwards!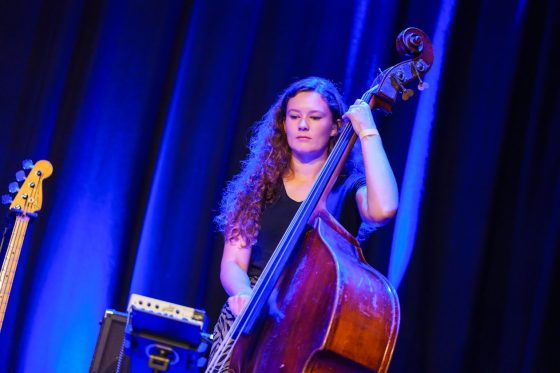 Flo. Photo by Cris Watkins
Damian Lewis band:
Damian Lewis – lead vocals, acoustic guitar, electric guitar, tambourine
Joe Webb – keyboard
David Archer – guitar
Will Cleasby – drums
Flo – double-bass, bass guitar
Kitty Liv – backing vocals, guitar, harmonica, tambourine, shakers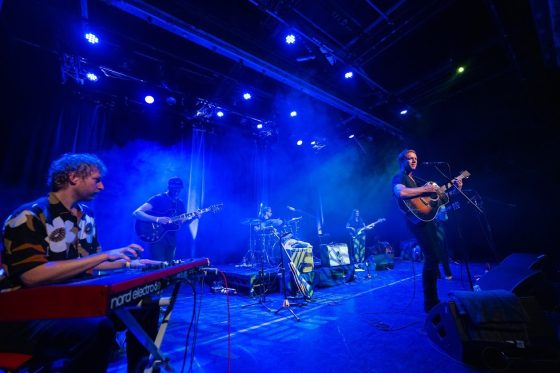 Photo by Cris Watkins
Damian Lewis setlist:
'Down On The Bowery' (from 2023 'Mission Creep' album)
'Zaragoza' (from 2023 'Mission Creep' album)
'Hole In My Roof' (from 2023 'Mission Creep' album)
'My Little One' (from 2023 'Mission Creep' album)
'Soho Tango' (from 2023 'Mission Creep' album)
'Harvest Moon' (Neil Young cover) (from 2023 'Mission Creep' album)
'Never Judge A Man By His Umbrella' (from 2023 'Mission Creep' album)
'Werewolves Of London' (Warren Zevon cover)
'Wanna Grow Old In Paris' (from 2023 'Mission Creep' album)
'Pentonville Prison' (unreleased)
'Makin Plans' (from 2023 'Mission Creep' album)
'Traffic Jam' (unreleased)
'Why?' (Jelly Roll Morton cover) (from 2023 'Mission Creep' album)
'She Comes' (from 2023 'Mission Creep' album)
(encore)
'She Making Me Change' (unreleased)
'After Midnight' (J.J. Cale cover) (from 2023 'Mission Creep' album)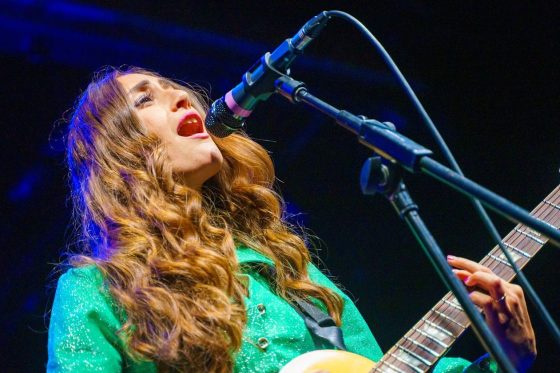 Photo by Cris Watkins
As mentioned above, support this evening came from Kitty Liv Durham, who with her siblings as well as opening on tour for Richard Hawley, has also done so for Coldplay, Razorlight, Stereophonics and others. This evening however it's just her by herself for nine tracks lasting 34 minutes from 7:39pm to 8:13pm, along with her acoustic guitar and mouth organ (harmonica) to get the party started.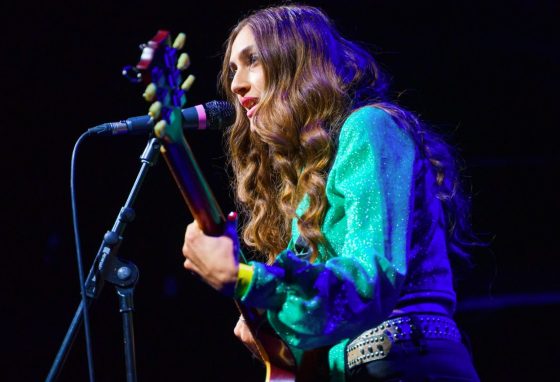 Photo by Cris Watkins
As you would expect from such a wonderful venue, the acoustics are absolutely clear and Kitty informs us that she will be playing her self-penned compositions of which some are quite new. She then launches into the opening number which is bluesy, but sadly not given a title. Tune two is named, 'I've Got My Neck On The Line' and we were told was "about people who can't make their minds", after which we had 'The Sun And The Rain' which was about relationships. Selection four was 'I'm Coming Up' and was "about falling in love whilst on drugs".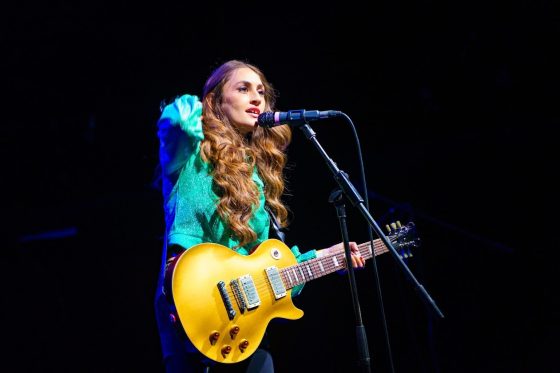 Photo by Cris Watkins
You get the feeling that every selection was of a song about things that have happened in Kitty's life, like (the unnamed) track four, which was "about a shitty boyfriend". Kitty got the audience onside by encouraging them to sing "whooaa" when given the nod. Song six was 'The River That Flows' and was about "when you aren't in control with something and you have to go with the flow". Selection seven wasn't named, but the penultimate number was 'Passing You By', which was a song about walking past her old boyfriend's flat. I noted some hurt whilst absorbing the lyrics.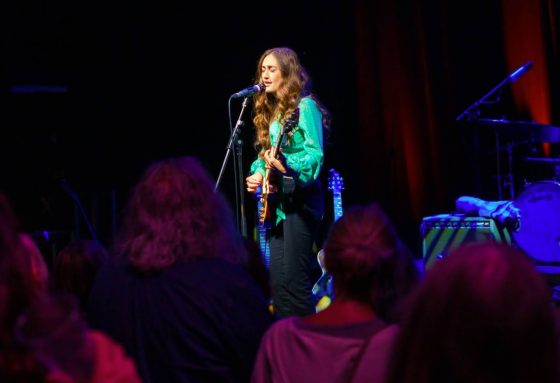 Photo by Cris Watkins
To sign off, rather than the bluey numbers she played on her guitar, Kitty informed us that she was going to put her guitar down and started the final tune acapella and then suddenly produced an as yet unseen small mouth organ, which she seriously put through its paces and the crowd were very impressed with this. A great way to sign off!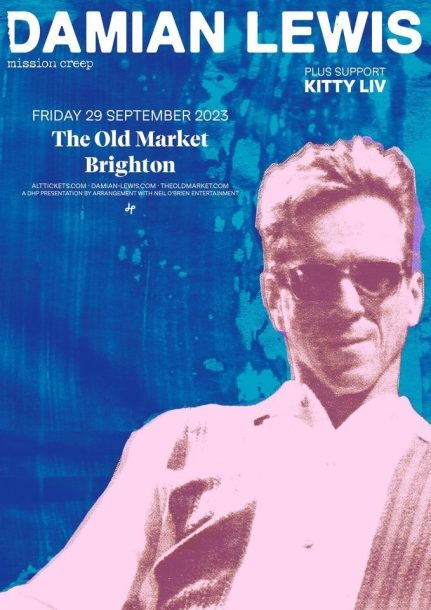 Gig flyer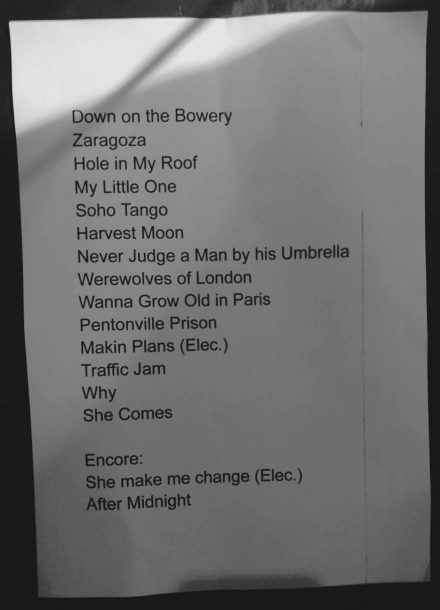 Setlist. Photo by Nick Linazasoro
Read the rest of the original article at Brighton and Hove News
Additional Sources: What's On – Brighton and Hove News and photographer Cris Watkins