The Glasshouse International Centre for Music
by Peter Newman-Mann | NE Online Magazine, Issue #65 | October 3, 2023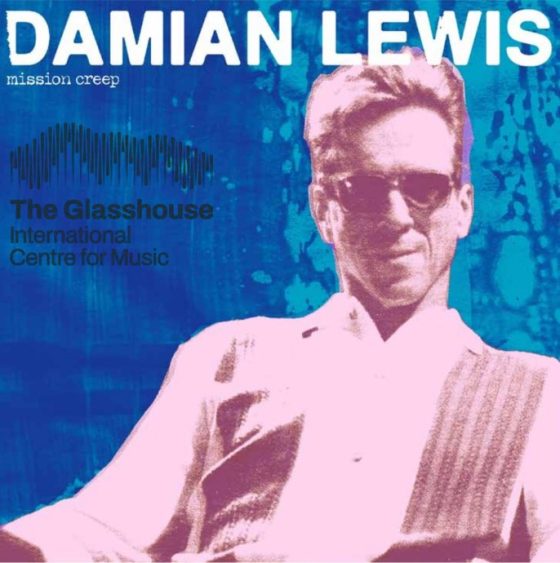 Sage 2 in Gateshead now called The Glasshouse, International Centre for Music
It's been a long and interesting journey for the now 50-something, London born actor/musician, Damian Lewis, both trades in which he now enjoys to the full, having come to him early in life.
Although his acting, as a career, began fully when Damian was in his early 20's, during the early-mid 1990s, he's gone on to enjoy roles in film, television and on stage, and with some iconic parts to match.
Best known for portraying that of Major Richard Winters in the 2001 hit mini-series Band of Brothers, or perhaps as Soames Forsyte in the 2002-2003 series and television movie The Forsyte Saga; maybe you know him from playing Charlie Crews in the 2007-2009 series, Life, or there's Nicholas Brody in the 2011-2014 smash Homeland, and even Bobby Axelrod in the more recent 2016-2021 Showtime hit Billions – Damian Lewis has been a staple of television screens everywhere for some time.
And now he's reverted back to his first love, music, and the recent release of his debut album Mission Creep and accompanying UK Tour.
"Music, I took it up playing the guitar as a teenager," began Damian, looking back at how it all began for him in the arts.
"That's what I wanted as an accompaniment; I had my motorbike, a tent, and I went off around continental Europe performing. I listened to rockabilly when growing up, although I am a sucker for synth-pop as well."
Although music was his thing growing up, Damian soon found a calling in the acting world and not only did it go from strength-to-strength, irrespective of the medium he was in, he's pretty well blown it out the water.
Acting though, it's a far cry from what his ancestry holds with his maternal grandfather being that of Lieutenant colonel Sir Ian Bowater, Lord Mayor of London, whilst his maternal grandmother's ancestry includes a doctor to the Royal Family, and an eminent naval shipbuilder and philanthropist – most certainly big shoes to fill.
"I've had a very jolly time, a good does of luck, and worked with some wonderful people long the way," continued Damian, discussing a little of his acting life.

"I'm lucky to have been a part of what is a really great industry to be in."

"Getting out on the road, with the band, it's a total joy for me. I've always played music, but wanted to act and it was something which I felt most confident about, something I take very seriously, and something which I became. The more you do something, the more you move away from other things, and with acting, you really do become a fixture, a mainstay on people's televisions. I'm getting away with all, so far, but I'm also as skeptical as the next person. Although we're naturally prejudiced as human beings so there's the case of why have a musical hero who's an actor. Yes, it's confusing, but if you love the arts, then you can embrace it and if they're good enough, then you'll come back for more."
Now though, it's very much about his debut album and the tour for Mission Creep, although fans of his acting will still get to see him in upcoming releases.
The music though, came back to the fore during the early lockdowns with Damian taking to, and finishing the album off, overcoming personal hurdles along the way.
He had great support as well though, that coming in the shape of a close friend, the much-traveled, reputation-laden Giacomo Smith, or simply, G, to Damian (in case he pronounces the forename incorrectly, apparently).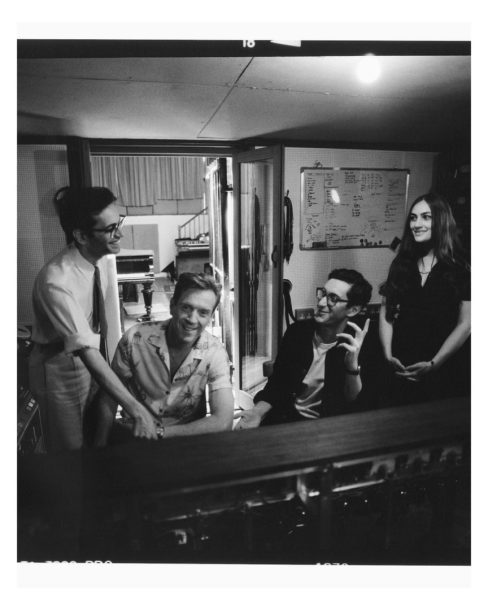 "I hope that this record will make people think old school, playing live in a room, because it's taken, really, from my busking background," he explained.

"The album name itself comes from military terminology and I like the idea of my mission (career path) creeping into music. Going off on this UK tour though, to places I've not necessarily been before, it's great. People coming to the shows can certainly expect a fun night, tender, personal musical feels, with rootsy, jazzy, bluesy kind of music, although there is a chance my music will develop as it progresses. But for now it has that rootsy, sing-songwriter to it and I'm with some talented, great musicians, an amazing band and hopefully, moving forward, we can continue producing more music" (there's a second album already in the pipeline).

"G (Giacomo Smith) is a brilliant clarinetist, saxophonist, and collaborator. He produced and worked with me on the album so it's great to be able to have somebody like that alongside me, someone who is also a really good friend as well."
Appearing at Sage Gateshead, now known as The Glasshouse International Centre for Music, on Saturday, 7 October, and last-minute tickets can be purchased via the venue. He's promised photographs and autographs if people want them, afterwards.
Keep up-to-date with Damian Lewis, the musician, via his Facebook, Instagram, Twitter and YouTube VEVO channel.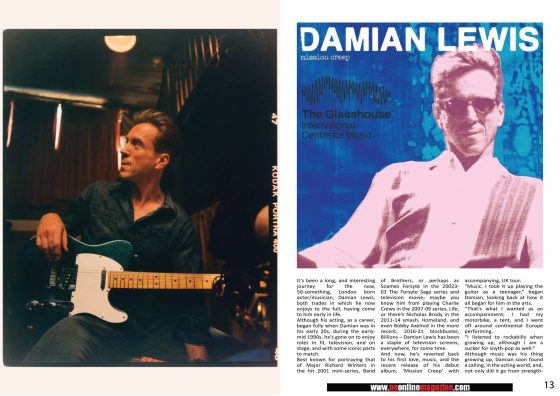 Read the rest of the original article at North East NE Online Magazine