From Fendi to Gucci and Armani Inbetween
by Hadley Freeman | The Guardian | March 3, 2006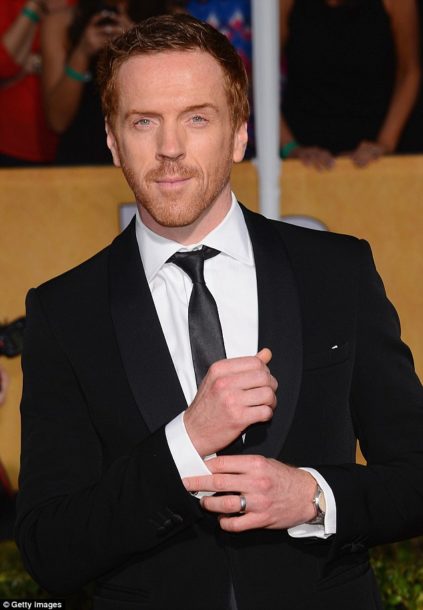 Actor Damian Lewis has shone on screen – but can he take centre stage in this season's patterned shirts? Hadley Freeman asks him.
'You're making me trendy, aren't you?" the actor Damian Lewis accuses us, with the cheeky smile of a man fond of being the centre of attention. "My God, the Guardian is going to make me trendy!" This extraordinary sentence is prompted by an equally extraordinary garment: a short-sleeved, button-down shirt by Fendi, seared down the front with chunky red and blue stripes and a most alarming chain print. It is, to my eyes, the spit of the sort of top my 90-year-old grandfather used to wear on the golf course in Miami. Lewis looks up for reassurance. I, with my usual photogenic tact, curl my left upper lip, scrunch my nose and shake my head. But Clare, the stylist, is adamant it will work – "you know, with a jacket" – and Lewis regards her suspiciously.
Lewis, 34, is one of Britain's hardest working and highest profile actors. He is fitting in this shoot between international promotional tours for Stephen Poliakoff's television drama Friends And Crocodiles, acting in the Ibsen play Pillars of the Community at the National Theatre, and preparations for producing his first feature film.
Since being nominated for a Golden Globe for his role in Band Of Brothers, he has played an impressively diverse range of characters, including Soames in The Forsyte Saga, Jeffrey Archer in Jeffrey Archer: The Truth, and Benedick in the BBC's modern adaptation of Much Ado About Nothing. But he is probably most recognisable for the fiery patch of splendid ginger hair, an attribute that increasingly dictates his wardrobe as he gets older: "I used not to care at all and wear pinks and greens, and that's so clichéd – red hair, green clothes. Now I tend to stick with dark colours," he says, plucking at his dark blue Gucci ("but understated!") shirt.