A Cerebral and Fiendish Remix of the Kim Philby Tale
by Jasper Rees | The Telegraph | October 7, 2022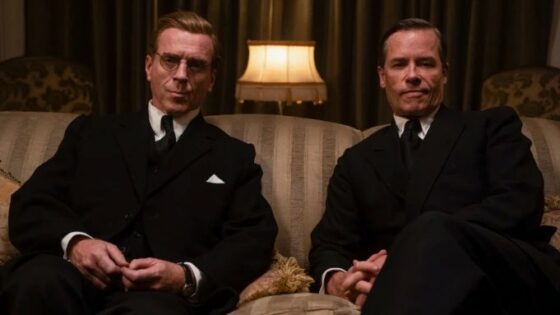 Damian Lewis and Guy Pearce are magnificent in a satisfyingly complex drama which focuses on Philby's escape to Beirut in 1963.
Nothing illustrated the length of the journey made by Kim Philby from West to East, from British mandarin to Soviet icon, than his funeral. The casket, in the Russian style, was open, enabling his widow to lean in for a final caress of that infamous poker face. (You can watch the footage for yourself in Adam Curtis's compendious forthcoming BBC series about the death rattle of communism.)
In a sense the lid will never close over the coffin of England's most notorious traitor. Like other enigmas – see also Albert Speer – the story of a third man with two paymasters and four wives can never be definitively told, the case never closed. Hunting for the real Philby among the false fronts and double lives is like wandering around a maze uncertain if you're looking for the entrance or the exit. From every new angle glint more questions.
Continue reading Review: A Spy Among Friends – The Telegraph