Welsh Pride
by Michael O'Sullivan | Washington Post | May 19, 2021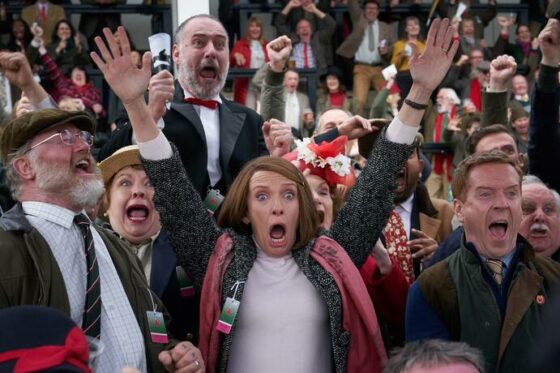 Based on a true story, "Dream Horse" is a straightforward and unfussy feel-good drama about a group of ordinary people from a small Welsh town who decide to inject a little zest (and the risk of financial ruin) into their humdrum lives by breeding a racehorse, although none of them has the slightest experience in the field. Improbably, the stallion — named Dream Alliance for the motley assortment of naive and starry-eyed nobodies who form a syndicate to financially support, raise and race him — manages to do better than anyone could have imagined.
Anyone, that is, who has never seen a horse-racing movie before. (For the factual backstory, watch the charming documentary "Dark Horse.")
The film's protagonists, including the town drunk, the butcher and a lonely old lady — all of whom are colorful but clueless, with the exception of a savvy Cardiff accountant (Damian Lewis) who once owned and raced a thoroughbred — are not in it for the money but for something called the hwyl. It's a Welsh concept (approximately pronounced "hoil") that roughly translates to: a reason to get up in the morning.