Black Hawk Down, Elvis, Steve McQueen, and Broadway
by Evelyn Poitevent | USA Weekend Magazine |  March 10, 2002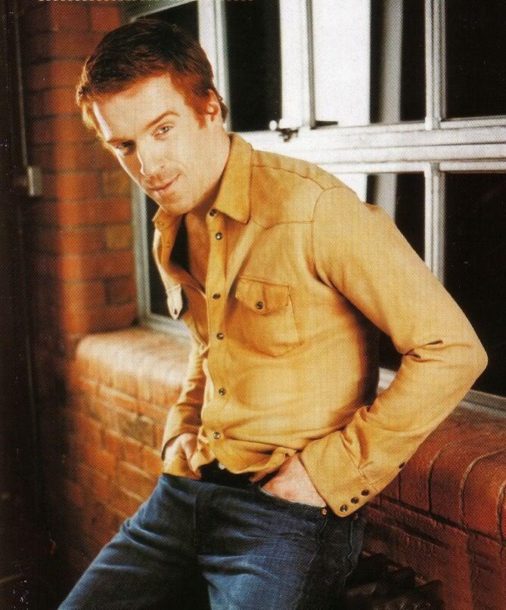 "Band of Brothers" star Damian Lewis, 31, has been touted by everyone from the "New York Times" to "People" magazine as Hollywood's new golden child. And rightfully so. The British actor — a veteran of London's Guildhall School (where he studied drama with Ewan McGregor and Joseph Fiennes), the Birmingham Repertory and Royal Shakespeare Company (where he befriended Ralph Fiennes) — has not only proved himself worthy of the stage during the last decade, but has also made his mark on British television (BBC's "Warriors" and "Hearts and Bones"). "Band of Brothers" brought him to American audiences — and rest assured, that was just the beginning. We caught up with the humorous, fun-loving (yet humble) redhead, who's currently filming a Stephen King thriller, "Dreamcatcher," in Canada.
Q: Your latest project is "Dreamcatcher," based on Stephen King's novel. Tell us a little bit about your character.
A: I play one of four friends with telepathic power. They're all at a dead-end place in their lives, and they go to cabin in Maine and are attacked by aliens. My character is a Boston professor whose name is "Jonesy" who gets possessed by an alien, but does not die. Two others die. I have to deal with having two people in my body at one time. Filming wraps up in mid-May. The movie should be released early next year.
Q: You filmed a new adaptation of "The Forsyte Saga" last fall. When can audiences expect to see it?
A: Yes, we filmed it during the fall, and I play the lead, Soames Forsyte. It airs in Britain on the BBC at the end of March and on PBS later this fall. We only filmed two books of the three-part saga. So we'll be filming the third book in the fall. It will be out in the U.S. next year, around the same time as "Dreamcatcher."
Q: You turned down a role in Ridley Scott's "Black Hawk Down," a major box office success described as one of the most realistic war movies ever. Why? Were you sick of war movies by the time "Band of Brothers" was finished?
A: Exactly that. I just couldn't face it. I'd been a soldier for 8 months on the set of "Band of Brothers." I didn't want to go to Morocco for three months and be a soldier in the desert.
Q: You've said you'd much rather do quality TV than big films that aren't very good. Was that your take on "Black Hawk Down"?
A: No, not at all. I would rather do films, given the choice, over TV. There's such a hunger in young actors to do movies, but actually some of the best quality writing is in TV. It's just not as high-profile or glamorous. All the glitz and the glamour is fun in the film industry. I want all of that, I want to do big screen. But I don't have a child or a family to support right now, so I can afford to choose quality TV [and not get paid as much]. Maybe when I have three kids, maybe then I'd take work I'd be less proud to do. But I haven't encountered that yet. I'm lucky.
Q: Producing, directing and writing. Any aspirations there?
A: I've always thought I'd move on to one of those things from acting. I've always loved acting and I think I am in every way an actor. Actors have something instinctive in them that makes them act. Anyway, I have aspirations to do these things but they're not clearly in focus yet. I do think I have ambitions to direct or produce, but I just know I'm not ready to do that. I've thought about it a lot though. I think I surprise people when I stick around on the set. Most actors go back to their trailers, but I like to be out there, a part of the process, even on night shoots. I like to see the decisions directors make and hear why. I feel more a part of the process.
Q: You were with the Royal Shakespeare Company. Do you wish to return to the stage, or are you all about the silver screen now?
A: It changes overnight. I have always imagined I'd go back to the stage and continue theater work. Gosh, the idea of going back to the stage is already terrifying to me, having been away for three years now. It takes greater concentration now, because I know more things. I feel like I want to go and do new things: films and original scripts. I've been in plays since I was 8-years old. Now, I'm starting to learn so much about films, it's proving to be a terribly fulfilling environment. It's proving to be very seductive. I do miss the live audience, I will say that. There's nothing like a live space with an audience responding to you.
Q: You've received extraordinary praise for your role as Maj. Richard Winters in "Band of Brothers." How did you a) nail down such a perfect Pennsylvania accent (not just American) and b) survive boot camp?
A: I listened to a lot of tapes of Major Winters. The accent in the end isn't too specifically a Pennsylvania accents. I concentrated on an authentic American accent that was totally believable, so people wouldn't think, "Hey the limey does a really good American accent."
Regarding boot camp, I went to boarding school, and when I lay there in bed the first night, it was like a grown-up version of sleeping there with other guys in the dormitory. I have to say there's something so liberating about being told what to do throughout your entire day. About having that structure. For 10 days, we were run off our feet. We were up at 5:30 every morning, and every single minute of the day was taken up by activity. You didn't have to make any decisions yourself. We would literally just fall into bed at 10:30 every night. Actually, we stopped doing our 5-mile runs in the mornings after a week. The majority of us complained that we missed our 5-mile runs! It felt good to get out there and do it.
Q: You've been quoted showing your surprise/discomfort with Tom Hanks's emotional side. You said he cries a lot and pretty much at the drop of a hat. Did it just grate on you?
A: An article said that? Funny, I don't remember expressing any discomfort over that. I just remember him being choked up at the commemorative screening for the veterans over in Normandy. He's very involved, and I guess I'm a bit more British about these things. I wouldn't feel so comfortable showing my emotions in public like that. Then again, I remember feeling like I wasn't going to be able to control my emotions at the Golden Globes. I was worried that maybe I would get up on stage and just burst out crying. So I guess I now know how it feels.
Q: How does it feel to be known as Hollywood's "next big thing"? Does the pressure make you nervous?
A: Thank God I haven't read too many of those or else it would make me nervous. "The next big thing" is only exciting while you're the next big. I'll be the next big thing for a small window for the next six months, and it's very flattering, but you've got to try and remain the next big thing. You've got to think of how much you want it. What level of stardom do you want – what kind of a life you want to lead? I don't want to be so famous that I have people taking photographs of me with my girlfriend or [future] wife on holiday. I don't want people with long lenses hiding in the bushes. I don't want that kind of scrutiny. Take Brad Pitt and Jennifer Anniston. How do they cope with their lives? I've met Brad and he's one of the most normal guys I know. I want to do well in my career, but how do you get to the top without compromising your private life? It's tough, but I think you can do it. Look at Harrison Ford.
Q: You probably don't mind the comparison to Steve McQueen, right?
A: I probably don't mind is right! I love it, I'm going to put it on my gravestone. It's very flattering, it's nice. I don't think I'm like that as a person. Perhaps the performance I gave as Major Winters was like McQueen…although come to think of it, I've had one or two cinematographers tell me I look like him.
Q: Who is your mentor in the business? Who did you grow up admiring?
A: I've never been one who has heroes – I'm too egocentric for that maybe, I don't know? -oh, except for Elvis. I used to dress up like him and look in the mirror. I used to spend hours coiffing my hair with the blow-dryer and wax. Then I'd play this double LP at home and look into the mirror for hours.
Q: What was your favorite job ever (doesn't have to be acting)?
A: The one that sticks out because it was a real coming of age time for me was working on Broadway with Ralph Fiennes. I was 24 and there were a bunch of us on Broadway. Vanity Fair did this cover "Boys on Broadway" and we were walking across the Brooklyn Bridge. It was a fantastic time. There was always a Dorothy Parker-style group of friends at Café Un, Deux, Trois a block away. We'd go there after performances. We were behaving badly and going out, but the whole town wanted to buy us drinks. New York was like our playground for four months. And I have good friends from that time, people I've stayed in touch with. It's a good test of the time you've had if you bring friends out of that period in your life. It means you had a rich and exciting time.
Q: Do you still live with your brother in the Kensal Green part of London? Do you now have a home in L.A.?
A: I've moved to Camden in central London now because my brother got married and is having a kid. I don't feel any pressure to move to London and New York for film purposes. It's an international industry.
Q: Are you dating anyone right now? Who?
A: I'm seeing a girl called Katie, who's very sexy. She's a news broadcaster and journalist in England.
Q: Do you have any pets?
A: I grew up with dogs, but I have no pets now.
Q: What is your biggest weakness? Are you a glutton for something?
A: Oatmeal raisin cookies and ice cream. I have a sweet tooth. Otherwise, emotional complexities.
Q: What is your biggest pet peeve?
A: Selfishness in people.
Q: Do you have any regrets in life thus far?
A: Yeah, that my mother died.
Q: If you could have dinner with anyone in the world, who would it be?
A: Jesus. He's got a lot of explaining to do and I'd like to hear it! Other than him, I'd say Osama bin Laden. I'd like him to come and give me some tips on how to decorate my house.
Q: How do you like to spend your down time? What are a few of your favorite pastimes?
A: My hobby at the moment is my laptop because I'm so backward in all things having to do computers. I'm teaching myself how to type and use e-mail. I'm finding it very comforting and fun to e-mail all of my friends in London when I'm away, but it takes me an hour to write a letter. I also play the piano. I taught myself how to play.