Damian Lewis and the Big Picture
by Jim Axelrod | CBS Sunday Morning | February 19, 2017
Damian Lewis was widely praised for his portrayal of a no-nonsense Army officer in HBO's critically-acclaimed mini-series, "Band of Brothers." Lewis has made quite a name for himself playing a number of all-American roles even though, as Jim Axelrod explains, there's nothing all-American about him:
On the north shore of Long Island actor Damian Lewis is showing us around the fictional home of hedge-fund mogul Bobby Axelrod, the character Lewis portrays in "Billions," which is having its second season premiere tonight on CBS-owned Showtime.
"It's a nice spread!" Jim Axelrod laughed. "Some Axelrods live better than others!"
At this point in his career, it's no surprise Lewis has created another indelible working class character. It's his wheelhouse, and what he loves most about acting on TV these days: the chance to explore a character's complexity in a way a two-hour feature film doesn't always provide.
"Well, he's gonna be both in different measures," Lewis replied. "This high-end, novelistic form of TV, you know, is just peppered with despicable people who do marvelous things and marvelous people who do despicable things."
Lewis has portrayed both marvelous people, like war hero Dick Winters in HBO's "Band of Brothers," and despicable, like double- (sometimes triple-) agent Nick Brody in "Homeland." Together with Bobby Axelrod, they are three of the most compelling American characters of this new Golden Age.
But what is surprising is that Damian Lewis is not American at all.
"It's funny you've just brought this up because when I was getting changed [into Bobby's clothes to come do this interview], I reminded myself to do it in English, in my London accent."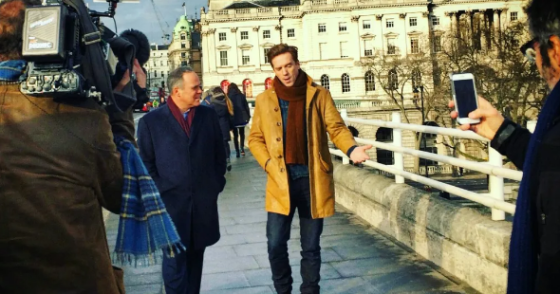 Read the rest of the original article at CBS News