"Irresistible Characters, Addictive Story Lines and Great Writing"
by Stephen Spignesi | New Haven Register | March 25, 2018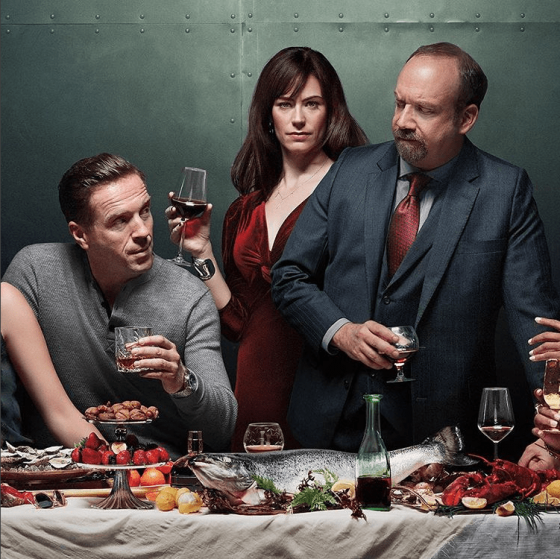 SPOILERS – READ AT YOUR OWN RISK
Major changes are afoot when Showtime's financial intrigue series "Billions" returns for its third season March 25 at 10 p.m. with the episode "The Tie Goes to the Runner."
At the end of Season 2, hedge-fund billionaire Bobby "Axe" Axelrod (Damian Lewis) was seen Ubering his way home after posting bail following his arrest on a slew of charges by his nemesis U.S. Attorney Chuck Rhoades Jr. (New Haven's own Paul Giamatti). Axe had deliberately sabotaged the Ice Juice company's signature juice product and made people sick so Ice Juice's initial public offering would tank and Rhoades would lose a fortune, which he did.
Bobby got caught, ended up indicted, and Taylor Mason (Asia Kate Dillon), Axe's non-binary new hire ("my pronouns are they, theirs, and them") was christened chief investment officer for Axe Capital.
 Axe and his wife, Lara (Malin Akerman), have split up and Bobby is living in a huge apartment in New York. Bobby has also moved Axe Capital's base of operations from Connecticut to Manhattan, and he has agreed to divide his assets and sign over half to Lara. Axe Capital's assets have been frozen, however, and his team is on the verge of defecting because they can no longer trade equities and make money.
On the other side of the battlefield, Chuck Rhoades has lost the support of his father, Charles (Jeffrey DeMunn), and his best friend and personal attorney Ira (Ben Shenkman) for his baiting Bobby into committing sabotage. Chuck also lost his $27 million trust after his father invested it all in Ice Juice, not knowing his son had plotted to destroy the company. Chuck and his formidable wife — and Axe Capital performance coach — Wendy (Maggie Siff) are back together, but Maggie is precariously positioned between her conniving alpha male boss and her single-minded, vengeful husband.
 Other changes this season include the former SEC drone Ari Spyros (Stephen Kunken) being hired as chief of compliance for Axe Capital; a new Southern-fried attorney general — Waylon "Jock" Jeffcoat (Clancy Brown) from west Texas — has been named by the president and is intent on micromanaging Chuck's cases; Axe's poker tournament foe from last season Todd Krakow (Danny Strong) is now treasury secretary; and new hire Taylor — who may have the biggest challenge of the season — is tasked with coming up with the Big Idea that is necessary to save Axe Capital.
Plus, there's an unexpected death a few episodes into the season that hits Wendy the hardest, and Wags (David Costabile) is back, and, as completely expected, in rarer form than ever.
The writing is razor sharp and the fun pop culture references this season again abound — including allusions to "The Sopranos," Stephen King, "Top Gun," "Wall Street," "The Departed," "The Godfather (I and II)," "The Tommyknockers," Nikki Minaj, "The Lord of the Rings" and Bruce Lee movies, to name a few.
What's so enthralling about the characters in "Billions" is that they are all good guys and bad guys. The duality in many of the characters is mesmerizing. Bobby Axelrod is a fan fave and perceived to be the spurious "hero" and protagonist of the show, but this is a guy who can donate $100 million to 9/11 charities in the morning and then nonchalantly destroy companies in the afternoon through deception and insider trading.
Read the rest of the original article at New Haven Register