Has the Student Become the Master?
by Lady Trader | Fan Fun with Damian Lewis | April 6, 2018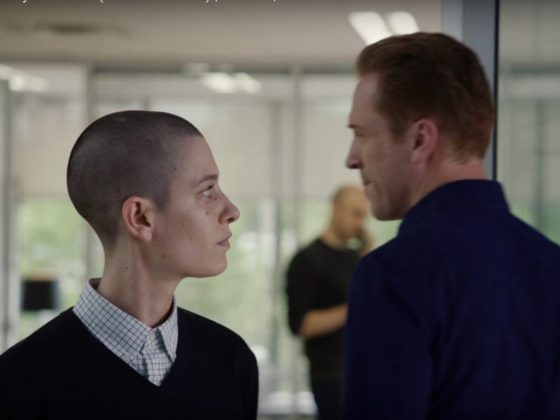 Happy Friday from the Trader's Desk.
The title of my post comes from the TV series "Kung Fu" which features a student (Grasshopper) and a teacher (Master Po). I couldn't help but think back to this reference throughout, and especially at the conclusion of this episode. Has the Student become the Master?
Axe behaves like a full blown addict in this episode. Some people are hooked on drugs or booze. Some on food or shopping; Axe is addicted to the trill and control that trading, and making the big moves brings to him. It's late at night, and he can't sleep. It's his first night of withdrawal, and he's aching. You can see it on his face "what did I just do?" He needs to talk to the only person who can get him through this, and that is Wendy. Wendy is his sponsor in the AA of trading.
Axe thinks he made a mistake. He has worked his entire life to build his company and be in the position to "truly be free, no limits, nothing I couldn't do." It is interesting that he equates freedom with trading, but also freedom as not following any rules. He believes that the amount of money and power that he has made means he is above any rules, and doesn't have to answer to anyone. His anger is even greater since he believes it was he who has allowed this to happen. He does not accept or recognize the role he has played in ending up in this position, and is so self-absorbed be loses focus on the bigger picture – saving Axe Capital. He sees no difference between himself and his firm; "Axe" is his identity and he feels that is being taken away from him.
Wendy needs to constantly remind him of the position he put himself in. He has "lived like there were no rules." In the real world everyone has rules of some sort or another, and if you break them, you have to pay the consequences.
I think Wendy asks a lot of Axe. She wants him to use his new limitations as a "chance to realign who you are." The problem with that is Axe likes who he is: the outlaw, the "fuck you money" man. Axe's eye roll at the suggestion that "letting go" is a kind of freedom tells you all you need to know.
As he hangs up the phone, you can see the gears turning in Axe's head. Only a news alert about an underground earthquake off the coast of West Africa interrupts his thoughts.  Damian Lewis' facial expressions in this episode exposed a lot of the distress and anger that was inside Axe. Very few actors can convey those kinds of emotions with just his eyes, but we are so lucky that Damian Lewis can!
Axe can't go cold turkey, nor does he want to. A few phone calls later and he has lined up a rouges gallery of traders and fund managers who owe him and are certainly willing to listen to an idea pitched by Axe. He may not be able to trade, but why can't other's benefit from his experience and his unique viewpoint. Axe has lined up firms who will invest based on his ideas; now to get them the finances.
Axe Capital is back in business and Taylor has invested $9B back into the market in phases. This would be the best way to get that kind of funds working again. You never want to move the market by investing too much too quickly, and you certainly wouldn't want to tip off your competitors to your plans.
There is a final $2B that Axe has requested not be touched. Taylor, as the CIO should be able to make this call. Since Axe tells no one his secrets it's no surprise Ari has no clue, but speculates and plants a seed in Taylor's head: maybe that money is a hedge against Taylor, putting that money aside just in case the new CIO is not up to the job.
The set up of the new Axe Capital (all glass offices, and an open trading desk) makes it impossible for Taylor (or anyone for that matter) not to see Wags in his office. If anyone knows what Axe is up to, it will be Wags. Taylor doesn't even need to get through the door before Wags knows this is about the $2B, and he's on it.
While Axe is getting his apartment swept for listening and recording devices, he gets a neat little app (I'm calling it the "Axe App") that will give him in real time exactly what is going on with the firm's portfolio. Just because he can't trade, doesn't mean he can't know what's going on! Control freak alert!!
Wags' mission to ask about the $2B is less a fact finding one than a cautionary one. He knows all too well what Axe plans to do: give the funds to outside firms.
Read the rest of the original article at Fan Fun with Damian Lewis