"Axe Returns to Axe Cap to Cheers and High-Fives Befitting a Rock Star"
by Dana Feldman | Forbes | May 14, 2018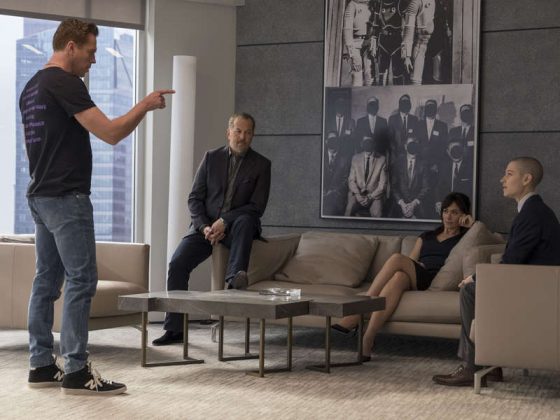 Showtime's hit series Billions continues to prove itself worthy of the legendary Wilbury status that's the basis of this latest episode. This week, it's made abundantly clear who is up and who is down and out.  
In "All The Wilburys" Axe (Damian Lewis) and Wags (David Costabile) explain to Spyros (Stephen Kunken), as he's being fired, the difference between those with Wilbury, or legend, status, and those without. Spyros falls into the latter category but gets a little help from an unexpected source: Dollar Bill (Kelly AuCoin). Do these enemies actually become friends in this episode? More on this below.
The episode opens with Chuck (Paul Giamatti) and Wendy (Maggie Siff) walking down darkened stairs to partake in some of their favorite S&M activities. They're all smiles now that they are in the clear, but those wide grins are very short-lived. The moment they enter the cavernous sex dungeon, they get an unexpected greeting. Chuck Rhoades, Sr. (Jeffrey DeMunn) and Black Jack Foley (David Strathairn) emerge out of the darkness with a stern warning-slash-threat that such hobbies are not befitting a candidate for governor. Chuck and Wendy, humiliated and enraged, realize their hands are tied and not in the way their proclivity for S&M would suggest either might find enjoyable.
Rhoades Sr. explains what they do in the privacy of their home is their business, but behavior with "a third party" they've just shown can be compromised cannot be tolerated. Foley tells Chuck the time has come for him to resign as the U.S. Attorney and announce his plans to run. Later, Wendy advises Chuck he shouldn't run like this; if he wants to be governor she supports that, but only if he can do it as he wants, on his terms. "They're setting this thing up to operate you like a puppet," she warns.
Both grapple with guilt. "Blood will have blood," Chuck says to her. "The only way is to swallow that guilt and move forward. Otherwise, that guilt will swallow us." Chuck feels with the governorship they can do enough good for enough people, but Wendy says it's not possible if they're acting out Foley's agenda of favor-trading and patronage. "He's setting you up to be his lap dog," she cautions. "He's just showed us he will snap that leash whenever he feels like it." Wendy warns Chuck if he wants to move forward with this, he'll have to "reverse the power dynamic." She reminds him Foley has hurt a lot of people and his best bet is to find and use one and get back on top.
Axe (Damian Lewis) returns to Axe Cap to cheers and high-fives befitting a rock star. He has new plans on how to move the company forward that he's been thinking about since the second he gave up trading. He wants to clear the board, unwind all current positions and rebuild a new book. And, moving forward, all new positions will be run through him. Not everyone is happy, but Axe insists on a fresh start that will include a massive cap raise of $20 billion within six months and this time they'll position themselves as the buyer. One such play he's given is natural gas. Regulation has been strangling the sector, Todd Krakow (Danny Strong) hints and he needs someone that can act on the information he's privy to. "The EPA is about to rescind a certain regulation that will prop up the entire natural gas space," entices Krakow.
Taylor (Asia Kate Dillon) tells Axe how unhappy they are with his decision to clear the entirety of their successful, money-making positions and asks for their own book of $1 billion to manage unencumbered. "You took your ball back. Give me something of my own," Taylor says. Axe gives in and Taylor gets the book and a new car. Not a bad deal, or so it seems.
Connerty (Toby Leonard Moore) returns to Southern to a less than warm welcome, in stark contrast to Axe's greeting upon his return to Axe Cap. Cold shoulders all around, especially from Kate Sacker (Condola Rashad). He's put into an office with no computer access and told to wait for Chuck.
Chuck, however, is busy tracking down someone hurt by Foley: Bob Sweeney (Matt Servitto). He returns the only copy he has of his son's confessions of mistreatment by his father and in exchange, wants help regarding Foley. "His thumb pressing down on me like I'm an insect, I don't like it," Chuck says.
When Chuck returns to the office, he acts as though he admired the way Connerty handled himself, referring to his professionalism as "more than admirable" and even heroic. His true feelings come out moments later when he fires Connerty in front of the entire office. "You learned every lesson I had to teach," Chuck begins. "Except the one that matters most: You didn't win, didn't finish me off. Oh, I'm still standing here in the best job there is because I can do what I want, when I want, how I want." His tone goes from scolding to a scream. "You breached my threshold and threatened me, threatened my wife, the mother of my children. How could you think there's a universe where you would survive that?" For Connerty fans, watching him walk out of that office humiliated was a heartbreaker.
Chuck, in enemy conquering mode, then busts Foley in a cheap steel scheme. "Looks like you just got your manhood caught in a tiger trap. Imagine what people would say if they learned that the new bridges and rails they ride on were built of inferior stuff," he threatens. "Now is the time to set new terms. Things will be different moving forward. I will take your counsel but that's all it will be," he threatens, once again in charge. "I will make the decisions. You and your people work for me."
Judge DeGiulio (Rob Morrow) makes a house call to Chuck to collect on an old favor; he needs him to stay on as the U.S. District Attorney, which means he won't be able to run for governor. Wendy reminds Chuck how much he loves his current position. "In your job now you are a king," she says. "You don't want to be in politics. You want to be beyond politics."
Chuck surprises his father and Foley at a party announcing Sweeney's candidacy for governor. They still have one problem: Chuck Sr. Wendy frames him for having a mistress and makes it very clear that she and Chuck are not to be ambushed, threatened or humiliated.
Now, back to Spyros and Dollar Bill. Axe fires Spyros with a life lesson about George Harrison and The Beatles. Harrison, he explains, was a Beatle and also a Traveling Wilbury. Per Wags, legends only need apply for such an honor. A person is either a Wilbury, or not, and in this case, Spyros is not. As he packs up his office, Dollar Bill comes by to gloat. Spyros tells him he has a play. At first, Dollar Bill shrugs it off, but he can't help himself. As Spyros gets in the elevator, escorted by security, Dollar Bill runs after him and gives him 30 seconds, enough time for Spyros to explain he still has access to a list of all the public companies being investigated by the SEC that have not disclosed the investigations to their shareholders.
"With your special brand of knowledge, you can determine which of these inquiries have teeth and which are bullshit. You can short the companies that you think will go down when the investigations come to light," Spyros says. Dollar Bill cuts him off: "And, go long on those that get dinged by the bad press from being looked into and chewed up when they're ultimately cleared." Is this the beginning of a friendship? Seems to be. Dollar Bill takes Spyros back to Axe Cap and convinces Axe and Wags he has a unique investment strategy that will pay off. Axe decides Spyros may have provided additional value and he gets a second shot at Wilbury status. Once he leaves the room Axe and Wags agree he isn't even close.
Lara (Malin Akerman) comes to the office to confront Axe about fees she's being charged on her money. Axe calls her out for threatening to leave with the boys and move to California if he took a plea. "This is something we don't come back from," he adds. He's cold as ice to her. She returns, and Axe gives her a discount if she'll agree to a seven-year lock-up on the money and the boys. She begrudgingly signs the contract.
Interview With Kelly AuCoin:
Read the rest of the original article at Forbes