You Gotta Pick Sides
by Gingersnap | damian-lewis.com | December 19, 2018
It's finally here! It's what you all have been waiting for – the Billions season four teaser trailer! Billions season four will premiere March 17, 2019 at 9:00 pm ET. Enjoy:
The teaser holds some clues about the dynamics fans can expect in season four:
Axe wears his staple heavy metal t-shirt we've seen in every season – season one was Metallica, season two was Megadeth, season three was Black Sabbath and season four is Motörhead.

Axe has a new enemy, his former protege, Taylor (Asia Kate Dillon), who just left Axe Capital and formed their own quant-based hedge fund. His mission statement is clear, "What I want is for Taylor to have nothing." And we know going after Taylor will surely intersect at Grigor Andolov Street and MaFee Avenue.
Chuck's new enemy is Attorney General Waylon 'Jock' Jeffcoat (Clancy Brown) who ousted Chuck from his seat as U.S. Attorney of the Southern District of New York. His mission statement is, "What I want is vengeance and it will be had." Going after Jeffcoat means Bryan Connerty and Kate Sacker could be caught in the crosshairs.
Chuck and Axe appear to form an alliance this season, aimed at eradication of all their rivals and what we're dubbing as #TeamChaxe, which will most certainly involve the aid of Wendy.
Three against three against three:
Chuck, Axe, Wendy vs. Taylor, Andolov, Mafee
Chuck, Axe Wendy vs. Jefcoat, Connerty, Sacker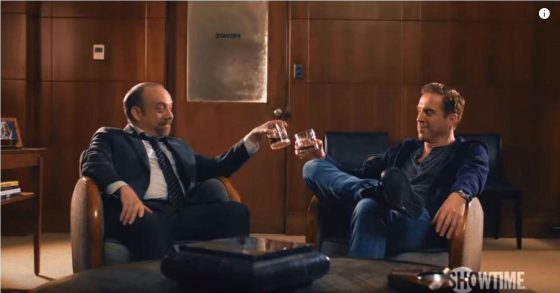 Together, all of these shifting allegiances and desire for financial extermination sets the battleground for a money-based war that almost definitely won't leave everyone standing at the end.
According to Town and Country Magazine, Showtime is quoted as saying,
"When everyone is out for revenge, no one is safe. This is never more true than in season four of Billions. Ambition and betrayal have long been at the heart of Billions, and this season all the characters find out exactly how high a price they'll have to pay to satisfy those needs."
Toby Leonard Moore, David Costabile, Condola Rashad, Kelly AuCoin, and Malin Akerman round out the returning ensemble. In addition, the Season four cast will be rounded out with the talents of Kevin Pollak, Samantha Mathis, Jade Eshete and Nina Arianda.
View the entire photo gallery here
Source: Refinery 29
Secondary Source: IndieWire
Tertiary Source: Town and Country Magazine