American Oligarch
by Sean T. Collins | New York Times | March 17, 2019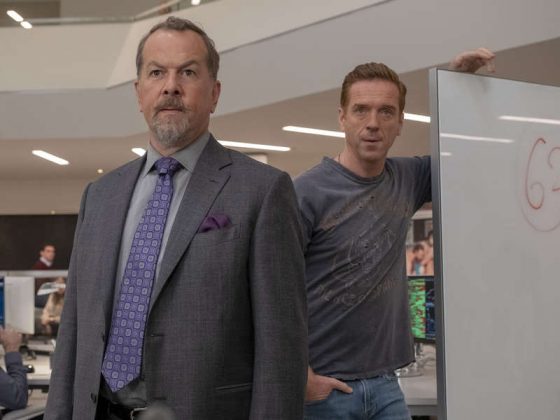 Season 4, Episode 1: 'Chucky Rhoades's Greatest Game'
"You win some, lose some, it's all the same to me," howls Lemmy Kilmister, the raspy singer-bassist of the heavy metal band Motörhead in their signature song, "Ace of Spades." As he explains over warp-speed riffing, when it comes to gambling, "the pleasure is to play."
The metal fandom of the hedge-fund billionaire Bobby Axelrod (Damian Lewis) has been a key trait of that character from the start. It is equal parts enjoyment and self-aggrandizing, bad-boy image-making. But rarely had it been deployed as astutely as when he made his first onscreen appearance this week, in the Season 4 premiere of Showtime's ruthlessly entertaining financial thriller, "Billions." As "Ace of Spades" powers the soundtrack, we're reminded that no matter what game they're playing, men like Axe aren't happy unless they go all-in on every hand.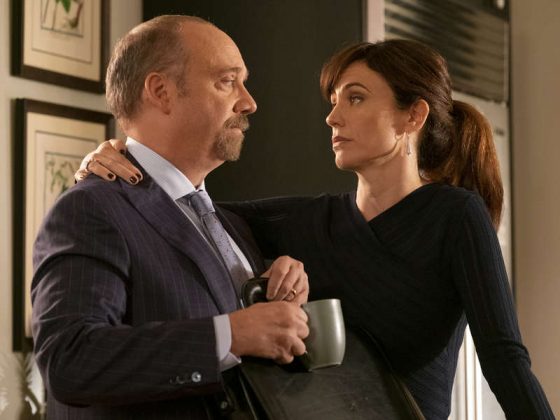 For Axe, the game is getting dangerous. He and Chuck Rhoades (Paul Giamatti), the former United States Attorney and Bobby's former enemy, achieved détente at the end of Season 3, having colluded to avoid bringing Bobby to trial in a case that would have ruined him and his in-house performance coach, Wendy Rhoades (Maggie Siff) — who is also Chuck's wife. But now Axe is facing an even more implacable foe in Grigor Andolov (John Malkovich), a rich and vicious Russian.
Andolov is backing the breakaway firm founded by Axelrod's brilliant young ex-employee Taylor Mason (Asia Kate Dillon). Axe being Axe, he's intent on making Taylor pay for this act of rebellion; Grigor being Grigor, he's not about to let anyone interfere with his new investment.
In an elaborate scheme first teased in a flash-forward, Andolov arranges to have Mike Wagner (David Costabile), Axe's impish right-hand man, better known as Wags, imprisoned within the embassy of a Middle Eastern nation whose investment Axe had been courting. Axe, who knows Taylor has been gunning for the country's cash, too — in shockingly effective femme fatale drag, no less — is desperate to get his man back for business reasons as well as personal ones. Only when he manages to procure an embassy audience himself does he uncover the true architect of the crime.
Chuck's story line, meanwhile, is redolent of the machinations that made middle-season "Game of Thrones" episodes so much fun to watch. (And if there's a single character in this series who hasn't watched every single episode of that sword-and-skulduggery show, I will personally wax Wags's mustache.) Like a tristate Tyrion Lannister, Rhoades spends the episode using the interests of one New York power player against the next. It's like the nursery rhyme about the old lady who swallowed a fly, each new and preposterous step dictated by the last.
Fired from his job as a United States attorney by the vindictive right-wing attorney general Jock Jeffcoat (Clancy Brown), Rhoades is not content with life in the private sector. To prove he still has political clout, Chuck needs to procure a concealed-carry permit for a local bigwig — a tall order, given New York's tough gun-control laws. (The episode was written and filmed before the revelation that Donald Trump and Michael Cohen secured such permits under dubious circumstances.)
Pulling it off requires the support of Commissioner Richie Sansome (Michael Rispoli of "The Sopranos" and "The Deuce"), who feels Chuck's reign as the region's top prosecutor never did the department any favors. If he does the commish a favor, however …
With a mixture of desperation and deftness, Chuck constructs an elaborate Rube Goldberg device of quid pro quo exchanges among the city's most privileged and powerful. Nearly all of the palm-greasing and back-scratching is ridiculously petty. At one point in the chain, the real-life advertising executive Donny Deutsch demands primo ski lodge passes in exchange for seats at the children's Hanukkah service in a major Manhattan congregation — apparently the hottest tickets in town.
The endgame involves creating a fake birth certificate for the star pitcher on the commissioner's Police Athletic League baseball team so that the too-old immigrant teenager can keep on winning. The whole absurd sequence is "Billions" at its best, using detail-driven plot mechanics to paint a larger picture of how power operates.
Read the rest of the original article at New York Times