Season 4 Opens With 'Chucky Rhoades's Greatest Game'
by Dana Feldman | Forbes | March 17, 2019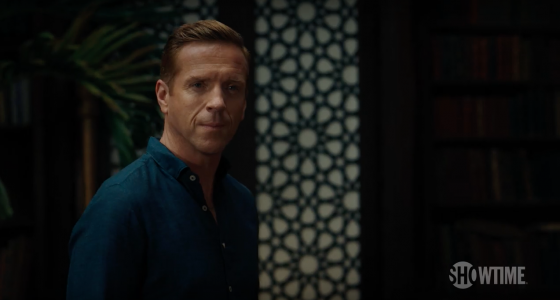 The fourth season of Billions begins with the episode entitled "Chucky Rhoades's Greatest Game." In the new 12-episode season, everyone has a score to settle and vengeance is the name of the game.
In the first episode, Chuck (Paul Giamatti) is no longer U.S. Attorney and as he struggles to regain power, he comes up with quite the plan.
Meanwhile, Axe (Damian Lewis) is also closing ranks, determined to destroy Taylor (Asia Kate Dillon). Taylor, however, is doing absolutely whatever it takes to keep their company afloat.
In the opening scene, Wags (David Costabile) parties at a strip club with the sheikh's henchman and he makes it quite clear that Axe wants no money going to any former Axe Cap employees, meaning Taylor. That is, if the sheikh wants Axe to keep "jacking up" his returns.
They leave and head to the Embassy and General Consulate of the Arab state of Qadir for an afterparty. Unfortunately for Wags, it isn't as fun a party as he'd expected; he's drugged and held there against his will.
Billions tends to mirror the current news cycle, though it is oftentimes quite by coincidence. In this case, creators Brian Koppelman and David Levien wrote the script prior to the brutal assassination of journalist Jamal Khashoggi, a Saudi dissident, at the Saudi consulate in Istanbul, Turkey. As with Khashoggi entering, yet never seen leaving, the same scenario (without a murder) plays out with Wags, who is seen going in but not exiting.
The show cuts to 27 hours earlier, so we see how these events unfold. Axe readies his employees to sign non-competes. Chuck busies himself as a power broker and his first task is no easy feat; he's asked by a VIP to get a carry permit for a gun in New York City, which is a nearly impossible request. NYC is one of the toughest in the country as far as gun permits go, with only cops and ex-feds usually able to obtain. And, there is another art-imitating-life type moment in the episode, as well.
What Chuck does have, and can't seem to get rid of, is a Park Anywhere Permit direct from the mayor's office. Little does he know as VIP after VIP turns down the offer, that he will find just the perfect person desperately in need of it. And, as it turns out, this leads him directly to getting that much-needed gun carry permit. And, the winner at his own game is….Chuck Rhoades! 
Axe fires Rudy (Chris Carfizzi), in front of everyone at the office, for fraternizing with the enemy (Taylor) and makes sure his employees know they now live in a universe split down the middle where they have to pick sides and if you're not on his, you're gone.  
Wags approaches Axe to let him know he's on his way to the embassy to deal with the sovereign wealth fund. Axe isn't worried as he's convinced the sheikh would never see someone like Taylor. The money, he says with confidence, is already pledged to them and at this point in the game, it's solely about setting terms. Little does he know just how far Taylor is willing to go to get that money.
In addition to pilfering Axe's employees, Taylor is also willing to compromise their principles and dress up in sexy women's clothing; long-haired wig, sexy dress and heels, if that's what it takes. As Wags is leaving his meeting at the embassy, he spots Taylor, recognizing them as they arrive for a meeting with the sheikh. But Wags has plans to close the deal after a night out with the sheikh's main guy. Though, as we know per the opening scene, things don't go as planned.  
Unbeknownst to Taylor, Wendy (Maggie Siff) has already gotten to their headhunter. But Taylor is quick to find out and that problem is quickly eliminated.
Bryan Connerty (Toby Leonard Moore) is sworn in as the new U.S. Attorney. The Attorney General, Waylon 'Jock' Jeffcoat (Clancy Brown), gives him his first task, which is to deal with sloppy inheritances and to clean up messes that came before, hence Chuck. Jock has a plan that includes putting most of Chuck's major cases under review for any kind of wrongdoing.  
When Chuck finds out, he's distraught at the thought of all his good work undone and his legacy trashed. The mere idea of all his accomplishments being wiped out as if he was never there aggravates him.   
Chuck Sr. (Jeffrey DeMunn) and Ira (Ben Shenkman) inform him just how badly this can turn out, telling him they're digging for misconduct, such as wrongful prosecutions, politically motivated decision-making and any conflicts of interest, which would, of course, ruin Chuck's name.
Chuck Sr. reminds his son that it's his name he's wearing, and he will not have it "besmirched." Chuck's reply? "All I want is vengeance and it will be had!" As fans know, if it is vengeance Chuck seeks, he will find a way to get it.
What he needs is a perch, a position of power and influence, and he has his eye on one – a vacated New York Attorney General seat. To get back into a position of power, Chuck has to find a way to get that gun permit.  
Frustrated, he talks to Wendy and realizes what he needs to do and that involves trading a lot of favors. He goes to one high-profile former colleague after another in an effort to trade one thing for another until he gets the one thing he really needs: a New York City gun carry permit. And, this is where we get into his greatest game and, as he says to Wendy, he'll have to "pay Peter to pay Paul" in a musical chairs of sorts of getting and giving much-needed favors in exchange for that sought after permit.
Back at Axe Cap, Axe is concerned when Wags doesn't show up to the office after his night out with the sheikh's team. And, as it turns out, he has every reason to be worried. He goes to the embassy to find out what happened to Wags and is given the runaround. He soon discovers, through security camera footage from neighboring buildings, that Wags never left the embassy the night before. Fearing for Wags' safety, he seeks leverage and he gets what he needs and returns with plans of getting in the room with the sheikh himself.
As for things not going according to plan, though Axe is told he's gotten a meeting with the sheikh, when he shows up for his meeting at the embassy, it's not the sheikh that's waiting for him, but instead Grigor Andolov (John Malkovich). A favor for a favor is the name of this game and in exchange for returning Wags unharmed, Grigor demands that Axe leave Taylor alone. Axe is over-matched, as he says later to Wags, for the first time in a long time. He almost backs down, but Wags talks him out of it.
Read the rest of the original article at Forbes