An Episode Tighter Than AC/DC in '78
by Miles Surrey | The Ringer | March 18, 2019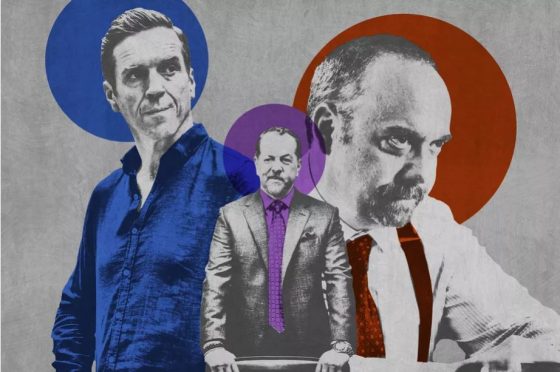 Here is the best, worst, and most from the season four premiere 
For a ton of people, the upcoming slate of springtime television will be largely defined by dragons, White Walkers, and incidental incest on HBO. I'd be lying if I said I wasn't also looking forward to the last season of Game of Thrones, but there's something else I've got my eye on. You can have your Night King and the 55-night battle sequence at Winterfell; I have Bobby Axelrod with a killer short position. You can stare into the fire and worship the Lord of Light; I already have a god, and he goes by the name of Wags.
That's right, folks: Billions is finally back. The fourth season premiered on Sunday night with two new battles: It's Team Axe versus Team Taylor, and Team Chuck versus Team Jock/Connerty/Sacker/anyone who rubs Chuck the wrong way. Axe and Chuck are buds now—I know, it's strange—and appear willing to help each other squash their respective enemies. (For now, at least.)
With the fourth season's first episode, "Chucky Rhoades' Greatest Game," now in the books, let's celebrate Billions' boisterous return with some premiere superlatives.
Best Music Cue
Billions didn't waste a damn second, as the new season opens with Wags hitting the club with Farhad, emissary for the sheikh of the fictional Arab state of Qadir. Axe's business skills are best suited for boardrooms; Wags works his magic after regular work hours. The scene is precisely what you'd expect—high-end hookers, Wags doing a rail of something (probably coke), butts being slapped—but what really makes the scene click is the use of a club mix to 20 Fingers' "Short Dick Man."
You know, the song with lyrics like, "Eeny weeny, teeny weeny / Shriveled little short dick man." What better way for a show that's basically one giant dick-swinging contest to poke fun at its own characters than by using a song whose lyrics center on a woman making fun of a man for, well, having a small penis?
Unfortunately, the night quickly goes south for Wags, who's drugged by Farhad's entourage and tossed into some decrepit storage closet when the party moves to the Qadir embassy. (Don't worry, we'll get back to poor Wags later.)
Most Owned
Now that Taylor has started their own firm, Axe is hellbent on destroying Taylor Mason Capital and making sure nobody from his company changes allegiances. (Remember: Mafee left along with Taylor at the end of last season.) So everybody signs a new NDA that, per Axe's lawyer Orrin Bach, is "tighter than AC/DC in '78"—just FYI: That's pretty tight.
Unfortunately for Rudy, he signed his noncompete clause and was promptly fired. Why? It had nothing to do with the Fleshlight he brought into the office last season—though I can't imagine that helped matters; rather, he committed the cardinal sin of fraternizing with the enemy. Bro, why are you barbecuing with Mafee?!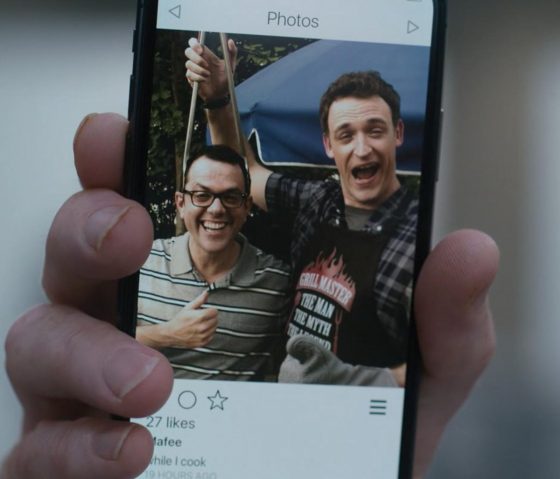 It's unfortunate that Rudy might be irrevocably fucked in his own industry because of that noncompete—and I do feel a little sorry for him—but he brought this upon himself. He should know Axe well enough to realize that he'd be really pissed about any of his employees even breathing the same air as Taylor and their cohorts. Pack up your stuff, Rudy, and be sure to take that Fleshlight with you. Doubtless it'll get a little more mileage now. (I'm sorry.)
Most Spyros Moment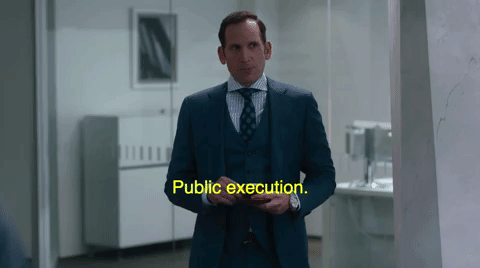 This was his reaction to Rudy's firing. I'm gonna have to agree with Ben Kim on this one, who responded to this by merely saying, "Gross."
Most Unconvincing "I'm Fine!" Dance
How is Chuck Rhoades doing? It's a fair question, considering two of his protégés teamed up with Attorney General Jock Jeffcoat—who is basically an equally evil and racist and even more unstoppable version of Jeff Sessions—to get him fired from the U.S. Attorney's Office for the Southern District of New York. Rest assured: Chuck says he's doing just fine. He's even dancing over how fine he is doing.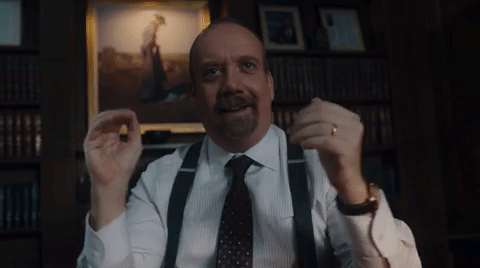 [Narrator voice.] Chuck is not doing fine.
Chuck needs to get his mojo back, and he's starting relatively small. His first order of business as a bona fide power broker is getting a gun permit for a client. They're tricky to get in New York City, but c'mon—this is Chuck Rhoades! He's got this, right?
Yeah, I'm not so sure about that. He's basically the living embodiment of this tweet.
"im not owned! im not owned!!", i continue to insist as i slowly shrink and transform into a corn cob

— wint (@dril) November 11, 2011
Worst Understanding of BDSM Kinks
Chuck Sr. tries to motivate his son to get off his ass, get his groove back, and start enacting some vengeance. He gets a little too carried away in the process.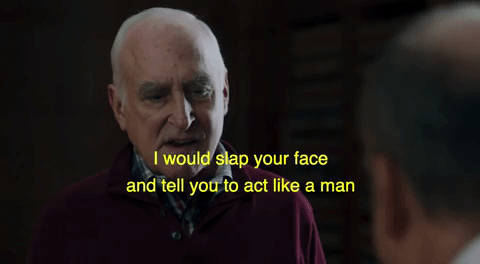 "It wouldn't, Dad," an embarrassed Chuck replies. "Not from you, that's not how it works." Chuck's right: Just because he likes to get spanked and generally dominated by his loving wife—and whomever they might hire to enter their BDSM dungeon that puts the entire Fifty Shades franchise to shame—does not mean he wants literally anyone to dominate him. If anything, Billions has demonstrated that Chuck Rhoades loves to dominate almost everyone in his personal and professional life, except when it's time for Wendy to put a ball gag in his mouth and pee on/spank his body.
We should neither kink-shame Chuck and his BDSM predilections nor be ignorant to what the man is into. Wendy can spank his ass and turn him on, Chuck Sr. You cannot.
Worst Negotiating Tactic
Back to Wags and Farhad. Before the drugging—we get a nice "27 Hours Earlier" flashback after that opening sequence, a Billions staple—Wags was sent to the Qadir embassy to discuss new financial terms between the sheikh and Axe Cap. (Sovereign wealth is a great investment.)
But Wags perhaps got a little overzealous discussing the terms. "You know how the price of admission for women into your fine country is that they cover their ta-tas and doughnut?" he told the room. "Well, our version of that is two and twenty."
Yes, Farhad, I believe he is. And no, I don't agree with this negotiation tactic.
Smartest Play
One reason Axe feels quite confident about securing that sovereign wealth from the sheikh is that he believes he wouldn't even bother to see Taylor and consider their company. We're told enough to understand that Qadir has some antiquated opinions on the LGBTQ community, and therefore wouldn't want to get in business with someone who identifies as gender nonbinary.
He's right, but he didn't anticipate that Taylor would be willing to "suit up" for the occasion—meaning, wear a wig and put on a dress. Taylor even holds a damn falcon on their arm, which I don't think has anything to do with financial negotiations, but still looks really badass.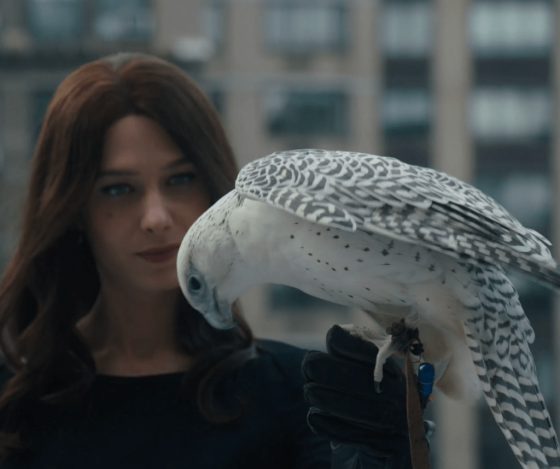 It's a great sign for Taylor's company that they're obviously willing to do whatever it takes in the interest of business. It makes me a little concerned for Taylor as a person, maybe, but Axe is waging a war against them. As Tyrion Lannister once said, clearly in the spirit of rival hedge funds trying to secure sovereign wealth: "You're in the great game now. And the great game is terrifying."
Saddest Enticement
Since Chuck is essentially starting from the ground up, the kind of favors and enticements he can offer people on his Herculean quest to get a dude a gun permit are laughably insignificant. I knew Chuck was a little washed the first time he flashed a "park anywhere" permit from the mayor's office to try and snag a favor. But he kept insisting someone would want it. And every time he reached into his suit pocket with the parking permit, only to be rejected, a tiny part of my soul died.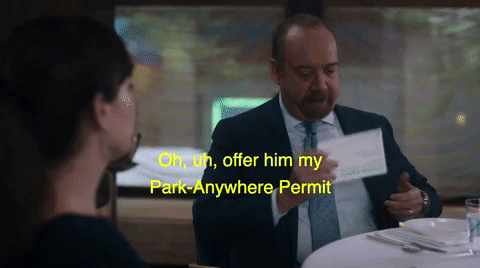 I cannot tell you how relieved I was when someone named Nacho started complaining about a Citi Bike rack that was installed on his block, and Chuck finally found someone who'd take his little permit for a favor. Between that and the utterly depressing "I'm Fine!" dance, I was getting quite worried for poor Chuck. But at least by the end of the episode he'd gotten closer to getting his mojo back.
Best Chuck Pat
If you followed my Billions coverage last season, you knew I was an ardent proponent of the Chuck Pat. The Chuck Pat was surprisingly versatile—it could be nurturing, it could be laced with malice, and as we learned in the finale, it could be subverted and repurposed. It is among the many subtle physical cues from Paul Giamatti that demonstrate he is one of our finest living actors.
The Chuck Pat made a surprising comeback in the premiere. I assumed that Wendy and Chuck would give each other a goodbye kiss to begin their day, especially after she helped motivate him to get that damn gun permit. But instead of giving his wife a kiss, he gave her one of his patented Pats.
Is this … good? Should he be kissing his wife goodbye, or is a reassuring "thank you for this" Chuck Pat even greater than a kiss could ever hope to be? Suffice to say I have spent the entire week thinking about the Chuck-on-Wendy pat, and how blessed we are to be living in an age when Maggie Siff spanks Paul Giamatti and he pats her on the shoulder.
Read the rest of the original article at The Ringer
Worst Hangover
Don't worry, Wags turns out to be OK, all things considered. While he was drugged and kept at the Qadir embassy for roughly 24 hours, he is released after Axe goes to the embassy and finds out who's behind this entire mess. Grigor Andolov—the Russian oligarch, played with an increasingly confusing accent veering on Borat by John Malkovich—orchestrated the Wags kidnapping, because Axe was meddling with Andolov and the sheikh's mutual interest.
Moving forward, Grigor doesn't want Axe to interfere with Taylor or their company's investments, because it would affect him as well. Axe would be wise to follow his advice, considering Grigor has no qualms about killing people. (And if Axe is pissed off about this situation, well, Grigor did give him the option of assassinating Taylor last season—not that he should've said yes.)
Anyway, that means Wags is doing OK. He's just gonna look like he got run over by a truck for a couple of days.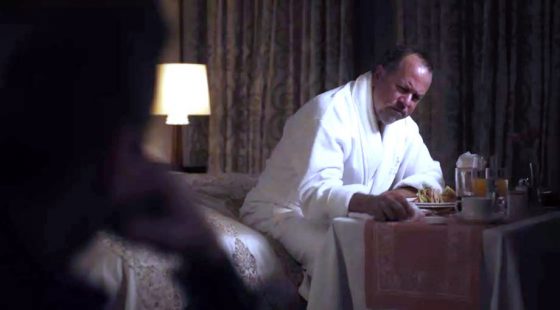 [Mallory Rubin voice.] Protect Wags!
Most Weirdly Prescient Subject Matter
By the end of the episode, Chuck has secured that gun permit from police Commissioner Richie Sansome, and the two share some whiskey at Sparks Steak House. They then recall when John Gotti ordered the execution of Paul Castellano outside the establishment in 1985. Chuck and Sansome even mimic the crime scene photos of Castellano and his driver, sprawled out on the street by their car.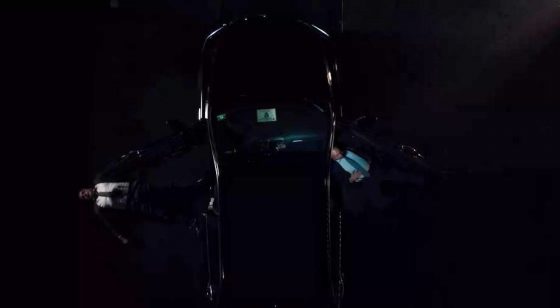 This would've been a beguiling and somewhat foreboding way to end the episode regardless, but it feels strangely prescient given the mob shooting that happened in Staten Island this week, which has been likened to Gotti's infamous hit.
It's unsurprising that Billions would reference Gotti—half of the show's characters seem to exclusively speak in Godfather and Goodfellas quotes. But if this strange bit of clairvoyance is any indication, we're in for an enticing season of television.